Silver foliage can offer months of interest while providing a clean, crisp look that will help tone down some of the bolder colors around it. While it works well alongside those bolder hues, it also harmonizes well with cooler ones. It holds its own in both sunny and shady locations as well. Silver tones in a full-sun garden can offer a unifying color that allows other colors to pop and be expressive. In the shade, silver enlivens the space by offering illumination. No matter the conditions, silver foliage makes a great backdrop to other plantings and becomes a significant accent when massed or repeated. Below are five hardy perennial selections for the Midwest featuring beautiful silver foliage.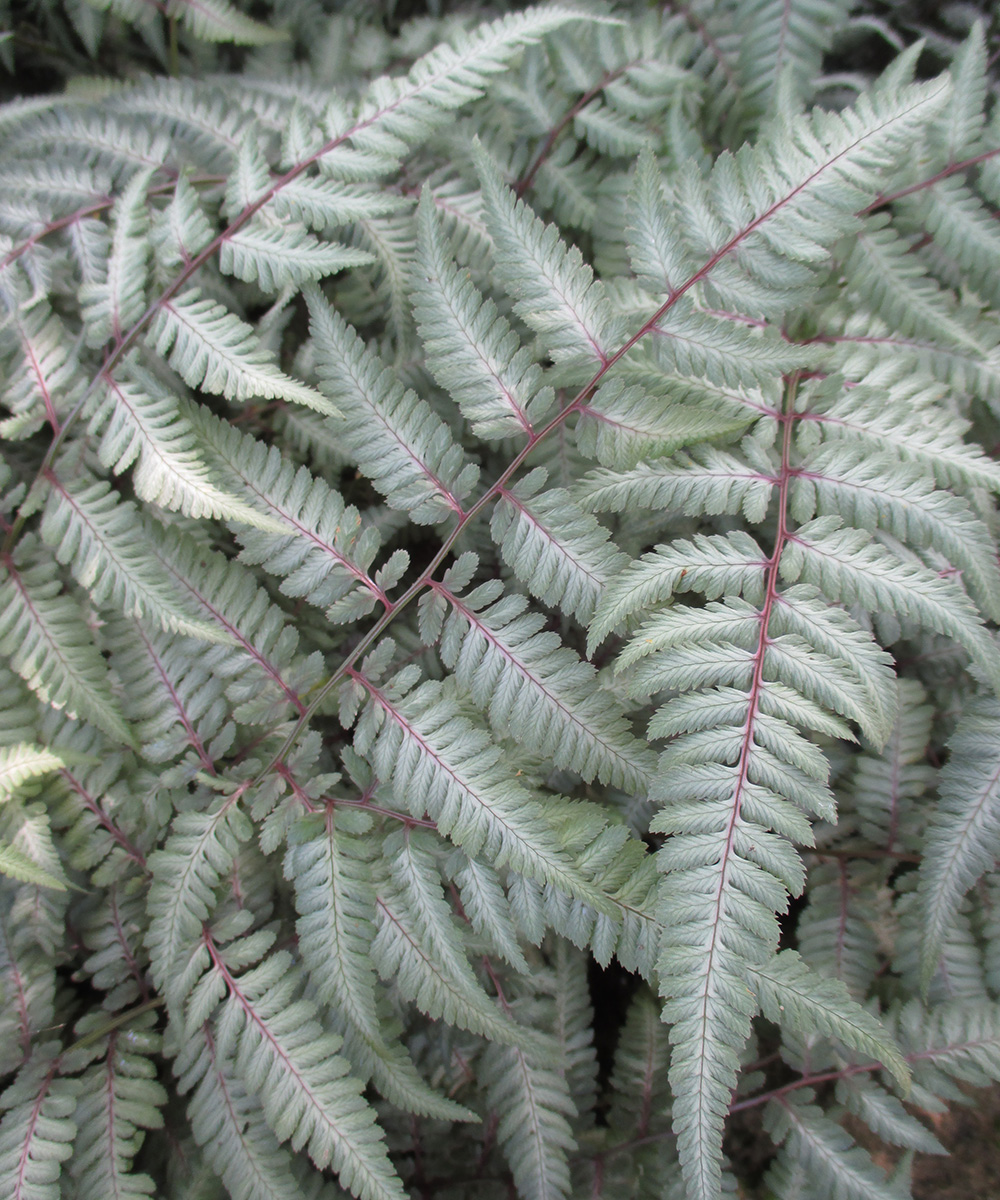 'Silver Falls' Japanese painted fern
Athyrium japonicum var. pictum 'Silver Falls', Zones 4–9
There are many cultivars of Japanese painted fern, and I think they all have merit, although sometimes the differences between the selections is debatable and not overly conspicuous. This is not the case with 'Silver Falls', which has a striking, very strong silvery overlay on the foliage. These metallic tones become even richer in summer. Fertile, humus-rich soil with medium moisture and good drainage is ideal for this pest- and disease-free fern, although it has some tolerance of clay soil and wet locations as well. It prefers full to partial shade and grows 18 inches tall. Rabbits and deer leave it alone. It's no surprise that this variety received an award of garden merit from the Royal Horticultural Society. It's my personal favorite of all the dozens of varieties of Japanese painted ferns commonly available.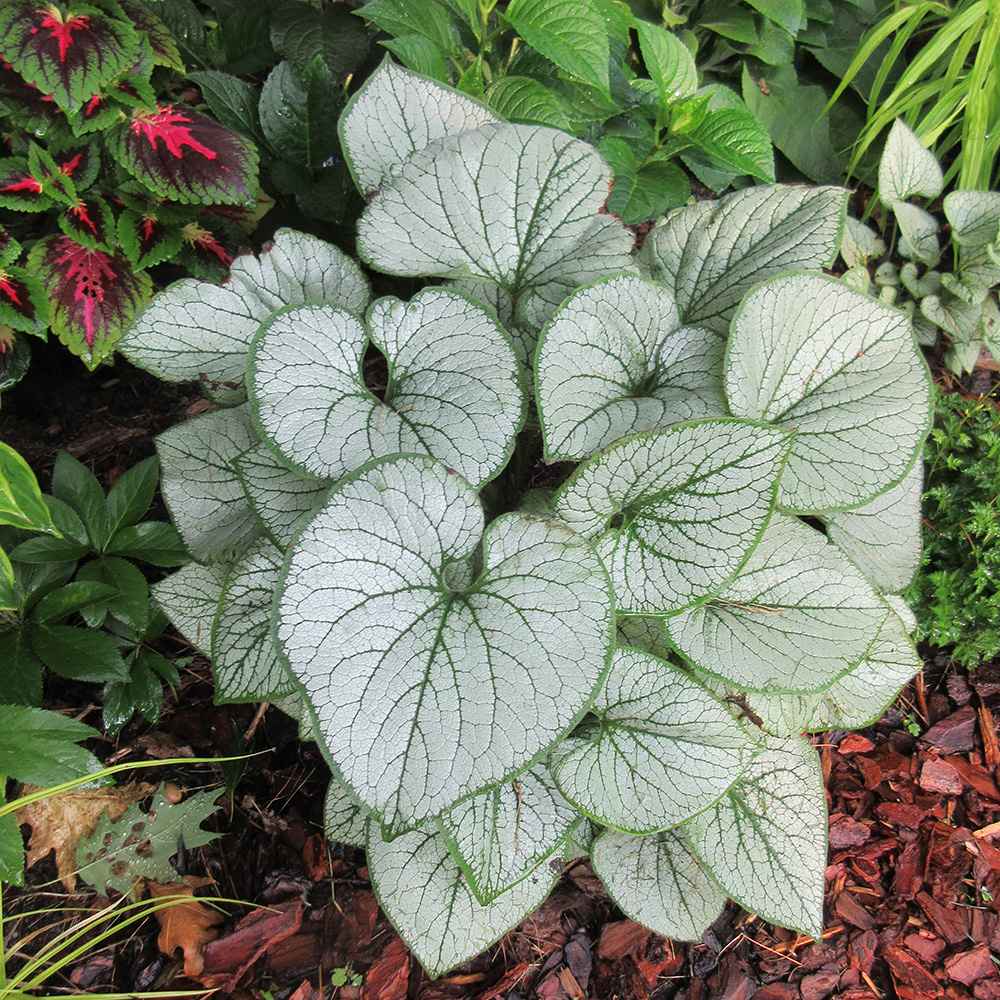 'Silver Heart' brunnera
Brunnera macrophylla 'Silver Heart', Zones 3–8
This relatively new introduction of brunnera continues to increase in popularity due to its thicker, more resilient silver foliage with subtle green leaf margins. Preferring evenly moist soils and full to partial shade, 'Silver Heart' features cobalt blue, forget-me-not-like flowers in early spring, and the bold, silver foliage steals the show all the way until hard frost. The selection is perfect for areas with hot summers and intense humidity, as the foliage is remarkably durable. Growing to a foot tall, 'Silver Heart' is effective as a repeated accent or in masses to create a ground cover of silver foliage that will brighten any shady location.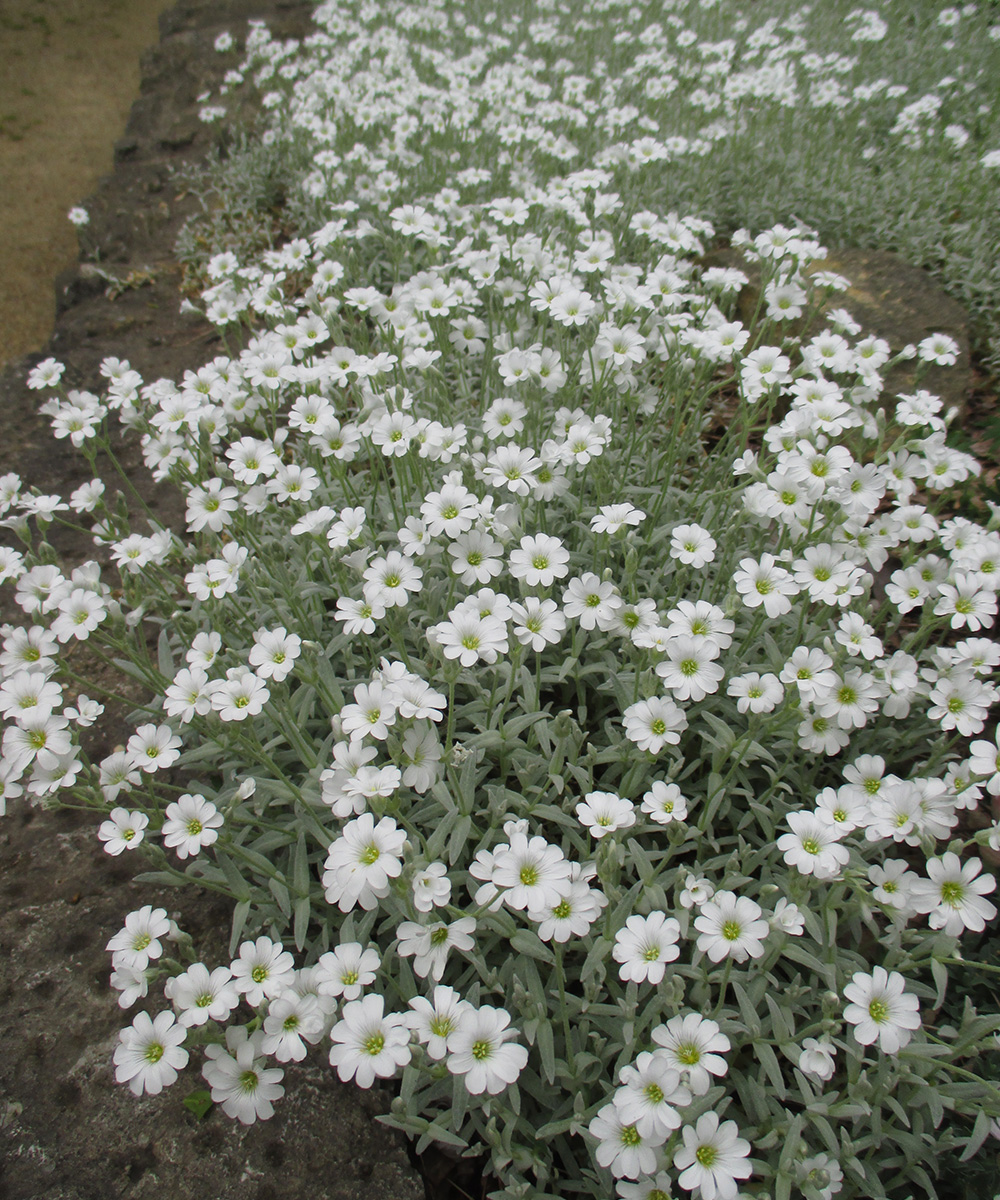 Snow-in-summer
Cerastium tomentosum, Zones 3–7
I've grown this mat-forming, perennial ground cover for over 20 years and am constantly enthralled not only by the silver foliage but by the clear white blossoms that emerge in June. Snow-in-summer is an indestructible choice for a tough, sunny location, including slopes or areas where it can spill over an edge or low wall. It grows up to 10 inches tall, and deer and rabbits will leave it alone. This drought-tolerant selection should never be placed in poorly drained soil, and it needs full blazing sun to really shine.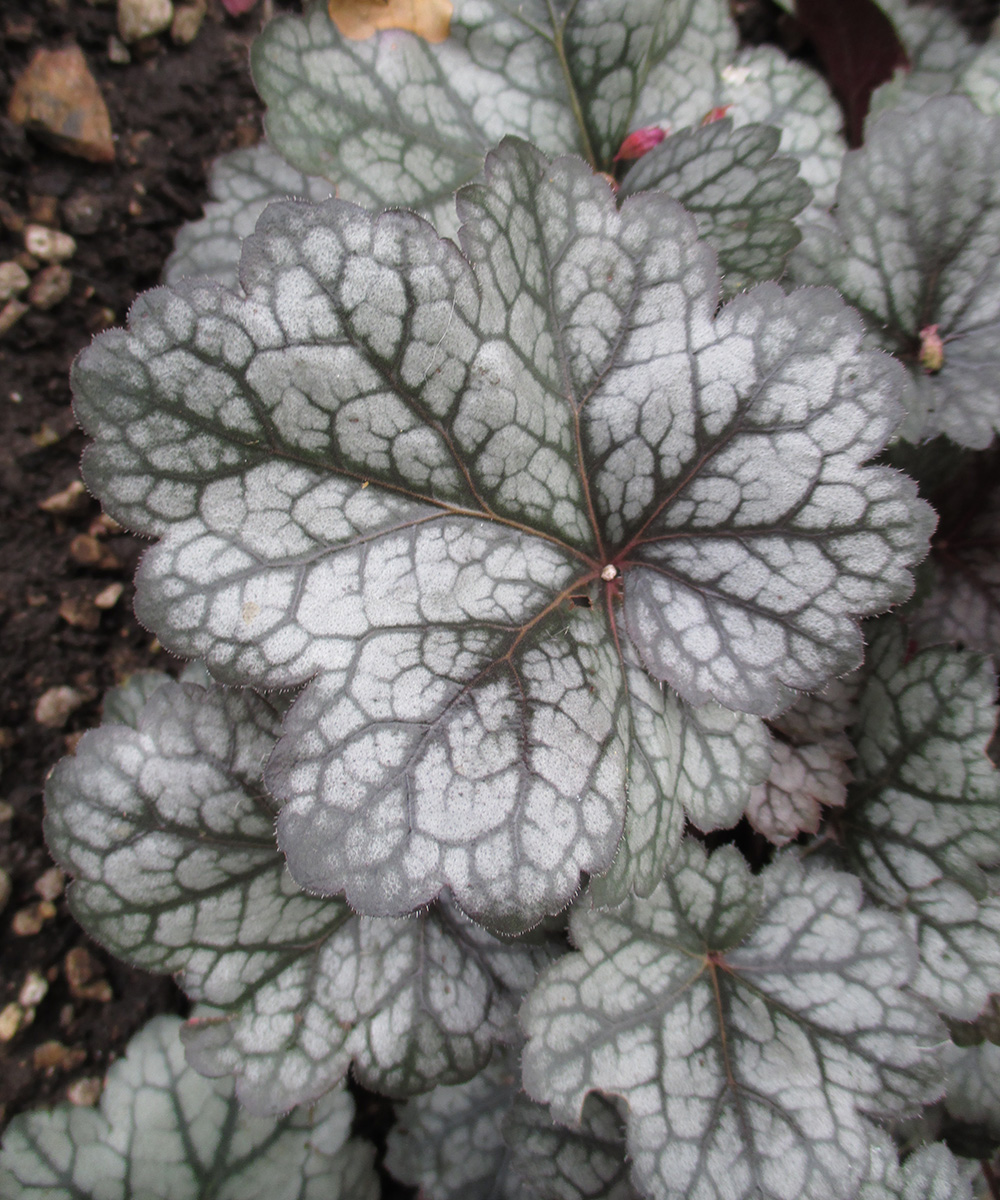 'Glitter' heuchera
Heuchera 'Glitter', Zones 4–9
This is by far one of my favorite heucheras for its intensely silver foliage that contrasts sharply with black veining on the top of the leaves. The undersides of the foliage reveal a soft, velvety maroon color, but the primary ornamental impact is from the strong silver foliage and the fuchsia-pink flowers that emerge in bouquet-like sprays in summer. 'Glitter' heuchera reaches 10 inches tall and can take any light conditions, from full sun to partial sun to full shade. Moisture and good drainage are vital for this heuchera to thrive, particularly through the hot days of summer. 'Glitter' is a nicely mounded selection that looks superb in groupings or as a solitary accent where that silver foliage can really catch the eye.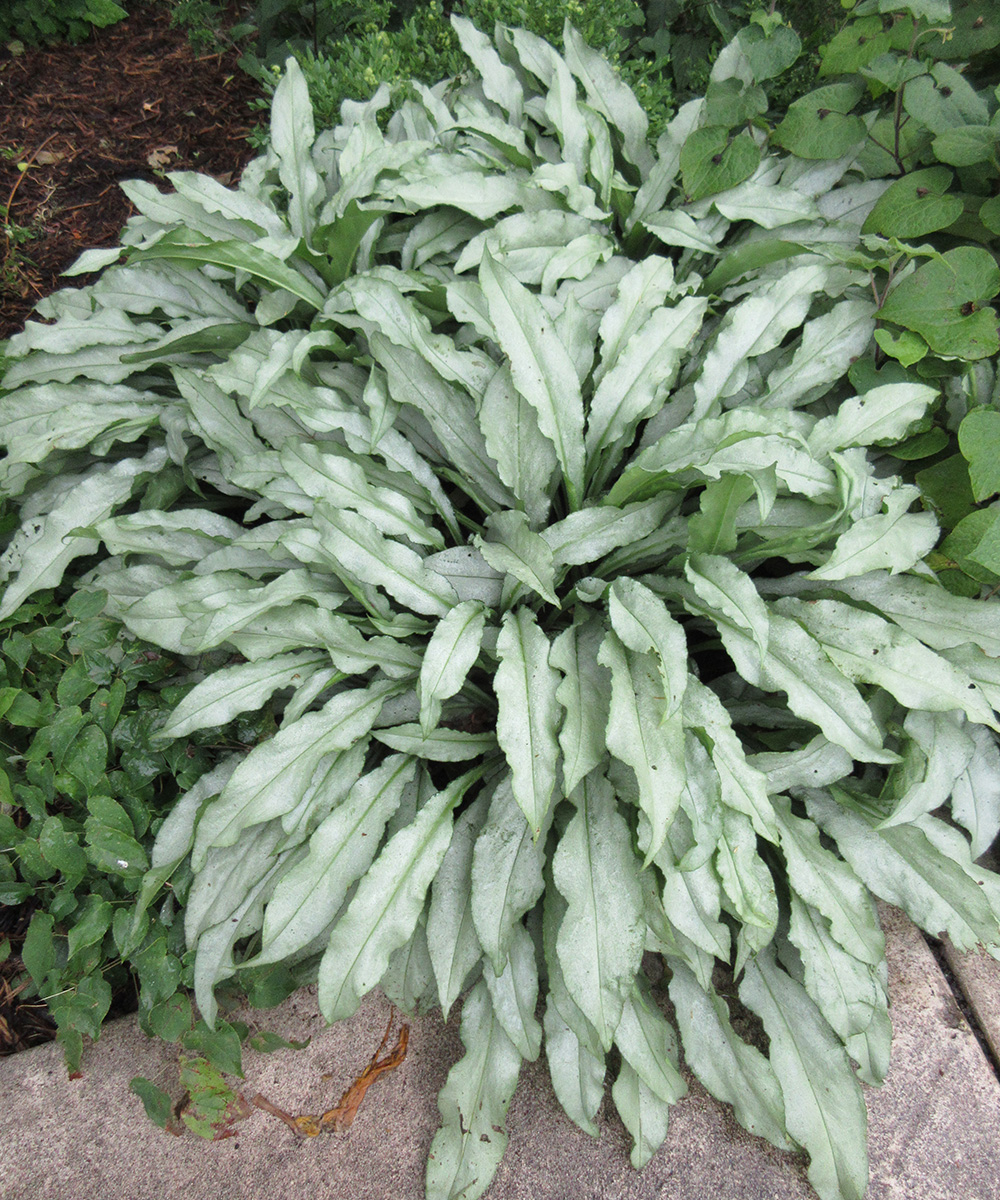 'Majeste' lungwort
Pulmonaria 'Majeste', Zones 3–8
The lungworts continue to be solid performers in conditions of shade if given decent soil and some degree of moisture. 'Majeste' is an old favorite due to its consistent, high degree of silver color on long, lanceolate leaves with only a thin margin of green on the edges. This variety is known to have excellent resistance to powdery mildew. It will grow a foot tall and takes partial to full shade. Lungworts also tolerate deer, heavy shade, and walnut toxicity issues. In the hottest of summers, plants may go dormant, although any compromised foliage can be sheared back to encourage fresh new growth. If you can't find 'Majeste', look for 'Diana Clare' for a similar silvery contribution.
—Mark Dwyer, former director of horticulture at Rotary Botanical Gardens in Janesville, Wisconsin, operates Landscape Prescriptions by MD.