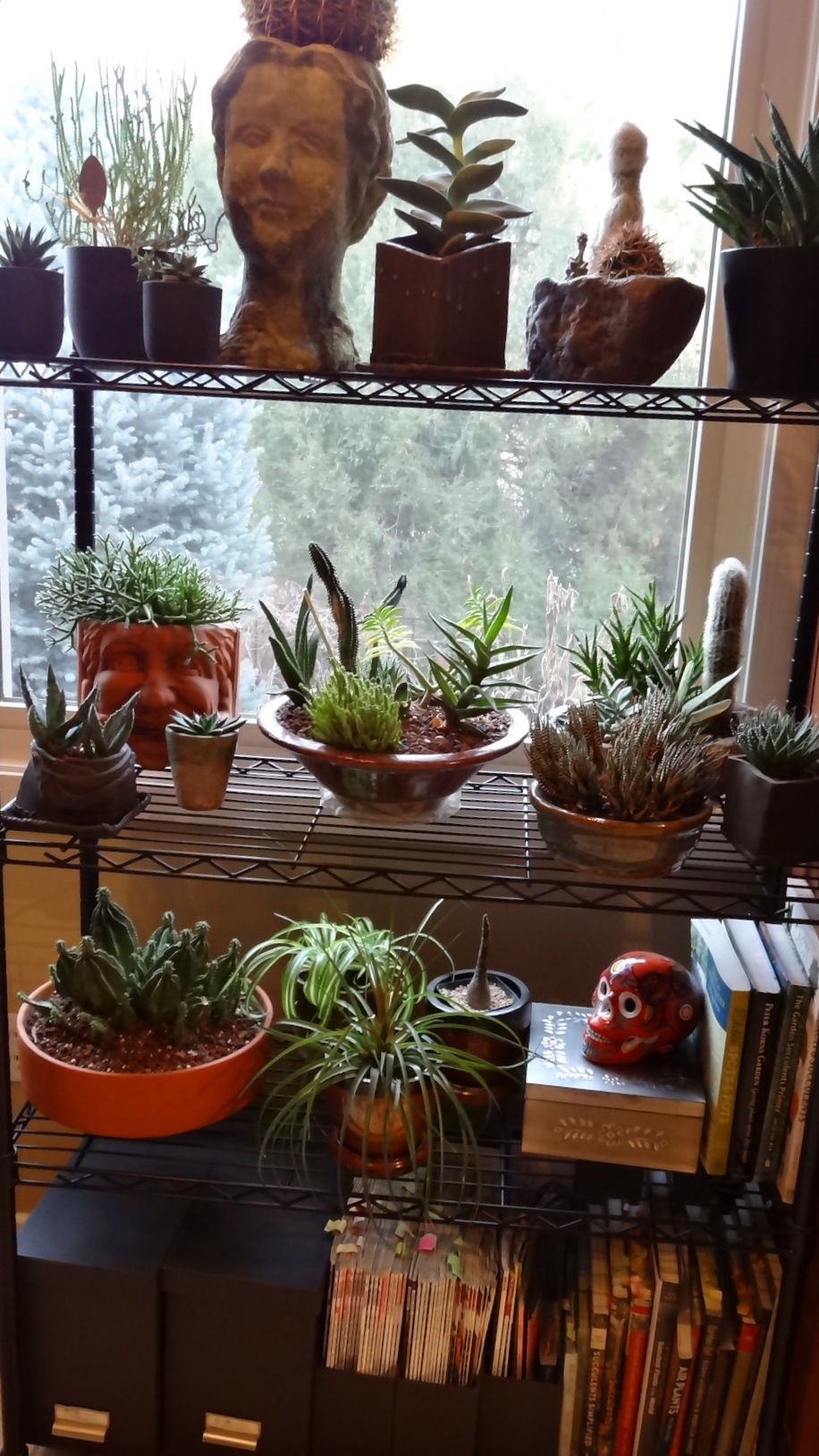 Today's photos are from our good friend Sheila Schultz out in Denver (previous posts HERE.) She says, "As many of you know, I live in Denver and I am passionate about using succulents and cacti in my container gardens. They cannot survive our winters outside, so thanks to my wonderful husband and son-in-law they are all 'muscled' inside before the evening temps go below 40 degrees, generally mid to late September. The big boys take up all the window space on the first floor, and the rest go up to the 'nurseries', which are two bedrooms on the second floor. Jim, my most patient husband, adjusts the lighting where possible. He found arms/splitters that get screwed into the can lights in the ceiling, each holding 2 CFL bulbs. Our light switches have timers, each set for 12 hours of light a day. The vents are closed in the nurseries and the heat is turned down to the mid-50's. I also added fans on timers in each room to circulate the air which has made a huge impact on winter pests! Watering… only when necessary. Many of my C & S are dormant in the winter. By May, the plants are safe to head outside and I am more than ready to get them out of the house!
An aside… as many of you know, Colorado was the first state to legalize the growing of marijuana. Thank goodness our neighbors know that I am obsessed with my plants, so they haven't called the police to report the lights glowing at all hours with plants in the forefront of most of my windows!!! BTW, I have also included a few of my houseplants, obviously we are shower, not bath, folks!
Enough of the inside, spring will eventually come, so the outside photos were taken a few ago before we got more snow. In Colorado, our winter temps are like a roller coaster, 70's one day, teens the next. Unfortunately we had several days of 70 degree weather recently, so my perennials and bulbs are more than confused. All the growth makes me hopeful, but being a realist, it may be an expensive spring, especially since we had a really hard and unexpected November freeze before the plants, shrubs, and trees had a chance to harden off. So many opportunities for new plants, I guess?
I will end this with our girls, Coriander and Cayenne. They are so over this plant thing!" Oh, I just want to snuggle up with those pups, Sheila! I admire your perseverence with overwintering. I gave up a couple of years ago. I would bring tons of plants in, and then never water them! Horrible, I know…..But when it's winter, I cannot get my head into any kind of physical gardening, even though I think and breathe it at work! Bravo.
______________________________________________
Want to get the (G)arden (P)hoto (o)f the (D)ay delivered to your inbox every morning? CLICK HERE!
Want us to feature YOUR garden, or a garden you've recently visited, in the GPOD? CLICK HERE!
Want to see every post ever published? CLICK HERE!
Want to search the GPOD by STATE? CLICK HERE!
And last but not least, Check out the GPOD Pinterest page, where you can browse all the post in categories…fun! CLICK HERE