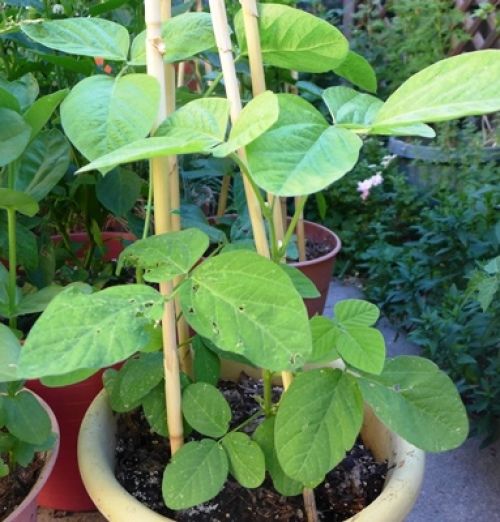 If you've ever ordered edamame as an appetizer at a restaurant, you know these nutty and buttery beans are as delicious as they are beautiful. They can also be expensive, depending on how much they're marked up on the menu.
For the price of one order of steamed and salted edamame, you could purchase several packets of soybean seeds and grow your own tasty snack.
Edamame are soybeans that are as easy to grow as other vegetable garden beans. However, soybeans are nutritional powerhouses because they're packed with protein. They make a nice meat substitute for vegan and vegetarian diets.
Soybeans are an easy-to-grow warm season vegetable that can be planted in containers or the vegetable bed. Plants grow to about 2 feet tall and beans are ready for harvest in about 80 days.
Soybeans are planted from seeds in warm soil, just like other garden beans. Locate a sunny spot and amend the soil by digging in compost or other organic matter, although beans can grow well in almost any garden soil.
Plant seeds about 1-1 ½ inches deep and about 3 inches apart. Beans can be picky about germinating, so it pays to plant thickly and then thin to about 6 inches apart once they've sprouted and started to grow.
If you'd like to have a continuous supply of fresh soybeans through the summer, plant seeds several weeks apart through mid-summer.
Keep up good watering practices because beans need consistent water, especially when flowering. Water on a consistent basis to keep soil moist and keep leaves dry. Mulch around bean plants with an organic mulch, like straw or shredded leaves. Mulch helps maintain soil moisture and keeps down weeds.
Soybean plants might not need a support unless the plants might fall over in windy weather. A teepee trellis works find as a support.
Wait until the soybeans are nice and plump in their pods before harvesting. Harvest while pods are still green and beans are almost touching each other.
Use pointed pruners or scissors to carefully cut pods from the plant (don't pull). Avoid cutting pods from the plant while leaves are wet to prevent spreading foliar diseases.
You can steam the unopened pods for 2-4 minutes or until bright green and tender. Sprinkle pods with salt right before serving as a snack (eat the beans only, not the pods). As an alternative, remove steamed beans from their pods to use in other recipes.