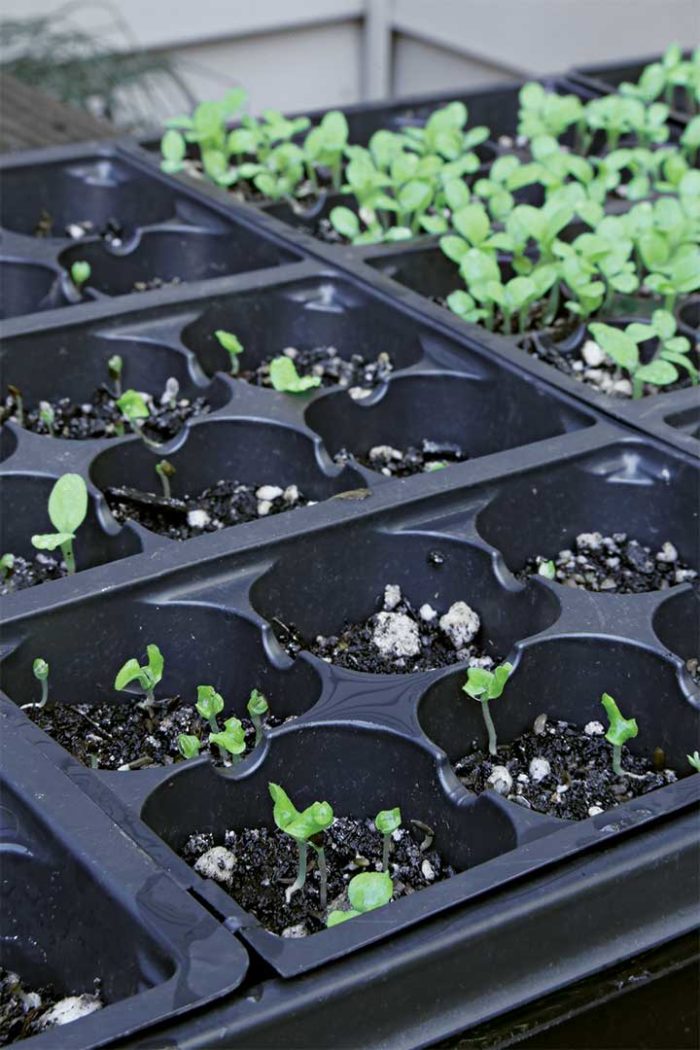 Once your seeds have germinated, how do you give your young plants the best possible start? Read the Science of Seed Starting.
Keep a careful watch. We can help seeds germinate in many ways, depending on their requirements. Whichever method you use, when you see unsown seeds sprout with a root or seed leaves, be ready to sow them quickly in a tray. If you are growing your seedlings inside, make sure that they have enough light for strong, healthy growth.
Give roots room to grow. Some seedlings, like those of butterfly milkweed (Asclepias tuberosa), need to be planted in deep cells that allow their taproots to extend downward. I usually sow taprooted seedlings in pots or trays that are at least 5 inches deep (photo).
Harden off with care. Indoor- or greenhouse-grown plants can scorch from sun and wind if they are moved outside too quickly. An easy way to harden them off is to place them in a shady spot, then gradually increase the amount of light and exposure they get over a week before planting.
Fertilize to promote growth. Many seed germination mixes have a light amount of fertilizer in them to help get plants started. But because frequent watering leaches the nutrients, you will soon need to provide your young plants with more nutrients. I like to start new seedlings off with half-strength fertilizer for the first week or two to avoid salt burn.
To learn more. Many seed companies have great information about what seeds require to start growing. In addition, I recommend a wonderful free online reference from the USDA that provides germination requirements for over 2500 species: Seed Germination Theory and Practice by Norman C. Deno.
---
Jared Barnes, Ph.D., is an assistant professor of horticulture at Stephen F. Austin State University in Nacogdoches, Texas.