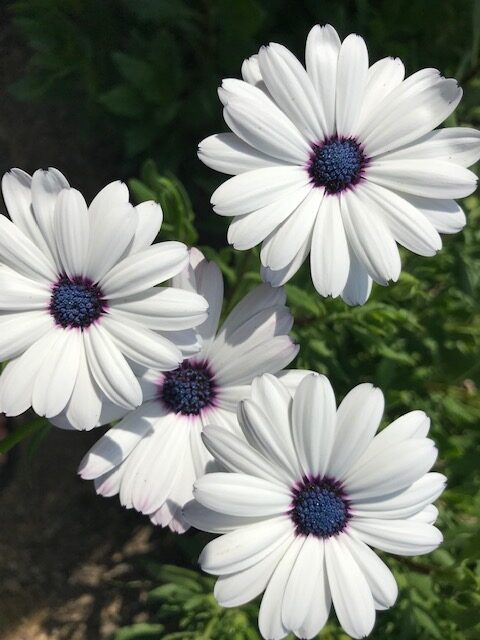 Today's photos are from Tina Tyzzer.
We built a new home in 2016 (Zone 6, Indiana) on 6 acres that had been farmed for the previous 50+ years. In spite of my being a gardener for more than 20 years, not much survived the first year. The vegetable garden provided enough for the table, but not much for the winter, so I did a soil test and discovered that we had a very high PH (8.0). We've been making compost and amending the soil from this and bedding from our chicken coops. From all perspectives, 2020 was a very sad year, but at least we got to spend more time in the garden!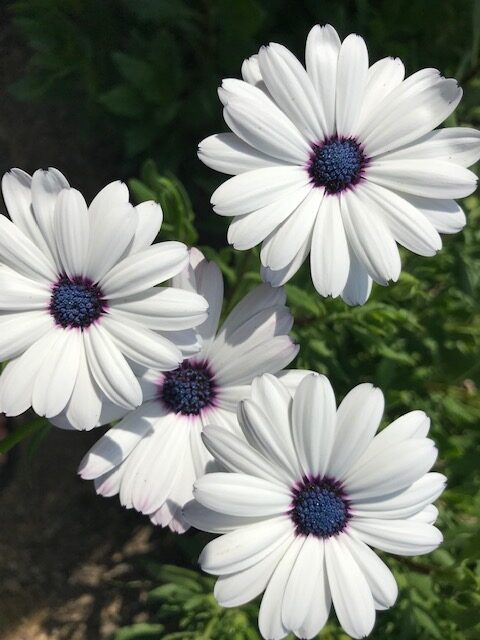 I have grown African daisies (Osteospermum, annual) before but never with the success of this year. They just tumbled over each other.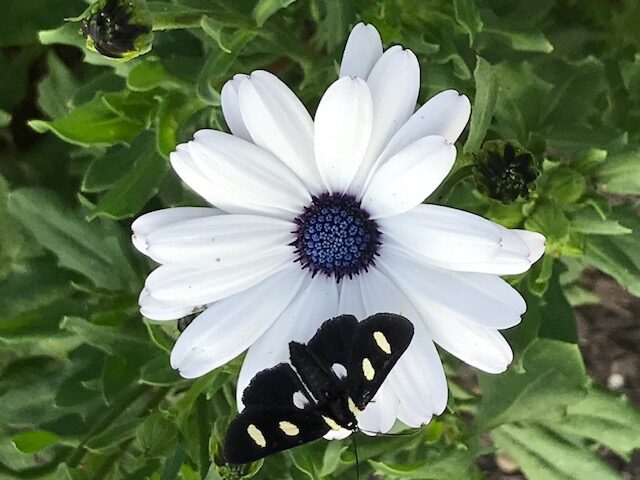 Although I didn't witness many pollinators on the African daisies, this moth did seem to enjoy them.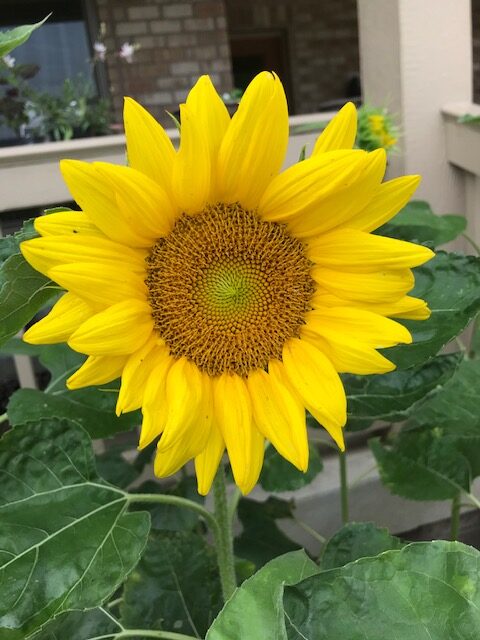 All of our sunflowers (Helianthus annuus, annual) have self-sown from previous years and/or were spread by our free-ranging chickens.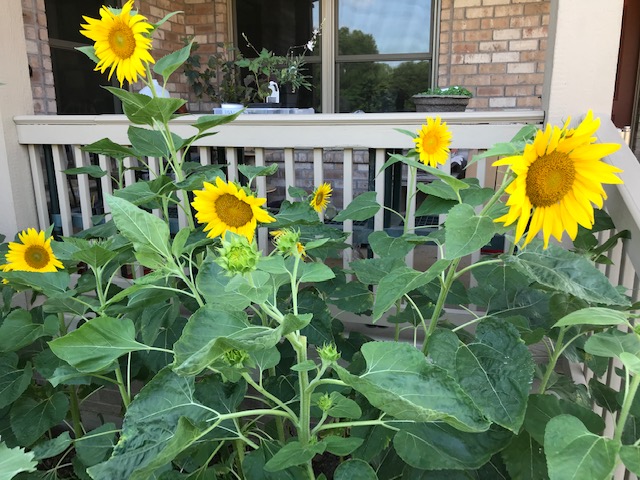 A favorite spot for the sunflowers is just off the porch, where they are sheltered from the wind. There were hundreds of sunflower seedlings there that had to be thinned. There were still plenty left.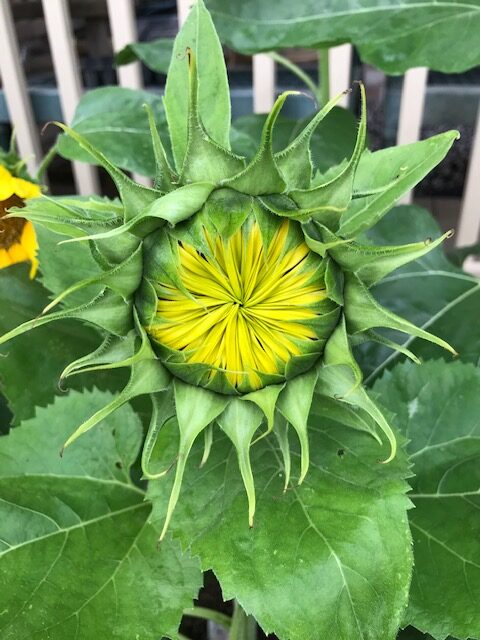 Sunflower blooms are amazing at every stage of their life.
We planted lots of red to attract hummingbirds, but monarchs enjoyed this part of the garden as well.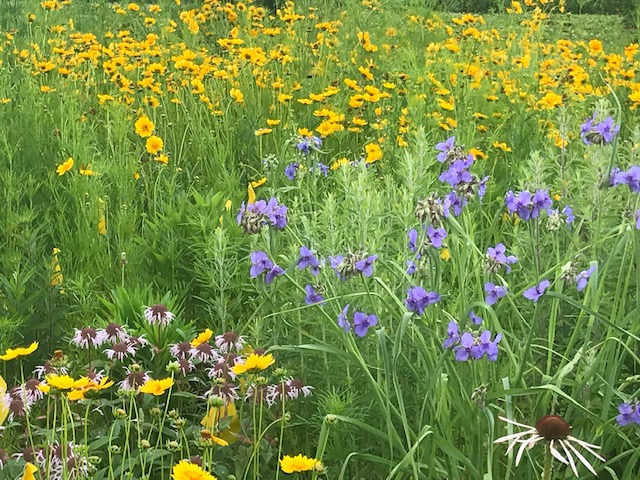 The only garden that has thrived since the beginning is our bee garden, which was planted by seed in front of our six beehives. It is so laden with plants that we have not added anything to the soil, so nature has definitely taken over here. This year the yellow lanceleaf coreopsis (Coreopsis lanceolata, Zones 3–8) appears to have taken over, but the Monarda (Zones 3–9), Echinacea (Zones 5–9), and purple spiderwort (Tradescantia virginiana, Zones 4–9) are hanging in there. The surprising thing was that other beautiful pollinators far outnumbered the honeybees, so definitely we will be expanding this garden.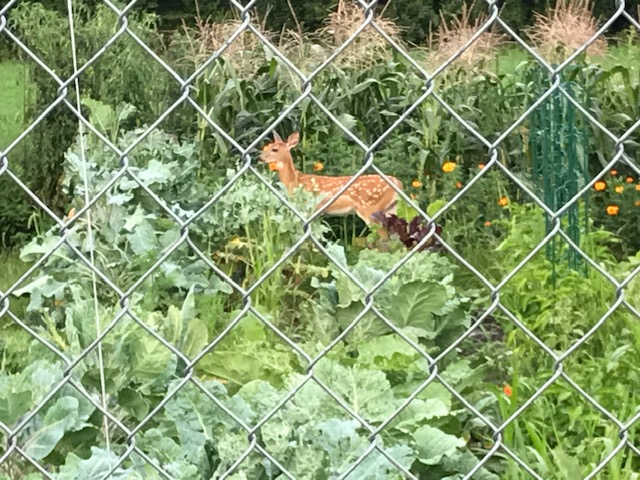 And last but not least, we invite all forms of wildlife to our gardens. There were twin fawns that showed up several times. This was the brave one; the other is hidden between the corn rows. It's a good thing we grow plenty to share! We used a chain-link fence to keep the predators away from the chicken coops. I guess we should have also enclosed the vegetable garden!
Have a garden you'd like to share?
Have photos to share? We'd love to see your garden, a particular collection of plants you love, or a wonderful garden you had the chance to visit!
To submit, send 5-10 photos to [email protected] along with some information about the plants in the pictures and where you took the photos. We'd love to hear where you are located, how long you've been gardening, successes you are proud of, failures you learned from, hopes for the future, favorite plants, or funny stories from your garden.
If you want to send photos in separate emails to the GPOD email box that is just fine.
Have a mobile phone? Tag your photos on Facebook, Instagram or Twitter with #FineGardening!
You don't have to be a professional garden photographer – check out our garden photography tips!
Do you receive the GPOD by email yet? Sign up here.