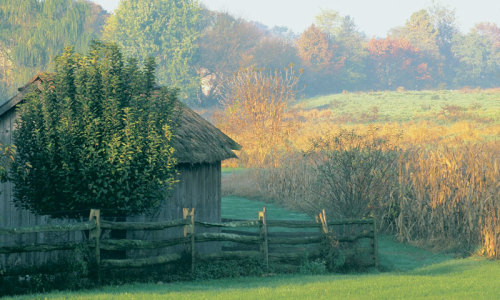 by William Woys Weaver
December 1997
from issue #12
The Pennsylvania Dutch are a people of many beliefs and many lifestyles, but we share one thing in common: Our cookery is the product of our land. Our down-to-earth style of cooking—robust and rich in flavor—captures the essence of ingredients that come from our own back yards. And when we're working in those yards, whether in Pennsylvania, Ohio, or Virginia, we discuss our foods in a language all our own called Pennsylfaanisch.
Happily, many of the old peasant dishes from the past, especially the vegetarian ones and those we share with Pennsylvania-German Jews, have opened a whole new area of dietary possibilities, pushing tradition into the 21st century. Peasant food, food from the land, food in tune with the natural cycle of things, not only is growing in popularity because of the way it tastes but because it is good for us, plain and simple.
When saffron is in full bloom, the fall crop of chervil is also at its peak. The flavors of these two herbs are complementary, and when combined with stewed chicken, the results are classic. The Pennsylvania Dutch usually serve boiled potatoes or small dumplings (resembling gnocchi) with this traditional Sunday dinner dish. Some variations on the recipe include the addition of chopped yellow tomatoes or small florets of cauliflower. The addition of cauliflower creates a true one-pot meal.
For gardeners who are interested in growing heirloom vegetables, I recommend these garden fresh ingredients: 'White Lisbon' onions, 'Mus­sel­burgh' leeks, 'Long Surrey' carrots, and, for the boiled potatoes, the handsome old Pennsylvania Dutch called 'Conestoga'.
Spelt (Triticum spelta) is an ancient relative of wheat cultivated in the Celtic Rhineland long before the Roman occupation of that region. Its flour was favored by pretzel bakers, and since it makes extremely fine bread, spelt was the staff of life among the German peasants who eventually settled in Pennsylvania. So widespread was its cultivation among the Pennsylvania Dutch prior to the Civil War that spelt was commonly referred to as "German wheat" by American farmers.
Today, spelt has been rediscovered as a health food, not only for its high nutritional value, but also because it is easier to digest than wheat. The cooked spelt groat or whole berry makes a delightful salad. Both spelt flour and the whole grain are widely available in health food stores.