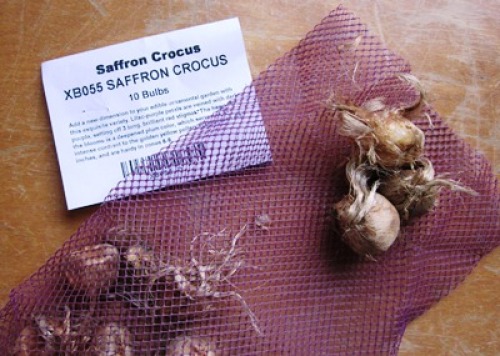 When I decided to plant a few saffron crocus bulbs (Crocus sativus) this fall, I had no idea of the spice's rich history. I thought I was just trying to save some money by growing the world's most expensive substance instead of buying it at the store.
Once I got ready to plant the little corms, I learned that saffron is thought to have originated in what is now Turkey. I didn't know that saffron was also popular among both the Greeks and Romans. It was the Romans who spread saffron through northern Europe and into Britain. The prized spice was brought to America in the early 1700s by a German farmer who grew it on his land in Pennsylvania.
The saffron spice is actually the tiny orange-red stigmas that grow in the center of each small purple flower. Every flower is cut and the stigmas are carefully removed by hand and then dried. Because so little saffron is gathered from each flower, and because the process is so labor intensive, saffron can sell for $75 an ounce.
The experts say it takes between 60,000 and 100,000 saffron flowers to produce one pound of marketable saffron. Fortunately, most of the recipes I have in mind ask for just a generous pinch to add an earthy flavor and yellow color to paella, bouillabaisse and risotto. Some people enjoy saffron as an ingredient in cakes, too.
Planting Saffron Bulbs
Saffron is planted in fall in moist, well-drained soil and it can be planted in full sun to partial shade. The corms are planted 3-4 inches deep, spaced 6 inches apart. 
Before I place the bulbs in each planting hole, I'll sprinkle in some phosphate to encourage the bulbs to develop a sturdy root system. Once the ground freezes, I'll mulch the garden bed heavily and keep it watered if the winter is too warm and dry.
As the weather warms in spring, I'll be interested to see when the long, grass-like leaves start to emerge. That's when it's time to slowly pull back the mulch and dig in a bit more phosphorus. The flowers need to be watered through summer and then, with luck, I'll see lilac-purple petals, blooming in early fall.
Have you grown saffron in your garden? If so, please share your growing tips here.