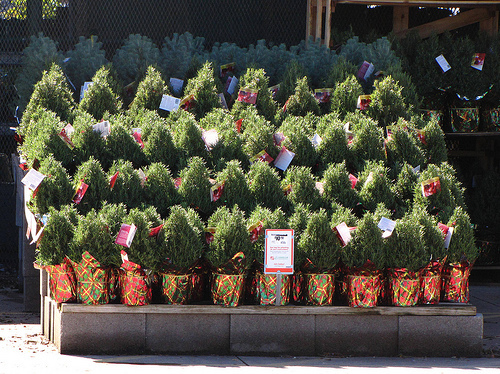 I love Christmas trees. In fact, they're my favorite Christmas holiday tradition. So it shouldn't come as any surprise that I can't seem to pass up any type of plant that's been shaped as a Christmas tree for the holidays. I love the Norfolk Pines, dwarf Alberta spruce, lemon cypress, and yes, even the ivies. One of my favorite mini-Christmas tree purchases I make each year is a new rosemary plant that has become a winter tradition for me.
Like any Christmas tree worth its salt, rosemary is excellent for releasing fresh herb scent throughout the house or the patio. Just a light brush from your hand or against a ski jacket will fill the air with the scent of all things growing. Once the holidays are over I repot this perennial herb "tree" into a slightly larger container and let the branches fill in naturally. When Christmas rolls around again, I tend not to shape last year's rosemary back into a Christmas tree, but rather, I use the season as an excuse to purchase yet another little specimen.
Rosemary takes beautifully to being shaped. One time, husband-extraordinaire clipped the one planted in my rabbitry area into a running bunny. Personally, I have no problem with shaping rosemary bushes into topiaries of any kind. It's hypocritical to say anything else considering that I take clippings and branches for the kitchen whenever the mood strikes me. Which doesn't exactly leave the plant in its authentic and natural form. So, I say, clip away and shape them as much as your little heart desires (as long as you use the clippings).
This isn't an herb that's neccesarily considered cold-tolerant; it can take tempuratures down to about 25 degrees. Much after that, it's really best to slide them under the patio or indoors for the winter. Here in Northern California, we often get freezes, and even the occasional freak-snow-flurry. But because rosemary does extremely well year round in the San Francisco Bay Area, they eventually end up planted somewhere in my yard.