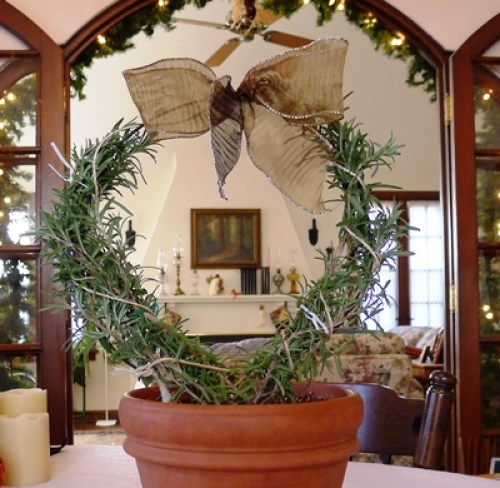 Rosemary is a well-known herb that's recognized for its fragrant dark green, needle-like leaves. These leaves add flavor to many recipes these days, but it the past the plant was regarded as an important medicinal herb.
Rosemary's association to Christmas is as a winter green that can be used like incense or as a delicious flavoring for wild game.
Even though many vegetable gardeners plant and grow rosemary as an annual, it's a perennial plant. In warm climates where it thrives, rosemary can grow into a dense garden hedge. A nice feature of this herb is that it can also grow in containers.
For a special addition to the holiday table, train a rosemary plant to grow into a topiary. Here's how to get started:
Shop the indoor gardening section of garden centers that stock rosemary plants at this time of year. Select an upright rosemary variety, like 'Tuscan Blue'. 
Choose a container with a drainage hole and fill with a well-draining potting soil. Be sure to use a large enough saucer to catch the extra water.
Either buy or create a simple metal frame. A metal clothes hanger is easy to form into a round shape to support the topiary.
Refrain from watering the plant for a few days to make the branches a bit more flexible.
Place the frame in the middle of the container and separate the rosemary into two main branches. Attach each branch bundle to the round wire frame with twine, twisty ties, or florist tape. 
Decorate the top of the topiary with a ribbon, bow or other embellishment.
As the plant grows, train the branches up and around the frame; tie branches to hold them in place. 
Use small scissors to keep the rosemary pruned and to help maintain its round shape. Use the trimmings as a seasoning in holiday recipes.
Locate the container in bright light, but away from the direct sun. Avoid overwatering by letting 1 or 2 inches of soil to dry between waterings.
In the summer, you can move your topiary outside and slowly expose it to sunlight so it can continue to grow.