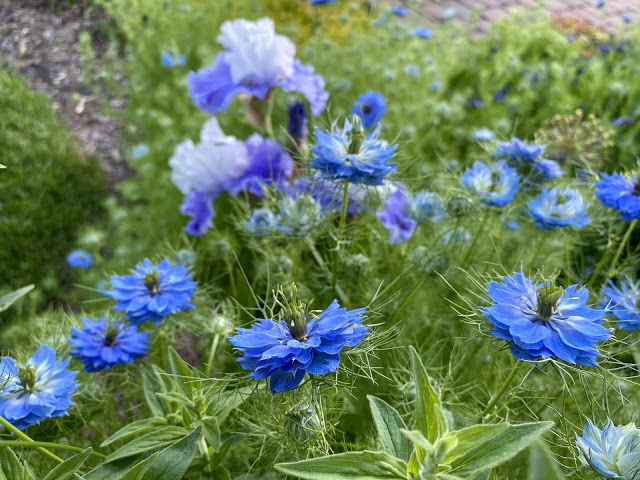 My name is Robin Leja, and I live and garden in Pickerington, Ohio. I call my place Robin's Nest, and I maintain a blog called Life in Robin's Nest, which I update at the end of each month.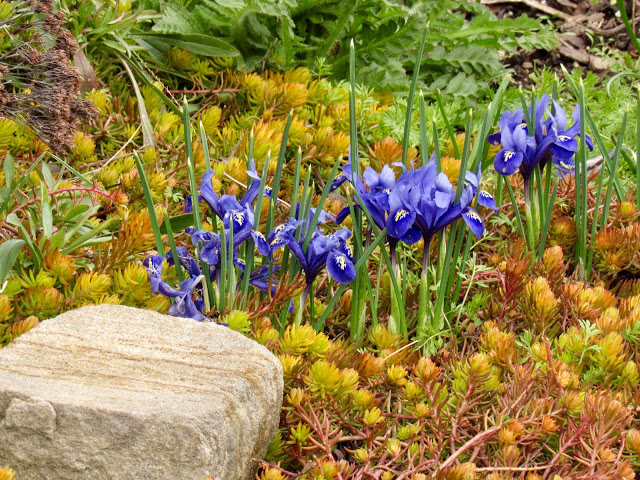 This photo basically illustrates the start of my gardening year. This is Iris reticulata 'Harmony' (Zones 5–8), which is usually the very first bulb to pop up in late winter, sometimes even late February, but usually early March. I particularly like to plant it under my 'Angelina' sedum (Sedum rupestre 'Angelina', Zones 3–9), because 'Angelina' usually turns shades of yellow, orange, and red at this time of year and makes a pretty contrast with 'Harmony'.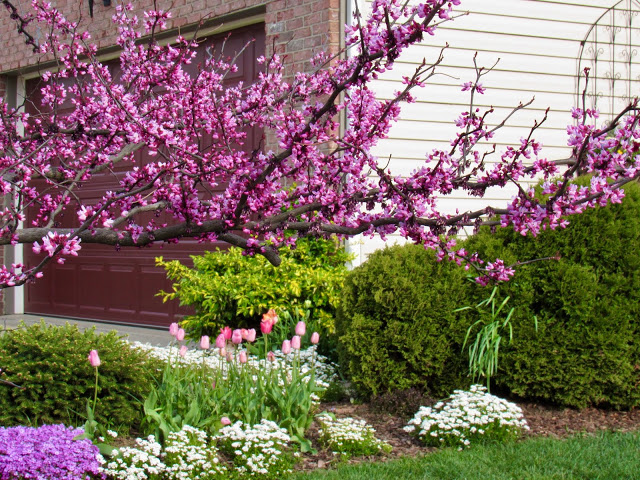 In my front yard, I have a 'Forest Pansy' redbud tree (Cercis canadensis 'Forest Pansy', Zones 5–9) that is much loved by us. It blooms at the same time as my tulips and makes such a pretty backdrop for them. The white flowers are candytuft (Iberis sempervirens, Zones 4–9), and it pleases me how they bloom at exactly the same time as the tulips, making the perfect undercover. Creeping phlox (Phlox subulata, Zones 3–9) also blooms with them.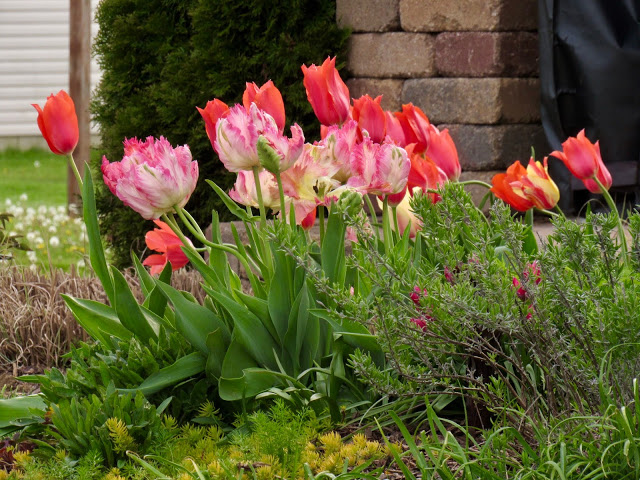 I'm a big fan of tulips, which I generally plant each autumn. I treat them like annuals, since they don't come back as reliably as many people think. Most years, my best friend and I visit Holland, Michigan, during the Tulip Time Festival, where we wander the tulip fields in order to pick out the bulbs we'll use that fall. This particular year I chose a color scheme of apricot and coral colors.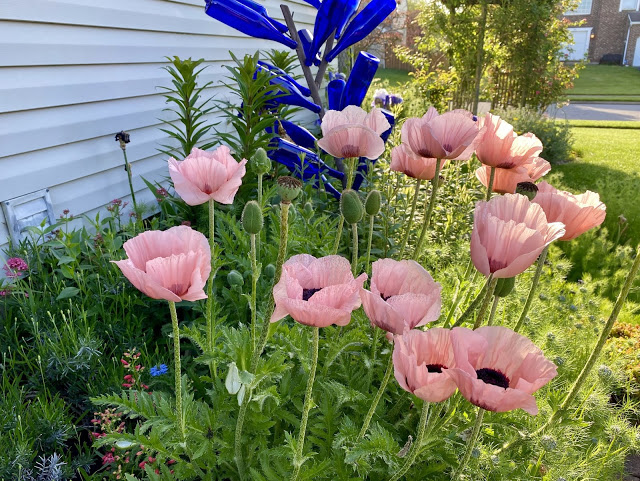 May is one of the prettiest months in the nest as warm weather arrives and everything bursts into bloom. These are my 'Princess Victoria Louise' poppies (Papaver orientale 'Princess Victoria Louise', Zones 3–7). This started out as three tiny plants about five years ago and has since spread out into this display. I like how they look with my bottle tree.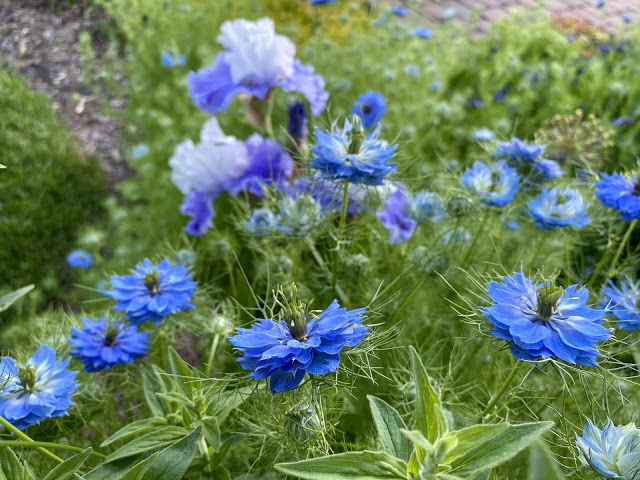 At the end of May, my nigella (Nigella damascena) comes into bloom. It's a self-seeding annual that is prolific in my garden. I give seeds to everyone and still have plenty to spare. Its blue blooms are a sight to behold.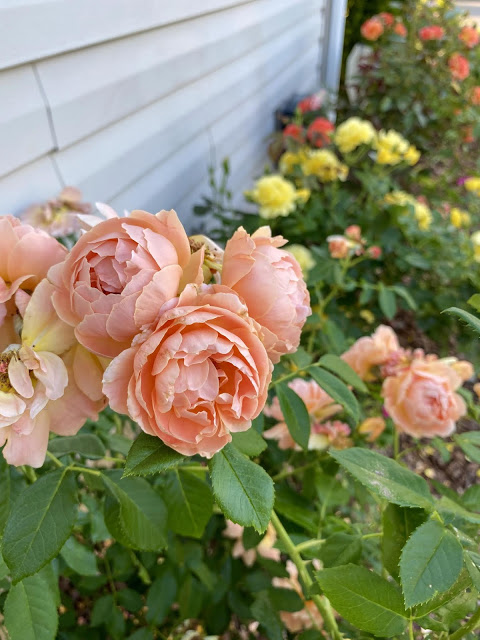 June is a particularly joyous time here in the nest, with a riot of flowers at every turn. This photo is a closeup of the 'At Last' rose, which is carefree and resistant to disease, and it blooms profusely all summer long. I highly recommend it!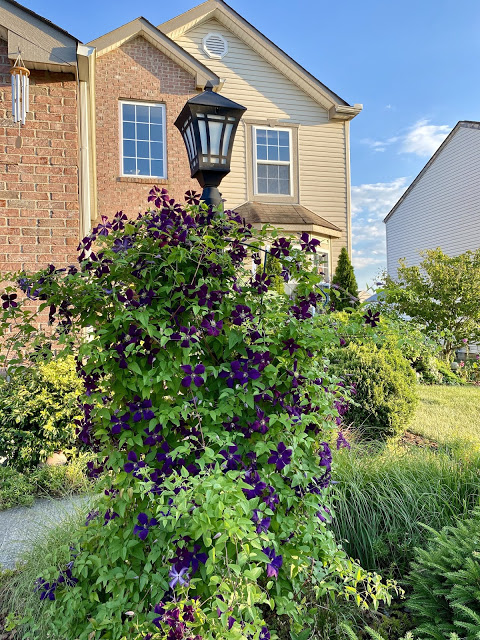 On my front lamp post, I grow two different clematis, but they've become so intertwined over time that it's impossible to tell which is which. On the front you see here, it should be 'Jackmanii Superba' (Clematis 'Jackmanii Superba', Zones 4–9), and the back should be 'Polish Spirit' (Clematis 'Polish Spirit', Zones 3–11) in honor of my husband's Polish heritage.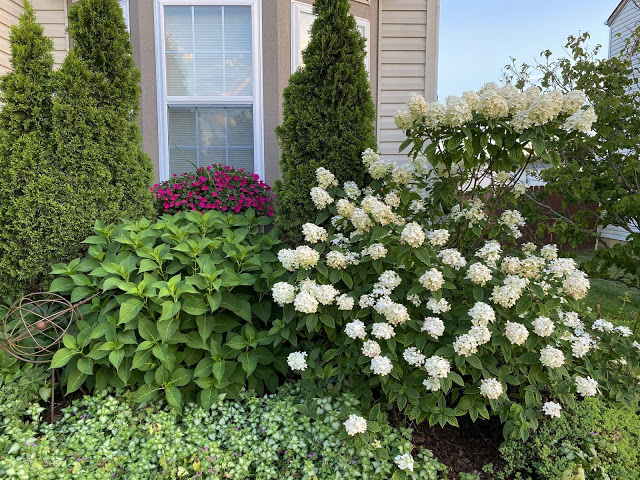 This is a front view of my bay window area. That white hydrangea is called 'Fire Light' (Hydrangea paniculata 'Fire Light', Zones 3–8), and I recommend it to everyone. It starts out white, then turns pink, and finally burgundy in the fall. It is ALWAYS full of flowers through the season, and they're especially nice to preserve by drying.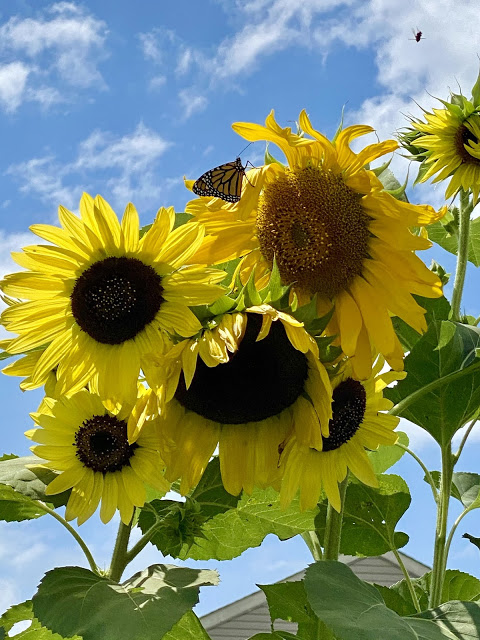 I grow milkweed, and I raise monarch caterpillars in my kitchen. I examine the milkweed leaves, gather the eggs, and wait for them to hatch, at which point I continue to provide them with fresh milkweed until they form their chrysalises. Once the butterflies emerge, I release them out in my garden. Often they stick around for photos before taking off. I particularly like when they pose on my sunflowers. I call this shot "Incoming!," as I didn't notice this bee coming in hot until after I saw the shot.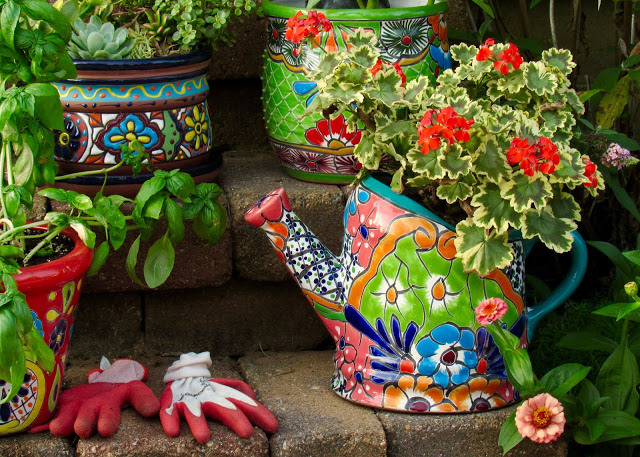 What I liked about this particular shot was that it seemed to be a study in orange. I was sitting on the patio, and it just caught my eye—my discarded orange garden gloves, my ever growing collection of Talavery pottery, and my tricolor geranium (Pelargonium hybrid, Zones 9–12 or as an annual) in bloom, with the potted basil and succulents nearby, and even a couple of Oklahoma salmon zinnias (Zinnia elegans, annual) in the corner.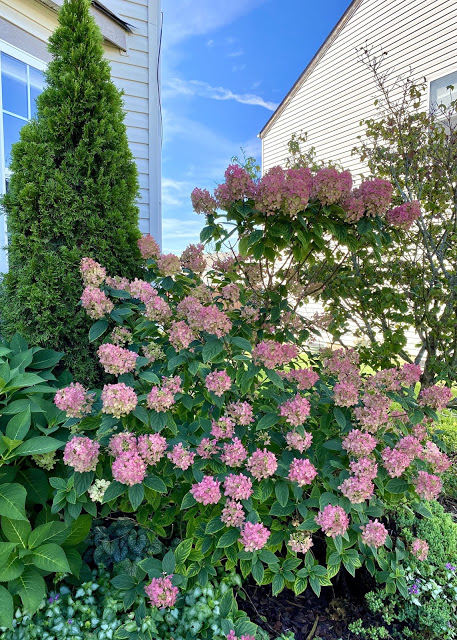 Here's my 'Fire Light' hydrangea in September. A few years ago, I had the opportunity to trial some plants for Proven Winners, and this was one of those. I give it a very enthusiastic two-thumbs-up. It begins blooming in white, then transitions to pink, and finally burgundy. It's a very dependable bloomer!
Have a garden you'd like to share?
Have photos to share? We'd love to see your garden, a particular collection of plants you love, or a wonderful garden you had the chance to visit!
To submit, send 5-10 photos to [email protected] along with some information about the plants in the pictures and where you took the photos. We'd love to hear where you are located, how long you've been gardening, successes you are proud of, failures you learned from, hopes for the future, favorite plants, or funny stories from your garden.
If you want to send photos in separate emails to the GPOD email box that is just fine.
Have a mobile phone? Tag your photos on Facebook, Instagram or Twitter with #FineGardening!
You don't have to be a professional garden photographer – check out our garden photography tips!
Do you receive the GPOD by email yet? Sign up here.