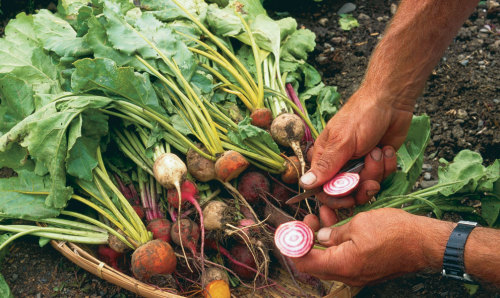 Recipe by Cyndi Ross
August 1997
from issue #10
As a cook, I am inspired by colors, so I find beets particularly exciting to work with. My favorite way to cook beets is to roast them, which gives a sweeter, richer, and deeper flavor than boiling does. Another advantage is that they don't bleed as much, especially if they're roasted whole. Incidentally, to get beet stains off your hands, wet them, rub them with coarse salt, then wash with soap.
To roast beets, I scrub them under cold water, rub them with vegetable oil, and sprinkle them with a little kosher salt. I roast them on a baking sheet at 350˚F. Small to medium beets take 30 to 60 minutes. You may want to cut large beets in half to shorten the baking time. When the beets can be pierced easily with a fork, they're done. Once the beets are cool, the skins slip off easily.
I have no trouble finding ways to use leftover, cooked beets. In my beet vinaigrette, puréed cooked beets take the place of some of the oil, so this dressing has more nutrients and less fat than traditional vinaigrettes. The vibrant color really dresses up garden salads, pasta salads, and fish. One of my favorite salads is a mixture of greens topped with cubes of roasted beets, slices of tart green apple, and pats of goat cheese, all drizzled with sweet-tangy beet vinaigrette.
Beet greens and cubes of roasted beets, sautéed with olive oil and garlic, form the base of a quick and tasty sauce for pasta. Sometimes I go all out and make beet pasta, using 3 cups of flour, 2 eggs, 1 tsp. of salt, and 1⁄2 cup beet purée or grated raw beet, plus just enough water to make a pliable dough. This makes 11⁄2 lb. of hot pink pasta. Talk about color!