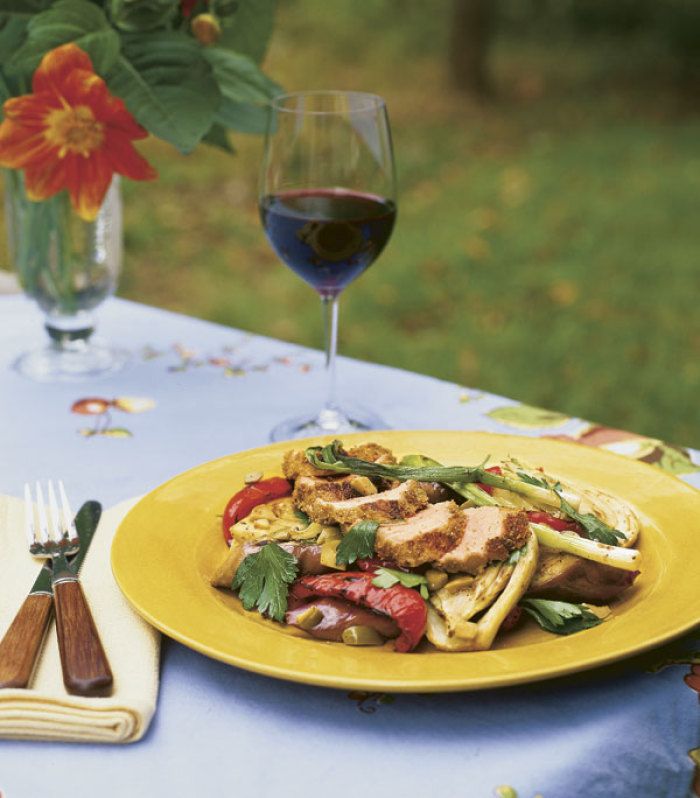 I love cooking dinner for my family in the summertime. The lingering daylight slows my pace, and life in general seems less hurried. School is out for the kids, so there's no homework to worry about, and bedtime rules relax. Preparing dinner in summertime becomes a string of simple pleasures rather than a required chore. Snipping fresh herbs or harvesting vegetables and salad greens from the garden, starting the grill, and cooking outdoors on a warm summer night bring delight.
I have a summertime rule: The oven never goes on. Instead, I fire up our grill, or cook simply on the stovetop. I rely on the goodness of fresh ingredients to carry meals, rather than on complicated, lengthy cooking techniques. Winter is the time for stews and roasts that fill the kitchen with wonderful aromas. In the summer, I like to make dishes that are quick, easy, and delicious.
Warm salads are a marvelous way to combine grilled meat or sautéed beans with fresh garden ingredients to make main dishes that are fun to prepare and tasty to eat. The mixing and blending of food flavors and textures makes the sum of the ingredients in these dishes greater than any individual part. Goat cheese, warmed by gently cooked lentils, set atop a bed of peppery arugula is perfection to the senses. Rather than the predictable scenario of meat, potato, and vegetable, warm salads mix everything together, serving up surprise and bursts of flavor in every bite.
The key to success is choosing ingredients that complement and enhance each other. We asked Jody Adams, chef of Rialto in Cambridge, Massachusetts, to develop some recipes for Kitchen Garden based on the following guidelines.
Compare and contrast ingredients. Just as a winter stew combines the richness of slowly braised beef with sweetly succulent vegetables, the pairing of meats or fish with vegetables and greens in salads is a natural combination. I don't know about you, but I for one love to eat my food in unison—each forkful holding a bit of meat with a bit of something else, whether it be sweetly grilled onion, lightly dressed lettuce, or a sharp olive. The flavors blend and harmonize with every bite.
With that in mind, pairing ingredients for main dish salads can be fun and creative. Meats like pork and beef deserve to be paired with vegetables that have strong flavor and character. Jody combines a spice-crusted pork tenderloin with sweet red peppers, anise-flavored fennel, and robust Japanese eggplant (Grilled Pork, Eggplant, and Fennel Salad). These hearty vegetables stand up to, and complement, the pork's richness.
In contrast, the flavor and texture of fish requires a lighter hand. You'll want to choose other salad ingredients that enhance but don't overwhelm the subtle taste of fish. Jody pairs grilled striped bass with a simple blend of garden ingredients—corn, ripe tomatoes, basil, and tender spinach (Grilled Striped Bass with Corn, Tomato, and Basil Salad). There is nothing like eating fresh fish in season in the summer, so let what's available in your fish market, as well as in your garden, drive your meal planning. Jody also makes this dish with bluefish, a New England summertime favorite.
Beans or lentils become remarkable accompanied by grilled vegetables. Sometimes boring, sometimes bland, legumes paired with exciting vegetables like beets, radicchio, and arugula make for a memorable, tantalizing dish (Lentil Salad with Grilled Figs and Vegetables). Jody also adds grilled figs, which provide an unexpected but wonderful burst of sweetness. Fresh fruit can be a pleasing addition to many main dish salads. Some, like figs, pears, and apples, can be warmed gently on the grill to enhance flavor. Others, such as grapes, raspberries, or kiwi, can be tossed in fresh, giving a subtle, ambrosial quality to the salad.
The varying temperatures of ingredients also give salads complexity. Sizzling meat, fish, or vegetables hot off the grill will gently wilt salad greens, intensifying flavor. I also enjoy the crisp crunch of toasted nuts or homemade croutons. To make croutons, cube a couple of slices of bread, toss the cubes in 2 tablespoons of melted butter or olive oil flavored with fresh herbs, and toast until browned.
Build cohesiveness with seasonings. Fresh herbs are an indispensable component of summertime cooking. How lucky we are to have thyme, parsley, rosemary, and basil just a step away when preparing dinner. Using fresh herbs in warm salads adds intensity to the contrasting flavors of meat and vegetables, and also links them together. For example, Jody seasons the striped bass overnight with herbs, including basil. Basil is used again in the salad, mixed with spinach, fresh tomatoes, and roasted corn. When these two parts of the dish come together on a plate—warm, grilled fish on top of the piquant vegetable mix—the basil serves as a bridge, enhancing and joining the individual flavors.
Other seasonings can serve the same purpose. For example, the vegetables in the striped bass recipe are tossed in a simple dressing of extra-virgin olive oil and lime juice. The citrusy flavor of the lime juice brightens the vegetables, but is also wonderful with the fish, again joining and enhancing flavors.
Similarly, the sweet yet pungent flavor of sherry vinegar travels through Jody's lentil recipe like a charm. First it is swirled into the tender lentils, adding richness and just a touch of extravagance to the legumes. Then, once the vegetables are grilled, they in turn are tossed quickly and simply with a touch of sherry vinegar and olive oil. Last but not least, arugula goes in the same bowl and is tossed, picking up a light and delicate coating of the sherry vinegar and oil. This repetition of one simple ingredient serves the admirable function of unifying seemingly disparate parts into a wonderful whole.

Save time by doing steps ahead. While all the recipes included here have fairly lengthy ingredient lists, none is complicated to prepare. Two of the recipes do require seasoning the meat or the fish overnight. This is not an elaborate process, and I think you'll find it's worth the effort.
Both seasoning mixtures are easily put together the night before, or even in the morning, taking maybe 10 to 15 minutes to complete. The pork seasoning calls for a spice rub that's fantastic. And yes, it's worth the effort to use whole seeds that you toast and grind fresh. You can use either a mortar and pestle or an electric coffee or spice grinder.
Some of the other ingredients, like cooked beets and roasted corn, are also easily dealt with ahead of time. In anticipation of a warm dinner salad in a day or two, cook extra beets if you're serving beets, roast a couple of extra ears of corn. You'll find yourself composing a salad as the week progresses, blending perfect ingredients in two-part harmony.
by Linda Wesley
April 1998
from issue #14