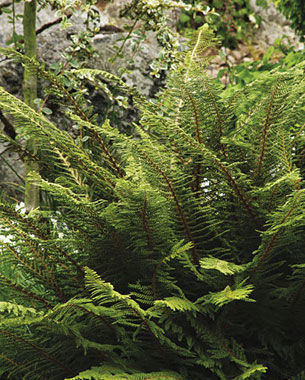 1. Divided Soft Shield Fern
Name:

Polystichum setiferum

Divisilobum Group
Usda Hardiness Zones: 6 to 9
Size: 15 to 18 inches tall and 24 to 30 inches wide
Conditions: Partial to full shade; rich, well-drained soil
The graceful arching fronds of this old Victorian variety are particularly beautiful. The finely cut foliage reminds one of delicate lace and doesn't allude to how tough and tolerant this fern is once established. Tolerant of dry shade, the evergreen foliage looks great year-round. Its soft appearance makes it a perfect companion for bolder leafed plants. Watch for tiny round bulbils along the leaf stem in late summer or early autumn; these can be easily propagated by pinning the frond to the soil through winter. Water regularly until established and remove old fronds in early spring (March) before new growth starts.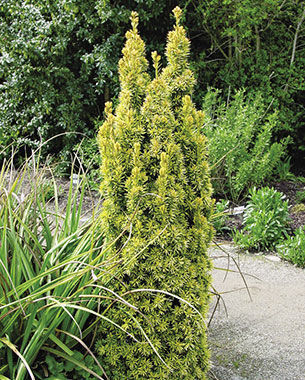 2. 'Standishii' Yew
Name:

Taxus baccata

'Standishii'
Zones: 5 to 8
Size: 5 to 6 feet tall and 12 to 15 inches wide in 10 years
Conditions: Full sun to partial shade; tolerates a wide range of soil conditions as long as it is not excessively moist
'Standishii' is essential for a drought-tolerant formal garden or to just add a strong vertical element to the landscape. This golden yew holds its upright rigid habit, rarely splitting in snow or ice. It responds to pruning, making it easy to keep in scale in even the smallest gardens. The new growth is bright chartreuse-yellow, deepening to gold by early summer, which contrasts well over the older dark green foliage. Its slow growth makes it useful for containers as well as the garden, and the golden coloring glows in our gray winters. You will get the best color in full sun, but the gold tones will fade by summer in partial shade.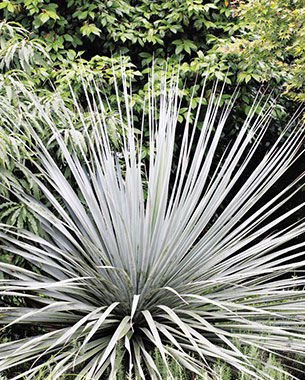 3. Nelson's Bear Grass
Name:

Nolina nelsonii
Zones: 7 to 10
Size: 6 to 7 feet tall and 4 to 5 feet wide in 10 years
Conditions: Needs full sun and excellent drainage; requires little to no water once established
The architectural beauty of this yucca relative is surpassed only by its low demands for maintenance and water. The long, thin blue-green leaves radiate from the trunk, forming a perfect dome, formidable in appearance but surprisingly flexible and less likely to draw blood than its agave and yucca kin. Tolerant of our wet winters and cool summers, its foliage resists spotting and mildewing in inclement weather. It is rare to flower in the Northwest, but the bloom spires can be spectacular, although it will often take decades before the plant reaches a flowering size.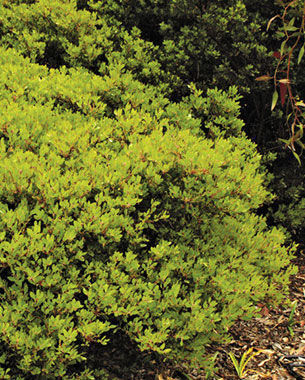 4. 'Howard McMinn' Vine Hill Manzanita
Name:

Arctostaphylos densiflora

'Howard McMinn'
Usda Hardiness Zones: 8 to 10
Size: 5 to 6 feet tall and 6 to 7 feet wide in 10 years
Conditions: Full sun; well-drained soil
The smooth, chestnut red bark and sculpturally twisted branching make this manzanita an artwork in the garden. Like most manzanitas, 'Howard McMinn' prefers well-drained soil with little to no summer watering. This selection is able to tolerate our excessively wet winter, along with the occasional summer watering we tend to give its thirsty neighbors, better than most other manzanitas. I particularly enjoy the small clusters of pink-blushed white urn-shaped flowers that bloom during the short days of winter, providing a welcome treat to our expanding population of overwintering Anna hummingbirds.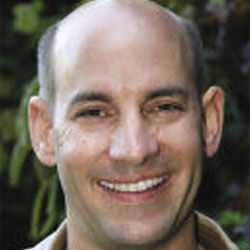 ---
Photos, except where noted: millettephotomedia.com; Richie Steffen; Kerry Ann Moore; Courtesy of Richie Steffen