Southern Plains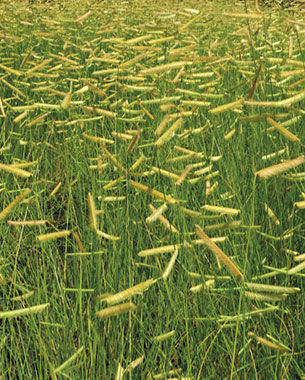 1. 'Blonde Ambition' Blue Grama Grass
Name:

Bouteloua gracilis

'Blonde Ambition'
Usda Hardiness Zones: 4 to 9
Size: 3 feet tall and wide
Conditions: Full sun; tolerates a range of soil conditions
A native grass with a striking new look for the garden, 'Blonde Ambition' demands to be noticed. A profusion of chartreuse flowers emerges midsummer, sitting at sharp angles like tiny flags atop blue-green foliage. Flowers give way to golden seed heads yielding a mass of texture and motion that remains in place through winter. Don't let the delicate seed heads and narrow leaf blades fool you, though. This prairie perennial is as tough as they come, tolerating drought, heat, and cold. It's a perfect selection for a low-maintenance garden.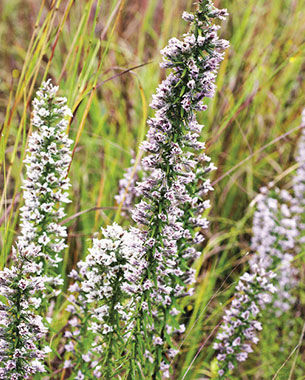 2. Pinkscale Blazing Star
Name:

Liatris elegans
Zones: 7 to 10
Size: 18 to 24 inches tall and 12 inches wide
Conditions: Full sun; well-drained soil
Butterflies are drawn to this dainty blazing star as it blooms over a long season from August through October. Long, wandlike flower spikes open from the top downward, bearing purple to lavender flowers with white stamens protruding from the centers. The foliage surrounds the stems in whorls of soft, pinelike leaves. Plant pinkscale blazing star in patches of five to seven plants along a border, or slip plants singly into small openings among mixed perennials for a natural look. Because it is rare in the trade, ask specialty growers for this native beauty.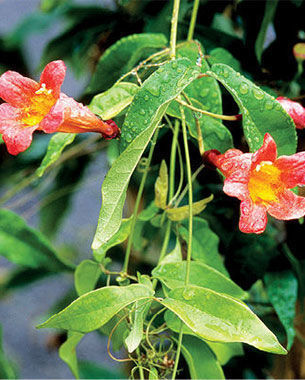 3. 'Tangerine Beauty' Crossvine
Name:

Bignonia capreolata

'Tangerine Beauty'
Zones: 6 to 9
Size: Vining 20 to 30 feet, spreading 6 to 9 feet
Conditions: Full sun to partial shade; tolerates a range of soils
Crossvine puts on a spectacular display of blossoms in spring and keeps the show going well into summer. Hummingbirds are attracted to the trumpet-shaped flowers. A vigorous climber, crossvine needs a sturdy arbor, fence, or trellis. The vine climbs using tendrils tipped with adhesive disks and requires no tying or support. The semi-evergreen foliage turns a reddish-purple in autumn. Plants may take a couple of seasons to get going, but are heat and drought tolerant once established. Little maintenance is required aside from pruning any undesired suckers.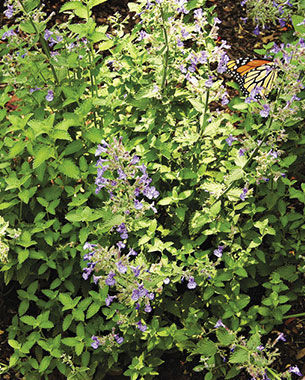 4. Junior Walker™ Catmint
Name:

Nepeta

×

faassenii

'Novanepjun'
Zones: 5 to 9
Size: 15 to 18 inches tall and 30 to 36 inches wide
Conditions: Full sun to partial shade; well-drained soil
Welcome butterflies, hummingbirds, and bees to the garden all summer with the soft lavender flower spikes of Junior Walker™ catmint. A truly compact catmint, Junior Walker™ is a sterile form of the popular but not-so-low-growing 'Walker's Low'. The gray-green foliage is finely textured and highly aromatic. Plant along walkways where the fragrance can be enjoyed, or allow foliage to tumble over walls. Junior Walker™ is tolerant of deer and rabbits, and benefits from cutting back midseason. The compact form makes it a good selection for rock gardens or massed as a ground cover.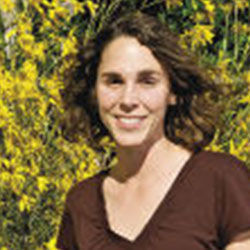 ---
Photos, except where noted: milettephotomedia.com; Steve Aitken; Bill Johnson; courtesy of Kimberly Toscano