Mid-Atlantic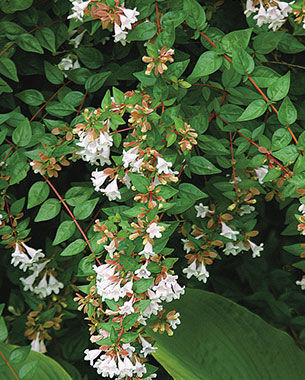 1. Glossy Abelia
Name:

Abelia

×

grandiflora
Usda Hardiness Zone: 6 to 10
Size: Up to 10 feet tall and 12 feet wide
Conditions: Full sun to partial shade; well-drained soil
A steadfast plant that has been cultivated for over 100 years, glossy abelia has characteristics to fit every garden. It tolerates sun, shade, heat, judicious pruning, and dry conditions. Fast growing, it can be cut back to about 12 to 18 inches in late winter or early spring to control density, or be left alone so it can be used as a thick hedgerow. A semi-evergreen shrub that blooms from late spring until frost, this plant has four solid seasons of interest. Small clusters of fragrant, pinkish-white flowers linger on the tips of the stems for a while before drying beautifully in fall. The blooms eventually give way to bronze foliage in winter. This is a great shrub for attracting butterflies.
2. 'Brilliance' Autumn Fern
Name:

Dryopteris erythrosora

'Brilliance'
Zones: 5 to 9
Size: 2 feet tall and wide
Conditions: Partial to full shade; well-drained soil
Brilliance describes this plant perfectly. It's an evergreen fern that is at its most colorful in early spring with gorgeous orange fronds. It becomes greener in summer heat before turning bronze in winter. The tropical-looking foliage is stunning when planted in a mass or is just as striking mixed with flowering perennials. 'Brilliance' autumn fern is also a wonderful filler in spring, summer, and fall containers. Combine this plant in the garden with a vibrant heuchera (Heuchera spp. and cvs., Zones 3–9) or a bold hosta (Hosta spp. and cvs., Zones 3–9) for a charming effect. Once established, not much bothers this plant as it's perfectly happy anywhere but full sun.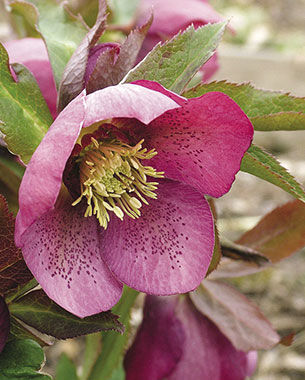 3. Brandywine™ Series Hellebore
Name:

Helleborus orientalis

Brandywine

™

Series
Zones: 4 to 8
Size: 12 to 18 inches tall 12 inches wide
Conditions: Full sun to partial shade; well-drained soil
What is a mid-Atlantic garden without hellebores? This beautiful series bred by local plantsman David Culp boasts several shapes of flowers and a kaleidoscope of colors. Hellebores need a little bit of water after planting, but once established, they will tolerate dry conditions. With nearly yearlong ornamental foliage and late-winter to early-spring flowers, this plant has a lot of bang for the buck. Remove the brown foliage in late winter to showcase the amazing blooms.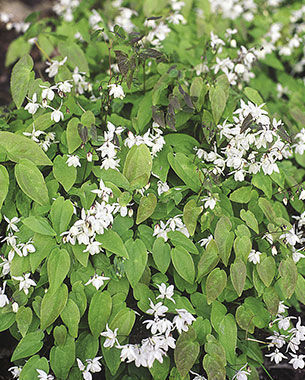 4. Snowy Epimedium
Name:

Epimedium

×

youngianum

'Niveum'
Zones: 4 to 8
Size: 6 to 8 inches tall and 12 to 18 inches wide
Conditions: Partial to full shade; well-drained soil
This delicate-looking plant is tougher than it seems. A perfect ground cover for shaded sites, it can tolerate dry, rocky conditions like no other. Small nodding white flowers appear in early spring among mounding, heart-shaped foliage. Snowy epimedium can be cut back in late winter to showcase new red-tinged leaves in spring. As an added bonus, deer will browse other nearby plants but will likely leave this dense, low-growing perennial alone.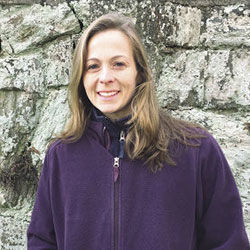 ---
Photos: Michelle Gervais; Courtesy of White Flower Farm; Nancy J. Ondra; Richard Bloom; Courtesy of Michele Christiano