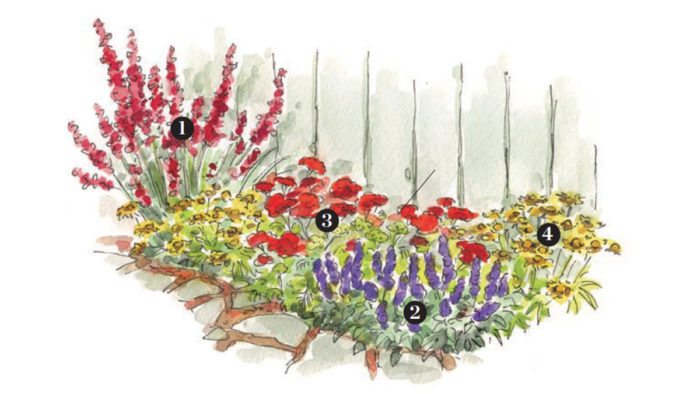 1. Red Yucca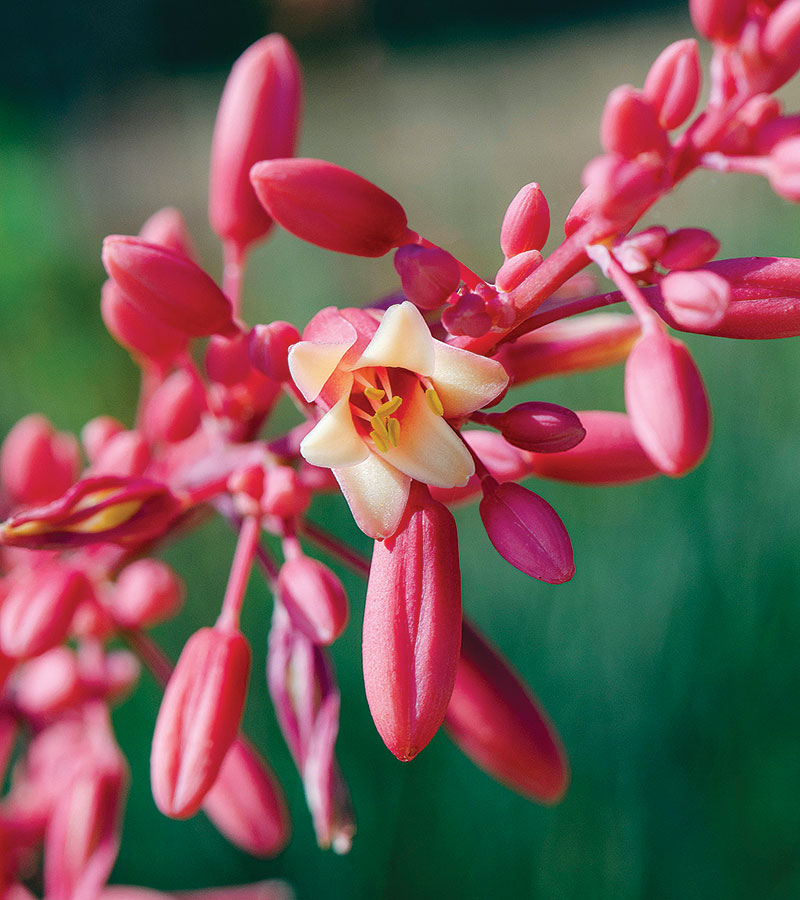 Hesperaloe parviflora
Zones: 5–11
Size: 5 feet tall and 4 feet wide
Conditions: Full sun to partial shade; well-drained soil
Native range: Southern Texas and northeastern Mexico
Red yucca is an evergreen succulent with a blue-green rosette of thin, 2-to-3-foot-long leaves rising fountain-like from the base. Its 5-foot-long arching spikes of pinkish-red-to-coral tubular flowers last throughout the summer. As you can imagine, it attracts hummingbirds and butterflies galore. It is a long-blooming, very low-maintenance plant that tolerates extreme heat and cold. Although it's not a true yucca, its leaves and habit resemble those of the yucca family. Red yucca has very low water demands and can grow in soils with low fertility. For better-looking blooms, give it a deep soaking once every two weeks during the heat of summer.
2. Mysty™ Salvia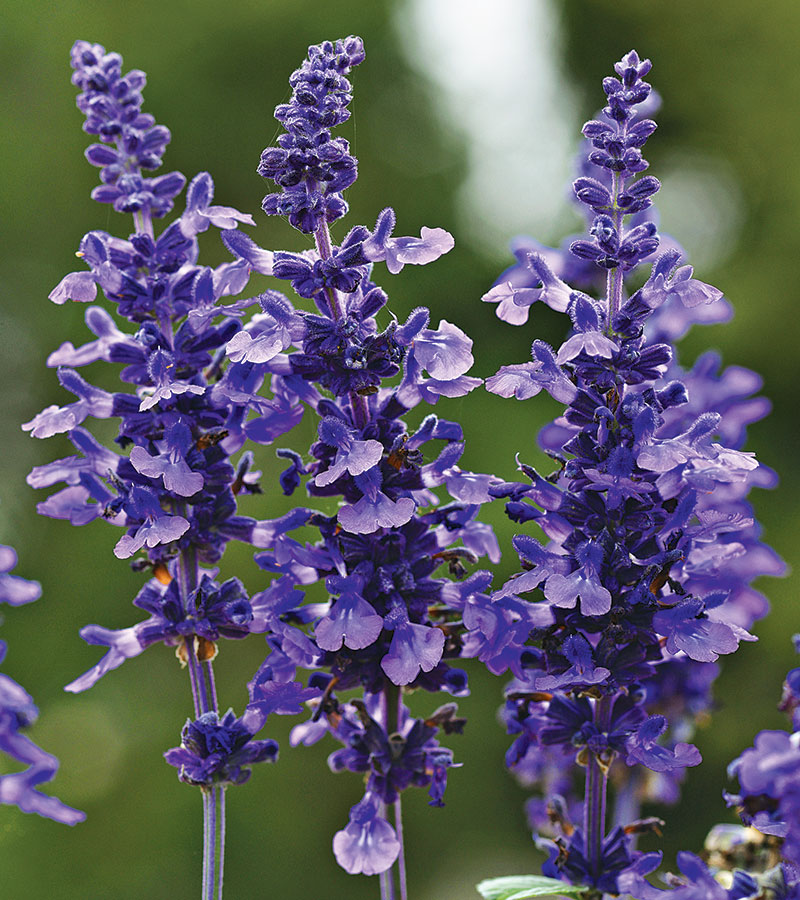 Salvia 'Balsalmysty'
Zones: 7–11
Size: 12 to 18 inches tall and wide
Conditions: Full sun to partial shade; moist, well-drained soil
Native range: Hybrid
Mysty™ salvia is a compact, well-branched plant with dark green leaves that eventually are covered with deep-blue-to-purple upright flower spikes. Free-flowering, it blooms from spring through summer. Deadheading and moderate fertilizer increase flowering throughout the season. It is more compact than other similar salvias and will not fl op over when in full bloom. Mysty™ is heat and drought tolerant, although additional watering may be necessary in sustained periods of drought. Good winter drainage is key to its survival, especially in colder zones. You can expect lots of bees, butterflies, and hummingbirds to visit this plant, but deer tend to avoid it.
3. 'Paprika' Yarrow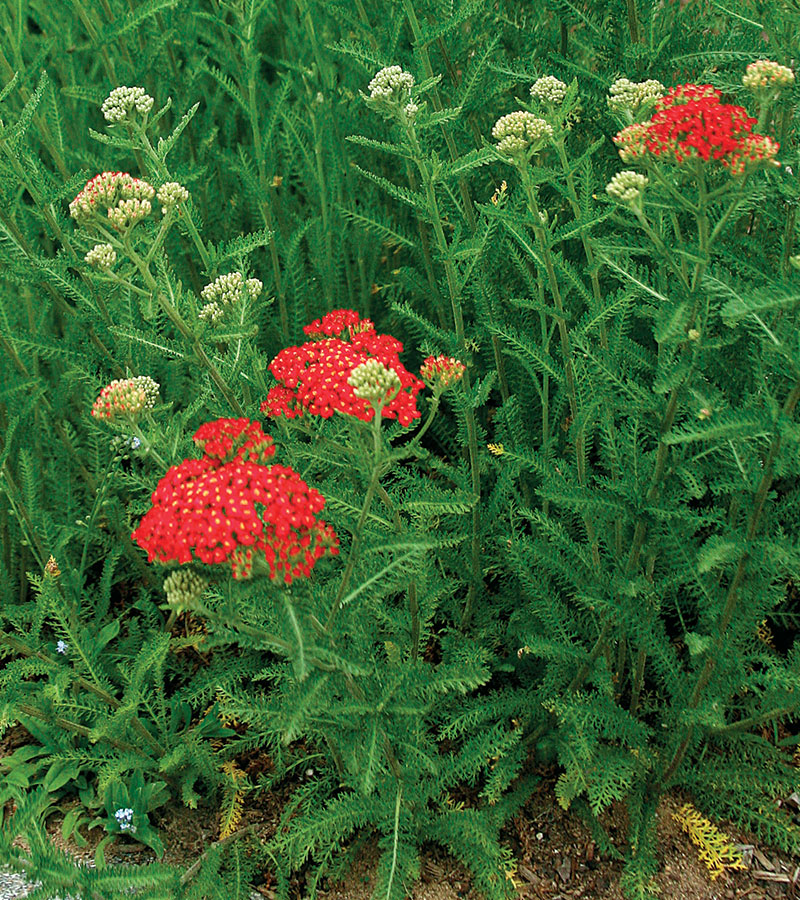 Achillea millefolium 'Paprika'
Zones: 3–9
Size: 18 to 24 inches tall and wide
Conditions: Full sun to partial shade; well-drained soil
Native range: North America, Europe, Asia
The large clusters of bright red flowers with yellow centers of 'Paprika' appear in dense, flattened, compound clusters throughout late spring and early summer. The blooms mature to a dusty pink, creating a beautiful multicolored effect. The medium green foliage is finely textured, fernlike, and aromatic, providing a soft background to the flower clusters. 'Paprika' performs well in hot, dry situations with poor soil as long as the drainage is good. These drought-tolerant plants also tolerate hot, humid summers. This is a spreading, mat-forming yarrow that tends to sprawl if not cut back by mid to late summer. It is everblooming with regular deadheading and is also deer and rabbit resistant.
4. 'SunKiss' Coreopsis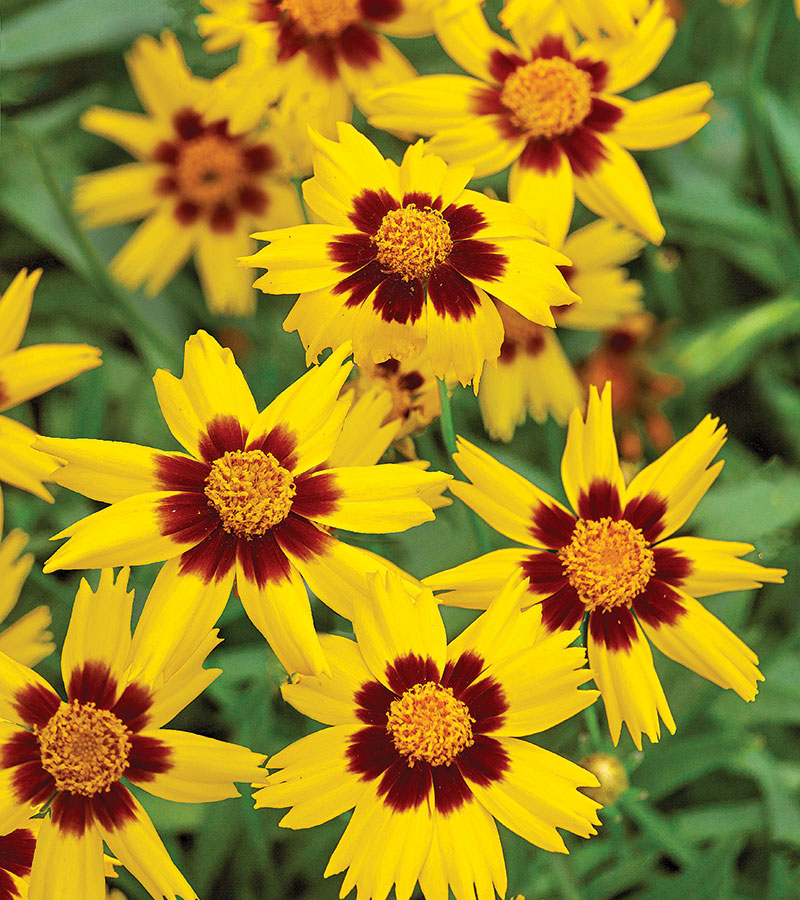 Coreopsis grandiflora 'SunKiss'
Zones: 4–9
Size: 12 to 14 inches tall and 14 to 16 inches wide
Conditions: Full sun; well-drained soil
Native range: Southeastern and midwestern United States
'SunKiss' coreopsis forms a compact, well-branched mound of foliage with numerous upright stems of large, single, golden yellow, daisy-like flowers with burgundy red centers. This new introduction is easy to grow, with its reliable flowering and increased disease resistance. It blooms throughout summer and into fall. The flowers are not overly tall or floppy, but deadheading will promote more continuous blooms. Drought-tolerant 'SunKiss' also puts up with hot, humid summers and even thrives in poor soils. Bees and butterflies love it; deer and rabbits don't.
—Maribeth Flowers is the owner and principal designer of Flowers' Gardens & Landscapes in Wylie, Texas.