1. 'Kaleidoscope' Abelia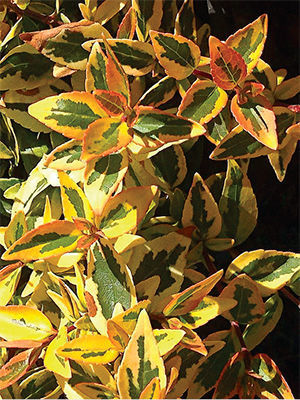 Name:
Abelia
×
grandiflora
'Kaleidoscope'
USDA hardiness zones: 6 to 7
Size: 2 to 3 feet tall and 3 to 4 feet wide
Conditions: Full sun to light shade; performs best in humus-rich, acidic, well-drained soil
You could not ask for more in a plant than 'Kaleidoscope' abelia. This versatile shrub enters spring with green-and-yellow-variegated foliage that turns darker over summer, contrasting nicely with its bright red stems and creamy foliage. By fall, it is a dazzling show of greens, yellows, oranges, and reds, which creates a captivating display no autumn garden should be denied. Its white flowers bloom abundantly from summer until fall, attracting butterflies to the garden. Utilize this versatile plant in any setting—from mass plantings to striking container displays. It is drought tolerant, heat tolerant, and deer resistant. Although 'Kaleidoscope' will tolerate light shade, its foliage is most brilliant in full sun.
2. Bronze Fennel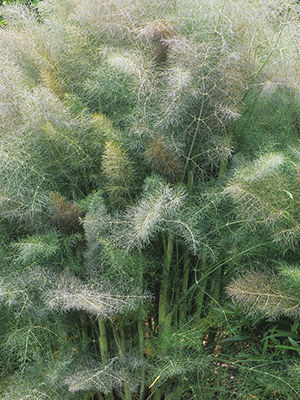 Name:
Foeniculum vulgare
'Purpureum'
Zones: 4 to 9
Size: Up to 4 feet tall and 3 feet wide
Conditions: Full sun; rich, moist, well-drained soil
We all know the herb fennel for its sweet taste of anise. But bronze fennel stays true to this taste and brings with it a magnificent display of color and texture. Whether grown in the herb garden or in the flower bed, the plant creates a beautiful backdrop and can serve as a screening plant or a statement maker. Attracting bees, butterflies, and birds to the garden is a great exchange for a plant that requires nothing more than regular watering. Its feathery, copper-colored foliage and petite yellow flowers make it quite striking for the fall garden. Full sun and well-drained soil will keep your bronze fennel producing an abundance of seeds. Simply cut it back to the ground at the end of the season and leave the taproot undisturbed to enjoy the plant again the following year.
3. 'Moerheim Beauty' Helenium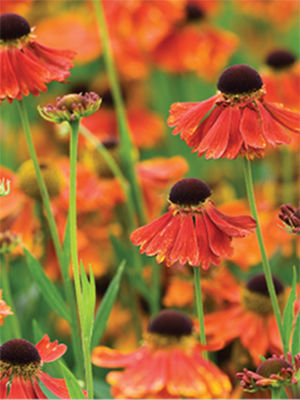 Name:
Helenium
'Moerheim Beauty'
Zones: 4 to 8
Size: 3 feet tall and up to 3 feet wide
Conditions: Full sun; moist, well-drained soil
Helenium, a member of the aster family, is sometimes called "sneezeweed" because it often blooms at the same time as ragweed, although it is not the cause of fall allergies. This native plant is the perfect companion for that low-lying spot in your landscape or near a downspout where moisture collects. Despite its love for moisture, it needs well-drained soil and plenty of sunshine to perform at its peak. Six or more hours of sunlight will keep helenium from getting leggy and will promote profuse blooming throughout summer and fall. New hybrids have brought this humble native out of hiding and into the spotlight with an abundance of new varieties. 'Moerheim Beauty' is a favorite for the fall garden with its vibrant, screaming color and charming personality.
4. Golden Deodar Cedar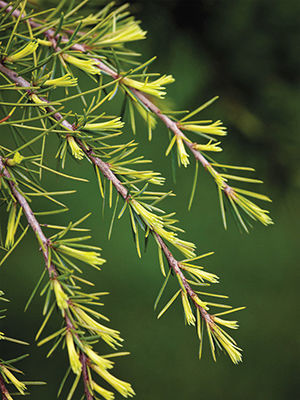 Name:
Cedrus deodara
'Aurea'
Zones: 6 to 9
Size: 25 to 35 feet tall and 10 to 15 feet wide
Conditions: Full sun; moist, acidic, well-drained soil
"Grand" is the perfect word for this cedar, which is also known for its graceful arching branches that offer glowing shades of yellow-to-gold fine green needles. This ever­green boasts a strong central leader and pendulous branches, which spread out in a horizontally tiered fashion. It is adaptable to both dry and moist growing conditions but will not survive in extremely wet soil. Golden Deodar cedar is a great choice as an accent tree due to its contrasting colors and textures of short refined needles. Plant in full sun for the best color, but keep in mind that it prefers a little shelter.
Helen Weis is the owner and principal designer of Unique by Design Landscaping & Containers in Edmond, Oklahoma.
Photos: #1, courtesy of San Marcos Growers; #2, Jerry Pavia; #3, Richard Bloom; #4, Christina Bollen/gapphotos.com.