1. Japanese Persimmon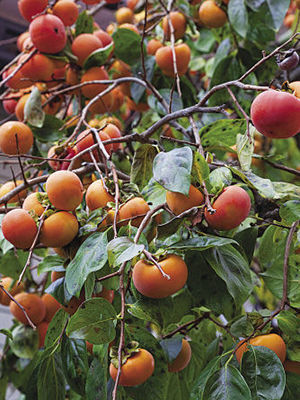 Name:
Diospyros kaki
USDA hardiness zones: 7 to 10
Size: 20 feet tall and wide
Conditions: Full sun; well-drained soil
Fall is made all the richer by the flavor of the Japanese persimmon, which ripens in late autumn. Be aware that this is not the persimmon your sibling tricked you into eating when you were little, which left you in a prolonged pucker. This tree offers delicious fruit—which is orange, seedless, and the size of a tennis ball—as well as foliage that turns a brilliant orange-red. Native to Japan and China, this plant was introduced to the United States in 1870 and, when grafted onto our native persimmon, makes for one tough tree.
2. Sassafras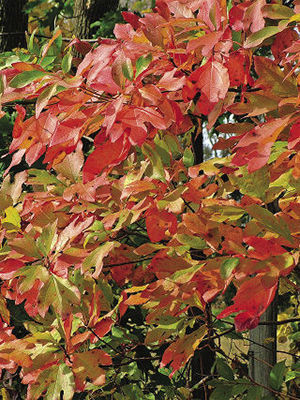 Name:
Sassafras albidum
Zones: 4 to 9
Size: Up to 40 feet and 20 feet wide
Conditions: Full sun to partial shade; moist, fertile, acidic, well-drained soil
This graceful tree is often found next to cultivated fields. It is native from Michigan to Florida and westward to Texas. In midautumn, we hit the jackpot with this tree as the leaves go from yellow to orange to red. Add to this some berrylike blue-black fruit and you have an all-star for fall color. One other unique characteristic of sassafras is its three different leaf shapes: one without lobes, another with two lobes (like a mitten), and yet another with three lobes. The bark is reddish brown and becomes more deeply furrowed with age.
3. Swamp Tupelo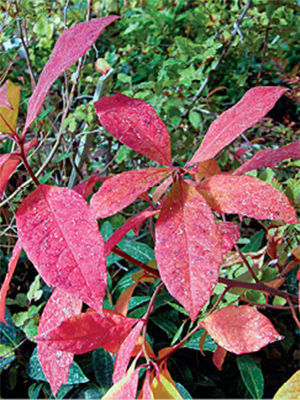 Name:
Nyssa biflora
Zones: 7 to 9
Size: Up to 80 feet tall and 40 feet wide
Conditions: Full sun to partial shade; rich, moist soil
Here in the Southeast, one of the earliest trees to color in fall is the swamp tupelo. This attractive tree is native to North America, from Texas eastward to Florida. You'll often notice it next to interstate highways and along the edge of woods near pastures. Its leaves turn scarlet red in early fall and are accompanied by cobalt blue fruit, which are the size of small cherries. This underappreciated tree is tolerant of poor soils and makes birds fat and happy. Although swamp tupelo is not terribly easy to find at nurseries, it has always been a reliable performer in our gardens, so it's worth seeking out. It tolerates wet bottom­land soils, including organic mucks, heavy clays, and wet sands.
4. Forsythia Sage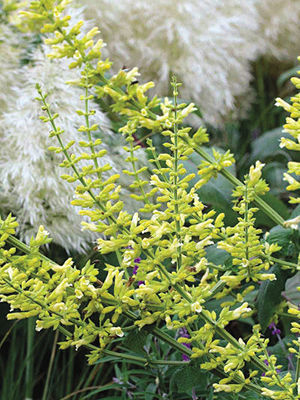 Name:
Salvia madrensis
Zone: 7 to 11
Size: 6 to 10 feet tall and wide
Conditions: Full sun to partial shade; well-drained soil
I confess to being a Salvia fanatic, and this particular variety is a dream. About the time most other plants are beginning to slow down and think about dormancy, forsythia sage is kicking it into gear. Long spikes (up to a foot long) of bright yellow blooms emerge from large heart-shaped leaves in midfall and keep going until the first hard freeze in early winter. This plant is native to Mexico, where it grows happily at an elevation of 4,000 to 5,000 feet, so you know that it's tough. It's also enjoyable to watch the migrating butterflies and hummingbirds gather around this perennial for one last sip before moving south.
Jason Powell is the co-owner and manager of Petals from the Past, a specialty nursery in Jemison, Alabama.
 Photos: #1, Andrew Lawson/Marianne Majerus Garden Images; #2, Nancy J. Ondra; #3, courtesy of Forestfarm; #4, millettephotomedia.com.