1. Tiger Eyes
®

Sumac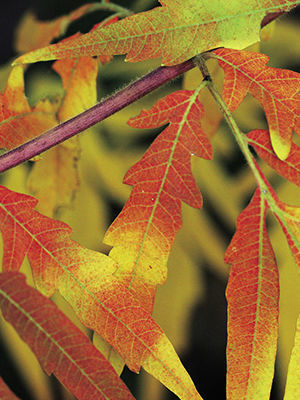 Name:

Rhus typhina 'Bailtiger'

USDA hardiness zones: 4 to 8

Size: 3 to 6 feet tall and wide

Conditions: Full sun to partial shade; well-drained soil

With traffic-stopping lime-yellow summer foliage turning detour orange in fall, Tiger Eyes® sumac attracts attention with all the subtlety of a road crew. Autumnal color comes on slowly, beginning in late summer, with a flash of orange wherever the sun lingers the longest. Only after the color seeps into every leaflet and the whole shrub glows will the leaves peel away, one by one, to reveal flocked and gawky winter "antlers." Partial shade will help dial back summer's intense yellow to a quieter chartreuse and, better yet, grant the fall shift extra overtime. Tiger Eyes® sumac will eventually send up suckers to form a colony, but any unwanted overgrowth can be easily edited or redistributed.
2. Butterfly Weed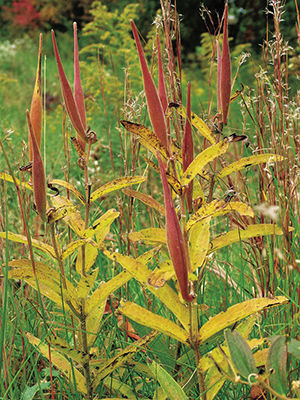 Name:
Asclepias tuberosa
Zones: 4 to 9
Size: Up to 3 feet tall and 1 foot wide
Conditions: Full sun; well-drained soil
Butterfly weed has so much going for it—like clusters of lunar lander–like bright orange flowers, which attract every neighborhood pollinator, and the leaf chemistry necessary for monarch-caterpillar survival— that its fall assets usually go unremarked. But after its midsummer flowers fade—provided, of course, you resist the temptation to deadhead—conical moleskin-soft seedpods form and blush russet red for weeks until bursting open to reveal platoons of parachuters (otherwise known as seeds). Right up until frost, butterfly weed will continue to host the last generations of monarchs before migration while also attracting legions of orange-and-black milkweed bugs, which morph through five fascinating stages and do no lasting damage to it or any other plant in your garden.
3. Sourwood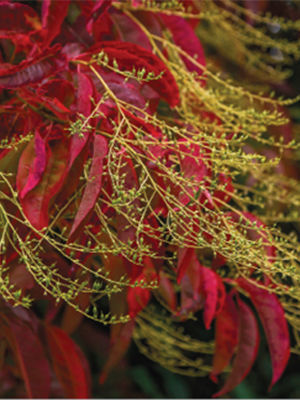 Name:
Oxydendrum arboreum
Zones: 5 to 9
Size: 30 to 50 feet tall and 25 feet wide
Conditions: Full sun to partial shade; moist, rich, acidic, well-drained soil
I chose this sweet native tree (only the flavor of its foliage can be described as "sour") for my own tiny front yard based almost entirely on its fall dramatics. Starting in late summer, spots that look like spilled wine appear on its large, shiny, deep green foliage. Over the weeks of autumn, the stains spread—and intrigue mounts—until every paddle-shaped leaf is soaked in crimson. Meanwhile, pewter gray seed heads form from the flower panicles. In midsummer, the panicles are filled with fragrant white bells, which are prized by beekeepers for their ambrosial honey. The seed heads remain through fall, even as sourwood's slender skeleton is uncovered, leaf by leaf, to reveal red-tinged twigs.
4. 'Blue Shadow' Fothergilla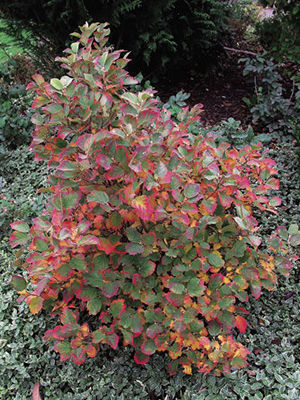 Name:

Fothergilla × intermedia 'Blue Shadow'

Zones: 5 to 8

Size: 4 to 6 feet tall and wide

Conditions: Full sun to partial shade; moist, acidic, well-drained soil

'Blue Shadow' fothergilla, one of the first plants to feed the pollinators, is among the last to color up in fall—and it's worth the wait. When the quilted, nearly round foliage finally shifts from powdery blue to shades of yellow, orange, red, and deep purple, 'Blue Shadow' provides a multicolored tapestry to the garden like nothing else. For the brightest fall colors and the most spring flowers (sweetly scented, green-tinged white pompons), make sure the plant gets a few hours of morning sun in dry soil and gets full sun in wetter areas.

Kristin Green is an interpretive horticulturist at Blithewold Mansion, Gardens & Arboretum in Bristol, Rhode Island.

Photos: #1, Bill Johnson; #2, Nancy J. Ondra; #3, David Perry; #4, millettephotomedia.com