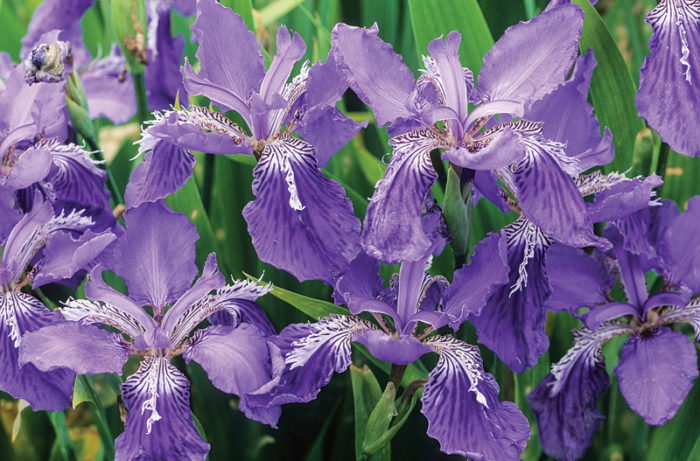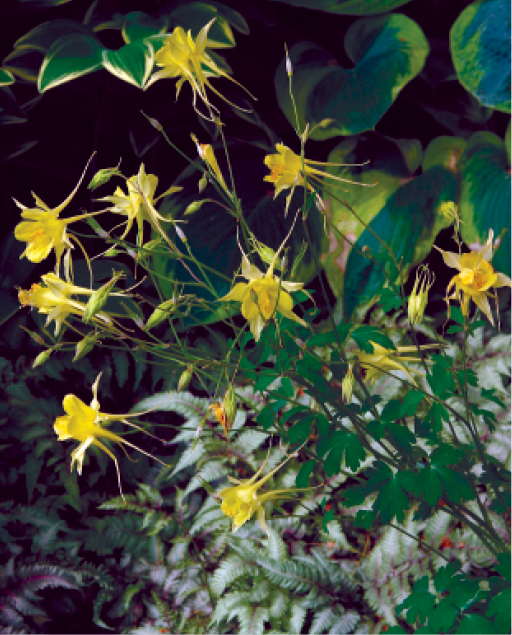 Golden columbine
Name: Aquilegia chrysantha and cvs.
USDA Hardiness Zones: 3 to 8
Size: 2 feet tall and wide
Conditions: Partial to full shade; sandy to loam soil
Any perennial that gives you large yellow spring flowers while growing in the shade is valuable for a tree-filled landscape. In addition to its colorful blooms, golden columbine is a great nectar plant that attracts hummingbirds. This durable native has tremendous tolerance for summer heat, though it may go dormant in a prolonged drought. A mound of delicate blue-green foliage makes the plant attractive even when it's not in flower. If the long nectar-filled spurs remind you of larkspurs (Delphinium spp. and cvs., Zones 3–7), it is because both plants are in the same family: Ranunculaceae.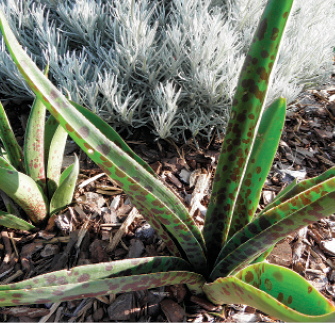 Woodland agave
Name: Manfreda virginica
Zones: 6 to 9
Size: 1 foot tall and wide
Conditions: Full sun to partial shade; well-drained soil
There aren't many plants that can tolerate both shade and drought, which makes woodland agave a desirable plant if you have either condition. The interesting leaves are another great reason to grow this native succulent. It forms a low clump of sword-shaped—but not overly sharp—green leaves that often exhibit beautiful reddish purple spots or blotches. The greenish yellow flowers are not showy, but they are unique, forming on a stalk that rises 4 to 6 feet above the foliage. Hummingbirds are attracted to the blooms, which have a fragrance similar to tuberose (Polianthes tuberosa and cvs., Zones 7–11), a plant closely related to woodland agave.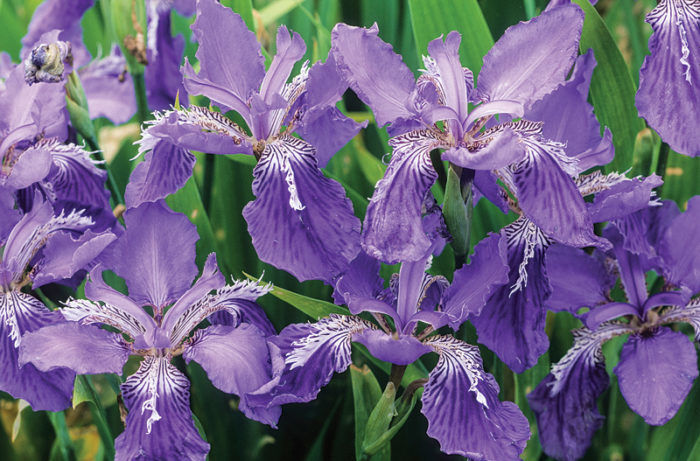 Roof iris
Name: Iris tectorum
Zones: 4 to 9
Size: 18 inches tall and wide
Conditions: Partial shade to full shade; average soil
Roof iris has showy springtime flowers, but its best attribute is its use as an attrac­tive foliage plant for shade gardens. It has a short, mounding, fountainlike habit that, along with its wide leaves, makes an impressive display. Most who have this drought-tolerant perennial say that they would grow it even if it never flowered. A virtually pest-free plant, roof iris grows on thatched rooftops in full sun in Japan but seems to perform best in shade in our area. Legend has it that the rhizomes of this iris were once ground to make a white powder used in makeup for the face paint of geisha.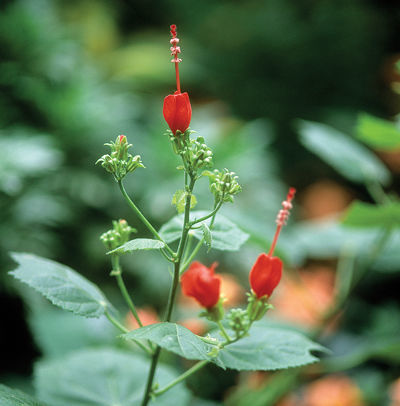 Turk's cap
Name: Malvaviscus arboreus var. drummondii
Zones: 6 to 10
Size: 4 to 5 feet tall and wide
Conditions: Full sun to full shade; all soil types
Closely related to hibiscus, this versatile plant behaves like a shrub in Zones 8 and warmer and like a wonderful red-flowering perennial in Zones 6 and 7, where it should be cut back each spring before growth begins. The leaves of Turk's cap look different when grown in shade versus sun: In shade, they lie flat, while bright sun gives them a crinkly, textured appearance. There is a pink form, a white form, and even a selection with variegated leaves. Heat and drought tolerant once established, Turk's cap is relished by hummingbirds and butterflies.
Steve Owens is co-owner with his wife, Ruth, of Bustani Plant Farm, a specialty-plant nursery in Stillwater, Oklahoma.
Photos: courtesy of Steve Owens; Michelle Gervais; Jerry Pavia; Bill Johnson