1. 'Blonde Ambition' Blue Grama Grass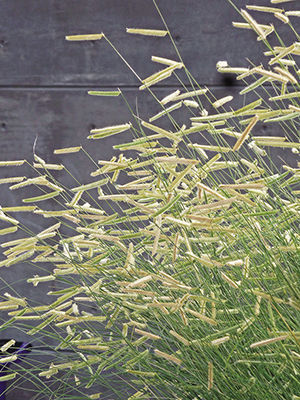 Name:

Bouteloua gracilis

'Blonde Ambition'

USDA hardiness zones: 5 to 9

Size: 2 to 3 feet tall and wide

Conditions: Full sun; average soil, tolerant of clay

Blue grama, a clumping grass native to much of the semiarid West, has a reputation as a tough range grass, but 'Blonde Ambition', a recent introduction, is a true standout. 'Blonde Ambition' grama is a pumped-up version of the straight species with a bigger form and more flowers (and seed heads). Its chief asset in the garden is its long season of interest. In midsummer, eyelashlike chartreuse flowers appear. By fall, the flowers mature into lovely blonde seed heads, which persist on the plant all winter and are enjoyed by finches and other birds. 'Blonde Ambition' is best planted in spring or fall. It looks great when paired with autumn sage (Salvia greggii, Zones 7–9) and agave (Agave spp. and cvs., Zones 7–11).
2. Black Dalea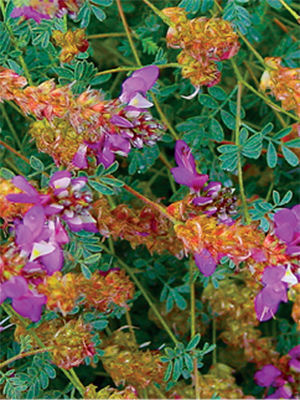 Name:

Dalea frutescens
Zones: 8 to 11
Size: 3 to 4 feet tall and 4 to 5 feet wide
Conditions: Full sun; well-drained soil
This unusual fine-textured shrub is ever­green in the low desert and puts on a spectacular show in fall, when it becomes covered in purple-blue blooms. The flowers attract loads of bees and small butterflies. In its full fall bloom, it will vibrate with insect activity. For a naturalistic look, combine black dalea with native grasses such as deer grass (Muhlenbergia rigens, Zones 6–9) and perennials such as chocolate flower (Berlandiera lyrata, Zones 7–9). Black dalea is best planted in fall or spring. It should be sheared back once a year after the last spring frost.
3. Devil's Tongue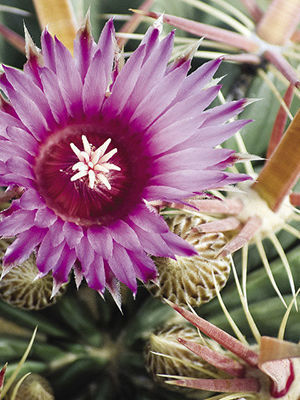 Name: Ferocactus latispinus
Zones: 9 to 11
Size: Up to 1 foot tall and 16 inches wide
Conditions: Full sun; well-drained soil
Among cactus species, devil's tongue stands alone in a unique way: It blooms in late fall. Most cactus species are spring or summer bloomers, but devil's tongue typically shows its intense purple-red blooms in November right up until Thanksgiving—and sometimes as late as Christmas in mild winter years. Plant devil's tongue in rock gardens or in pots. It makes a powerful impact when grouped in clusters. Devil's tongue is best planted in spring after the last frost or in late summer to early fall. If planting in summer, shield new plants by 40 percent with a shade cloth until they become acclimated to full sun.
4. Pomegranate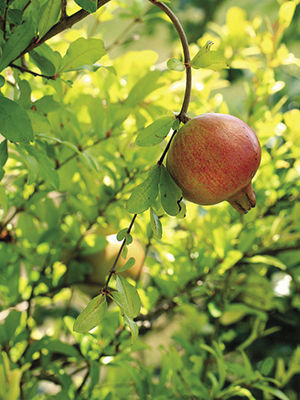 Name:

Punica granatum

and cvs.

Zones: 8 to 11

Size: 10 to 25 feet tall and wide

Conditions: Full sun; average to poor soil

While pomegranate is typically considered a fruit tree, it offers ornamental attributes, as well. Pomegranate can be pruned as a shrub or a small tree, or planted as a deciduous hedge. It sports showy red flowers, which ripen to burnished crimson fruit just in time for Halloween and the Thanksgiving cooking season. A less-praised aspect of pomegranate is its excellent yellow fall color. Plant pomegranate in spring or fall. It thrives on minimal watering and will live off rainfall alone in much of the Southwest—although it produces more fruit when given supplemental water.

Scott Calhoun is a landscape designer in Tucson, Arizona, and the author of six books about gardens and plants of the American Southwest.

Photos: #1, courtesy of waterwisegardening.com; #2, millettephotomedia.com; #3, Ken Bosma/courtesy of commons.wikimedia.org; #4, Bill Johnson.