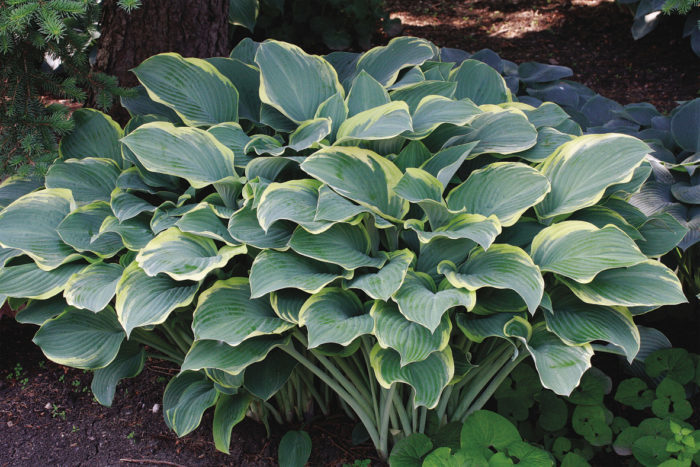 Mid-Atlantic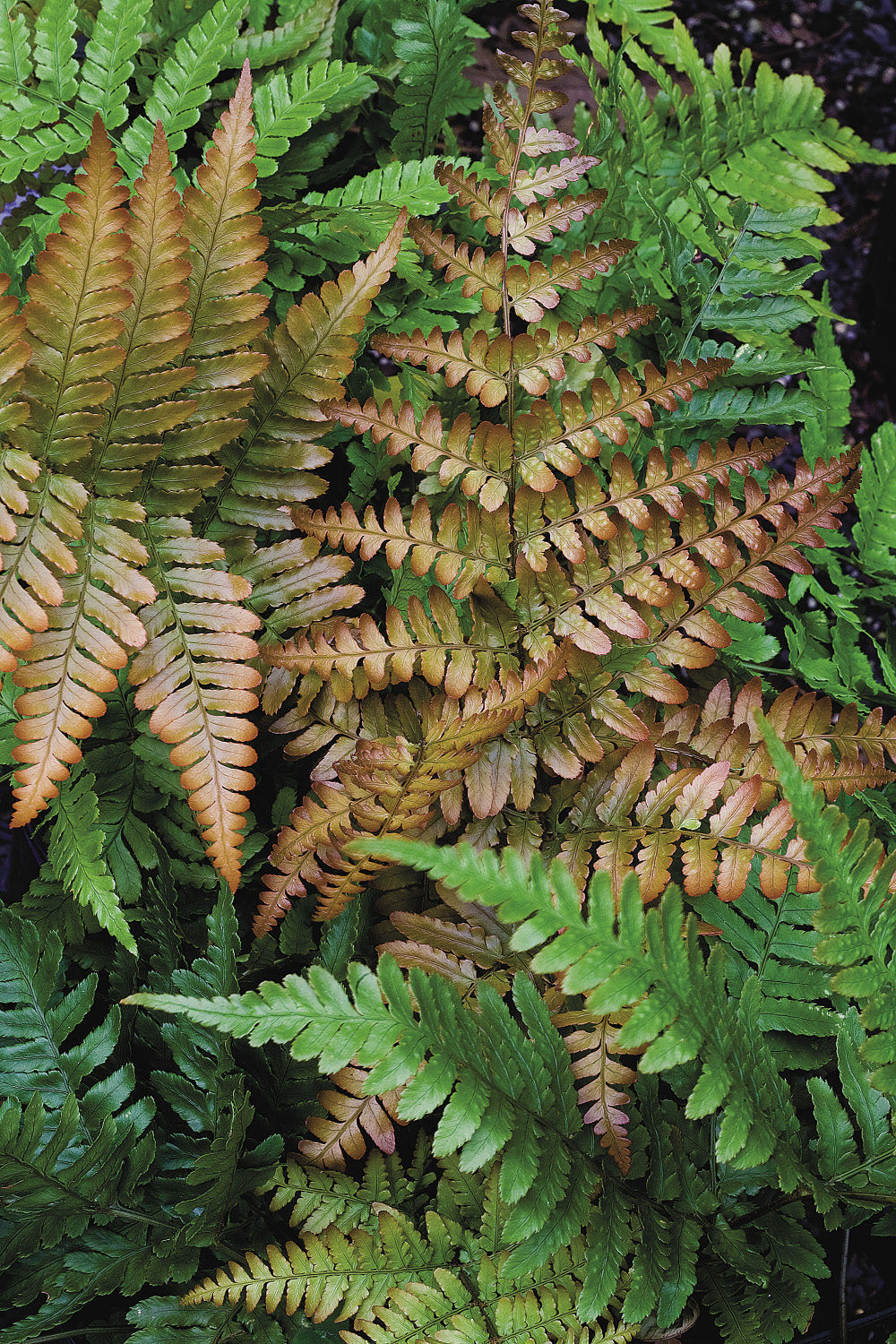 'Brilliance' autumn fern (Dryopteris erythrosora
'Brilliance')
USDA Hardiness Zones: 5 to 9
Size: 22 inches tall and 18 inches wide
Conditions: Partial to full shade; moist, rich, well-drained soil
'Brilliance' is an improved form of autumn fern. Still semievergreen, with great texture and even more color, 'Brilliance' offers bright copper new growth in spring that turns green in summer and russet in fall. This tough fern reliably rebounds from snow cover and stands up to cold winds. Once established, 'Brilliance' requires little care, though I do cut back the old fronds in early spring to better enjoy the newly emerging fronds.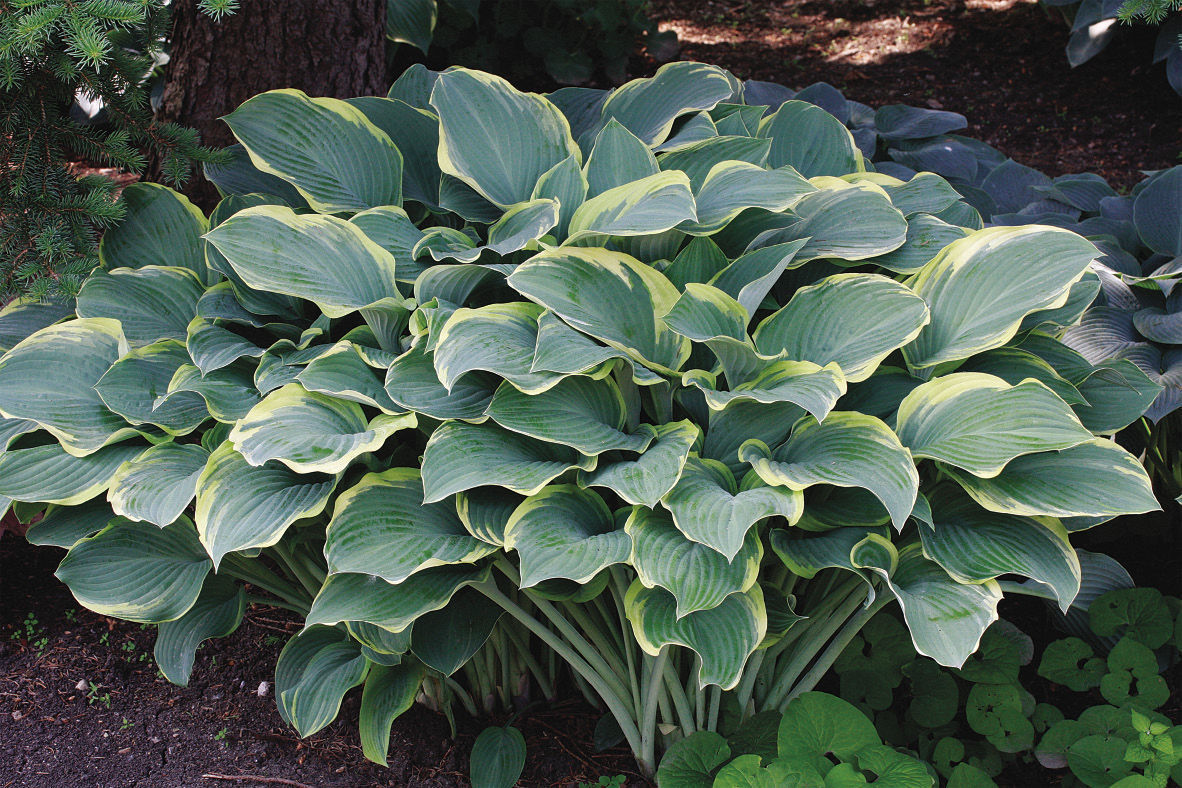 'Sagae' hosta (Hosta
'Sagae')
Zones: 3 to 9
Size: Up to 3 feet tall and 4 feet wide
Conditions: Partial to full shade; moderately moist soil
Nothing thrills me more than seeing tightly furled hosta leaves emerging in spring. My favorite hosta, 'Sagae', is bold and beautiful, with wavy leaves of frosted blue with creamy white margins. I grow it next to buttercup winter hazel (Corylopsis pauciflora, Zones 6–9), whose airy nature and delicate leaves complement the hosta's substantial size, and then pair it with green hellebore (Helleborus spp. and cvs., Zones 4–9) and 'Aureola' Japanese forest grass (Hakonechloa macra 'Aureola', Zones 5–9). 'Sagae' tolerates cold winters and never wavers in our hot and humid summers.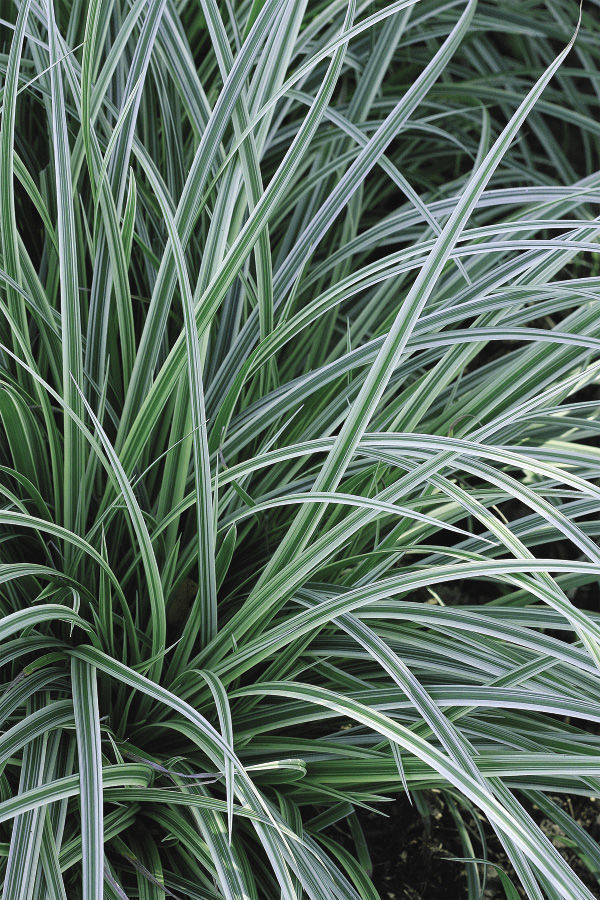 'Silver Sceptre' sedge (Carex morrowii
'Silver Sceptre')
Zones: 5 to 9
Size: 1 foot tall and 18 inches wide
Conditions: Partial shade; moist, well-drained soil
This finely textured, fountain-shaped semievergreen grass lends an elegant and bright accent to a shady spot. 'Silver Sceptre' sedge is not fussy and spreads slowly by rhizomes to form a ground cover in moderately moist soil. I like to plant it in drifts along a shady path, under the canopy of a 'Waterfall' Japanese maple (Acer palmatum* 'Waterfall', Zones 5–8), or next to a water feature, where its fountainlike shape mimics the flow of water. This sedge only needs to be cut back by two-thirds in early spring to get it ready for new growth.
Bigroot geranium (Geranium macrorrhizum
and cvs.)
Zones: 4 to 8
Size: Up to 20 inches tall and 2 feet wide
Conditions: Full sun to partial shade; well-drained soil
This hardy geranium is great for dry-shade situations. It spreads quickly by rhizomes to form a dense, weed-smothering ground cover that's good for massing around trees or edging a shade border. Bigroot geranium is reliably hardy after cold winters, and it also takes the heat of our summers when grown in shade. Once established, sharing this easy-care plant with friends is a breeze: A gentle tug releases not only a delicious scent but also a side rhizome that is ready to replant in a new garden.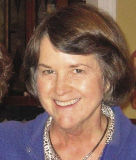 Photos: Courtesy of Sally Barker; Jerry Pavia; Millettephotomedia.com; Bill Johnson; Joshua McCullough/phytophoto.com