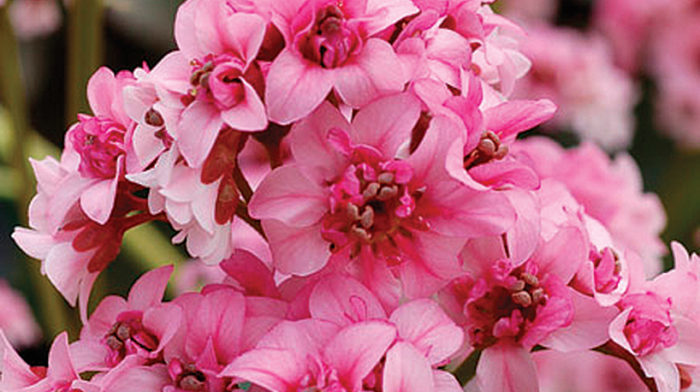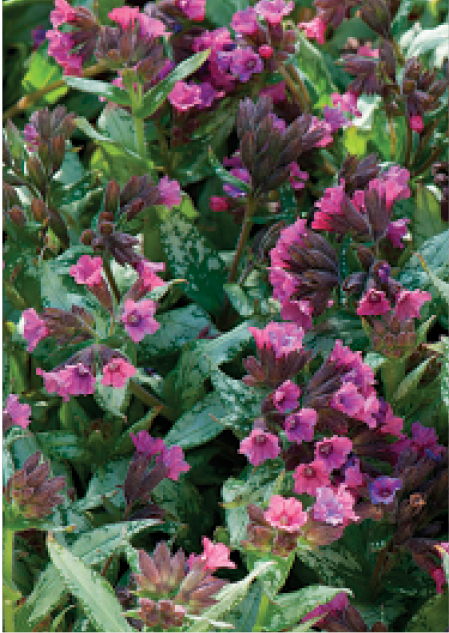 'Silver Bouquet' lungwort
Name: Pulmonaria 'Silver Bouquet'
USDA Hardiness Zones: 3 to 8
Size: 10 inches tall and 2 feet wide
Conditions: Partial to light shade; prefers good drainage
This tiny clumper has leaves so thoroughly speckled with silver that there's not much green to speak of. With foliage packing this much star power, you hardly need flowers, but this bright beauty overdelivers with early-summer blooms that emerge pink and age to a rich purply blue. The soft texture and lively flowers of 'Silver Bouquet' lungwort make an ideal counterpoint to the leathery green leaves of many foundation plants, perking up an otherwise dull border. Continue the theme with silvery blue conifers to provide soothing repetition in the garden.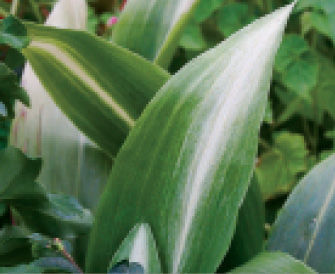 'Asahi' striped cast-iron plant
Name: Aspidistra elatior 'Asahi'
Zones: 7 to 11
Size: 2 to 3 feet tall and wide
Conditions: Light to deep shade; prefers good drainage
In Japanese, the word asahi means "morning sun," which captures the look of this vigorous evergreen. The new leaves unfurl to show off pointed leaf tips drenched in vivid white variegation. Set behind the soft texture of ferns or woodland perennials, the dramatic spikes of foliage provide a surprising burst of color under deep green or cream-variegated trees. 'Asahi' striped cast-iron plant also looks great in winter, when the white-tipped plants show off boldly against redtwig dogwoods, conifers, and other staples of the winter garden.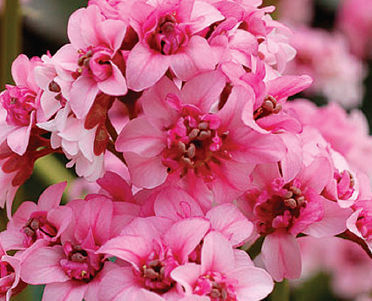 Dragonfly™ 'Sakura' pigsqueak
Name: Bergenia 'Sakura'
Zones: 4 to 9
Size: 15 inches tall and 1 foot wide
Conditions: Partial to light shade; tolerates heavy soils if well drained
An abundance of lightly ruffled bubblegum-colored blooms in spring give this tough-as-nails perennial a look reminiscent of cherry blossoms. The rounded clusters of flowers are held aloft on bare stems and float in cloudlike mounds above the foliage. Though many pigsqueaks have a tendency to sprawl, the compact Dragonfly™ 'Sakura' has smaller clusters of leaves and a rounded shape that echoes the look of mounded shrubs and adds a satisfying geometry to either formal or naturalistic gardens. Best of all is the winter color, which is such a deep shade of bronze that you could almost call it black.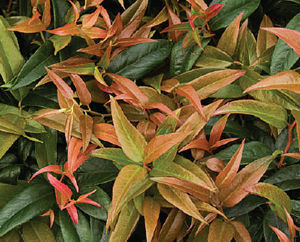 Scarletta
®
fetterbush
Name: Leucothoe fontanesiana 'Zeblid'
Zones: 5 to 8
Size: 2 feet tall and 4 feet wide
Conditions: Partial to full shade; prefers acidic soil
'Rainbow' fetterbush seems to get all the attention, but there's a new fetterbush in town. Scarletta® fetterbush has the same pale bronze new growth in spring and summer, but at the first sign of chilly weather, it turns a rich shade of burgundy, which makes it an instant focal point. Planted en masse, the brilliant color offsets the deep browns and greens of the winter garden. It has a suckering habit that makes it poorly suited to a small-space garden, but if given a few feet of open ground to cover, this acidic soil–loving plant is a well-behaved partner to a woodland planting of trees and shrubs.
Genevieve Schmidt owns Genevieve Schmidt Landscape Design and Fine Maintenance in Arcata, California.
Photos: Friedrich Strauss/gapphotos.com; Joshua McCullough; courtesy of Terra Nova Nurseries, Inc.; Doreen Wynja; courtesy of Genevieve Schmidt