'Sweetheart' epimedium
Name: Epimedium × rubrum 'Sweetheart'
USDA Hardiness Zones: 5 to 8
Size: 16 inches tall and up to 2 feet wide
Conditions: Partial shade; well-drained soil
The large heart-shaped leaves of this epimedium are edged in red and emerge at the same time as the reddish flowers in midspring. The blooms last about two months, and the leaves remain showy all summer, finally taking on a burgundy hue in fall. This tough plant eventually forms a dense ground cover, suppressing weeds in the process. 'Sweetheart' epimedium is evergreen but looks tired at the end of winter, so clip the foliage back in early spring.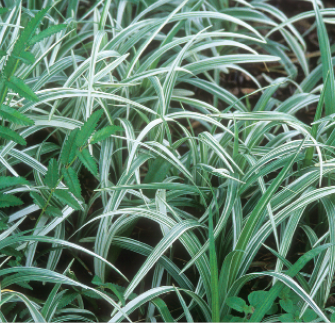 'Silver Dragon' lilyturf
Name: Liriope spicata 'Silver Dragon'
Zones: 6 to 11
Size: 10 inches tall and 18 inches wide
Conditions: Partial shade; well-drained soil
The arching, grasslike foliage of 'Silver Dragon' lilyturf is green edged in silvery white. Less aggressive than the straight species, it is a wonderful ground cover and is equally beautiful in a pot. 'Silver Dragon' always brightens up dark, shady areas. The pale purple flowers in late summer are followed by light green berries in fall. Spreading by underground rhizomes, this plant is useful when you need to stabilize the soil on a hill or bank. And best of all, it is deer resistant.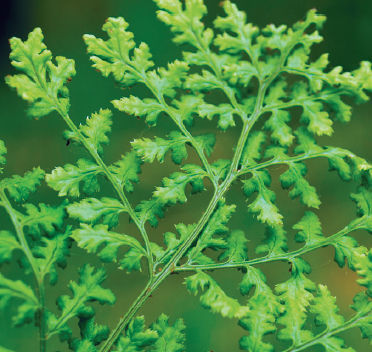 Crested broad buckler fern
Name: Dryopteris dilatata 'Lepidota Cristata'
Zones: 6 to 8
Size: 1 to 2 feet tall and wide
Conditions: Partial to full shade; well-drained soil
Easy to grow yet dramatic, this vase-shaped fern has arching, stiff, triangular fronds that hold their shape all summer. The finely cut foliage is dark green with crested tips. Found in deciduous woodlands, this evergreen fern adds elegance to shady areas. If rabbit browsing is an issue in your yard, this resistant plant is for you. It's best to give crested broad buckler fern consistent moisture during its first year, while it's getting established, but thereafter, it will be able to tolerate dry conditions.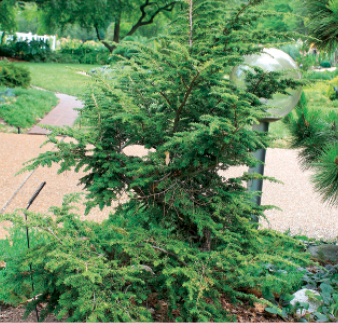 'Curley' Canadian hemlock
Name: Tsuga canadensis 'Curley'
Zones: 4 to 8
Size: 3 feet tall and wide (in 10 years)
Conditions: Partial to full shade; well-drained soil
This dwarf, irregularly growing conifer with short, contorted, horizontal branches is delightful. It looks like a bonsai with no pruning, which is lucky because the branches are quite brittle. The foliage is exceptionally interesting: The tiny, dark green needles are curved to display a lighter underside. Sometimes hard to find in nurseries, 'Curley' Canadian hemlock is worth tracking down because it is a rare conifer that actually thrives in the shade and tolerates dry soil conditions once established.
Lisa O'Donnell is an avid gardener and a member of the Alpine Garden Club of British Columbia.
Photos: Doreen Wynja; Bill Johnson; Carole Drake/gapphotos.com; Tom Anson/courtesy of Missouri Botanical Garden PlantFinder; Gary Lewis