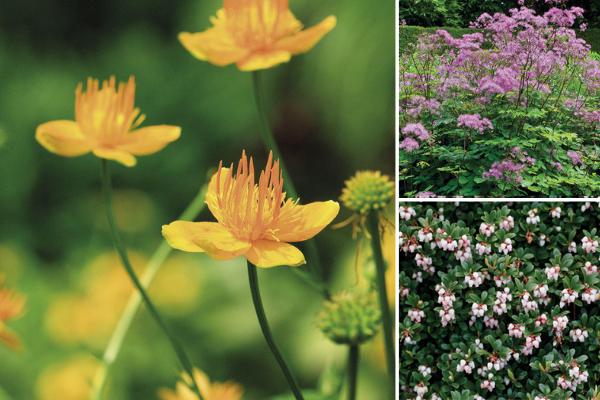 'Black Stockings' meadow rue
Name: Thalictrum 'Black Stockings'
USDA Hardiness Zones: 5 to 9
Size: Up to 6 feet tall and 2 feet wide
Conditions: Partial shade; well-drained soil
I positively had to have 'Black Stockings' meadow rue the minute I laid eyes on it. Its long, silky, dark, sexy stems and big, fluffy clouds of purple blossoms make it a shade-garden rock star. The feathery foliage pairs especially well with a backdrop of silver-leaved brunnera (Brunnera macrophylla cvs., Zones 3–7), any large-leaved hostas (Hosta spp. and cvs., Zones 3–9), or painted ferns (Athyrium niponicum cvs., Zones 5–8). My plants are shaded from noon on and do well with minimal water. 'Black Stockings' is statuesque and has big heads of flowers, so you may want to discreetly stake it.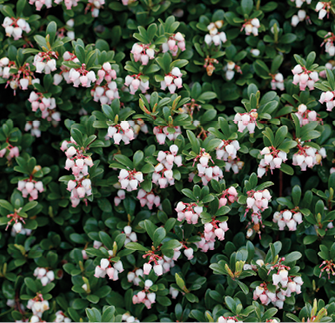 'Massachusetts' kinnikinnick
Name: Arctostaphylos uva-ursi 'Massachusetts'
Zones: 2 to 6
Size: 1 foot tall and up to 4 feet wide
Conditions: Partial shade; well-drained soil
Also known as bearberry or sandberry and native to many parts of the Mountain West, kinnikinnick is prized for its shiny evergreen leaves and cinnamon-colored stems. A handsome ground-hugging plant, it sports urn-shaped pink flowers in late spring that mature to shiny red berries in fall. The berries may be accompanied by a bronze tinge to the foliage. 'Massachusetts', a widely available cultivar with smaller leaves, works well on hillsides and is useful in alpine and rock gardens. It makes a great lawn alternative and woodland ground cover as long as it is protected from hot summer sun. It is especially well suited to cooler, higher elevations, where it will thrive in well-amended soils. Kinnikinnick plants are tidy and easy to care for, and pests don't bother them. They don't take well to pruning, so go easy except to remove dead or damaged twigs.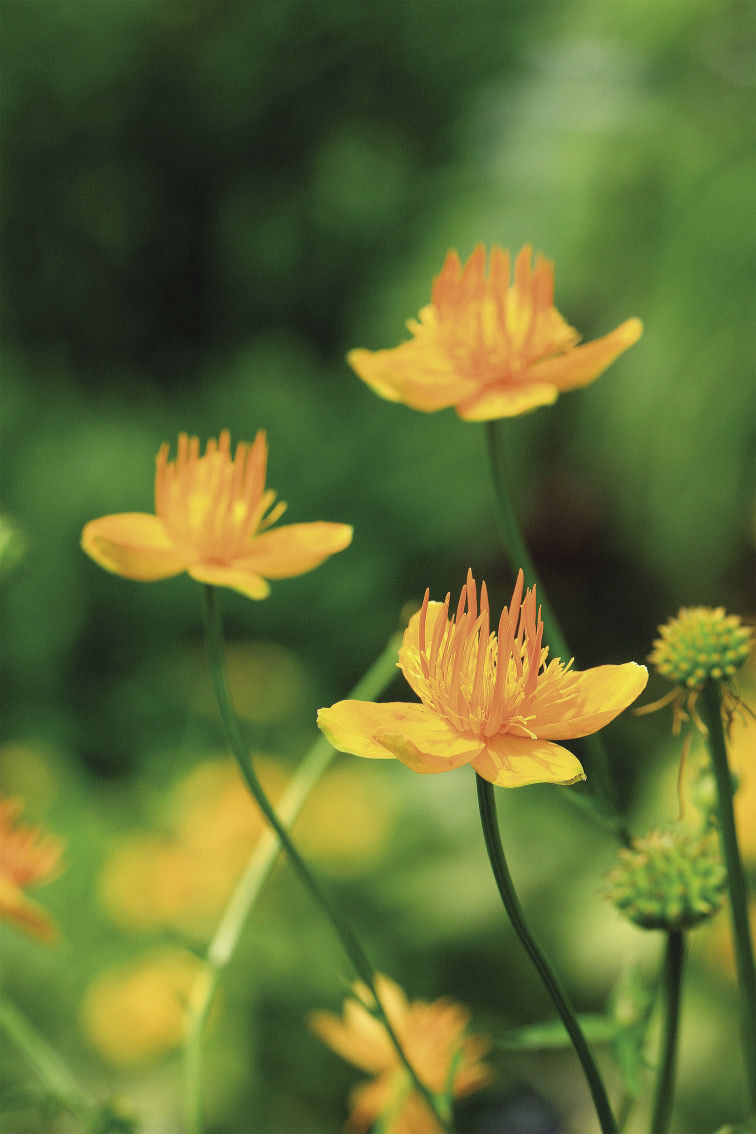 'Golden Queen' globeflower
Name: Trollius chinensis 'Golden Queen'
Zones: 4 to 8
Size: 2 to 3 feet tall and 18 to 24 inches wide
Conditions: Partial shade; well-drained soil
'Golden Queen' globeflower is graceful, long stemmed, elegant, and bursting with color in the shade. Its blooms have a charming buttercup-like form and can be used as cut flowers. The show begins in late spring and continues through midsummer, depending on the weather. After the flowers fade, cut the plant back by half and you may get a second, albeit lesser, flush of blossoms. A truly great plant for high elevations and mountain areas of the Mountain West, it pairs beautifully with lupines (Lupinus spp. and cvs., Zones 4–8) and white daisies (Leucanthemum spp. and cvs., Zones 5–8). Consider planting it in large groupings. Divide clumps in fall or early spring.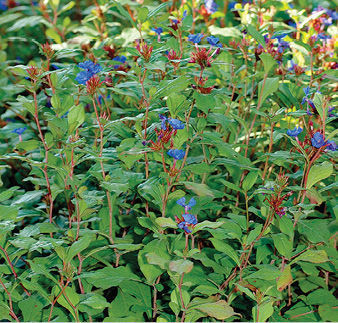 Plumbago
Name: Ceratostigma plumbaginoides
Zones: 5 to 9, might need a winter mulch in Zone 5
Size: Up to 18 inches tall and wide
Conditions: Partial shade; moist, well-drained soil
Plumbago is a warm-season ground cover, arriving on the scene as spring-bulb foliage declines, so it's a good planting companion to daffodils and tulips. In August, plumbago sends up clear blue flowers. As the rich green leaves turn red, then mahogany in fall, plumbago earns its place in the shade garden as a multiseason perennial. It is deer resistant, is fast growing, and looks great in a rock-garden setting. It has a long bloom period, but it disappears in winter.
Mary Ann Newcomer is coauthor of Rocky Mountain Gardener's Handbook. She's also the "Dirt Diva" of 94.9 The River in Boise, Idaho.
Photos: David Dixon/gapphotos.com; Joshua McCullough; Bill Johnson; André Karwath/courtesy of commons.wikimedia.org; courtesy of Mary Ann Newcomer