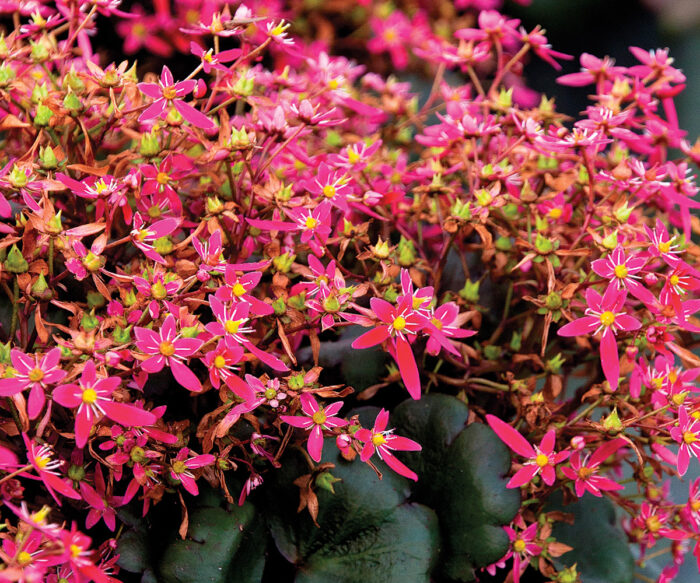 ---
1. Indian Pink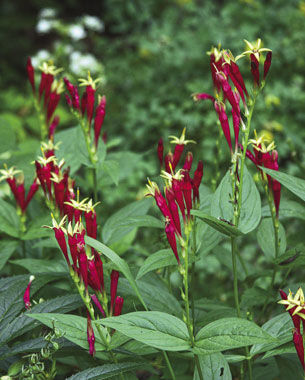 Name:
Spigelia marilandica
Usda Hardiness Zones: 5 to 9
Size: 18 to 24 inches tall and 15 to 18 inches wide
Conditions: Widely adaptable to sun and soil conditions
Calling all hummingbirds! Indian pink's tubular flowers are an outstanding nectar source and a true showstopper in the early summer garden. Clusters of upward-facing, scarlet blooms open to display a yellow center that erupts into a five-pointed star. This tough native perennial blooms over a long season throughout May and into June; the flowering season can be extended by removing spent blossoms. Though naturally occurring in moist woodlands, forest edges, and along stream banks, Indian pink is equally tolerant of sunny, dry sites.
2. Keiko™ Itoh Peony
Name:
Paeonia
'Pink Double Dandy'
Zones: 4 to 8
Size: 3 feet tall and wide
Conditions: Partial to full shade; rich, well-drained soil
Itoh peonies are a striking hybrid, combining the elegant blossoms of tree peonies with the herbaceous stems and mounding habit of garden peonies. The resulting plant is graceful yet robust. Varieties boast dazzling double or semidouble blossoms in pink, lavender, yellow, or coral. Keiko™ is an exquisite example, with lush foliage and enormous dark lavender-pink flowers bursting with silky petals. Though labels suggest planting in full sun to dappled shade, I have had great success with Itoh in full shade, where plants are protected from intense summer heat.
3. The Rising Sun™ Redbud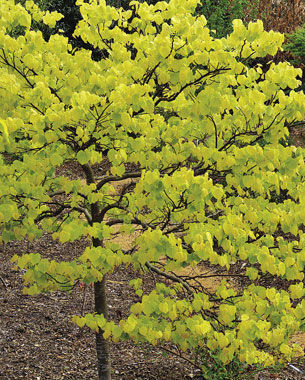 Name:
Cercis canadensis
'JN2'
Zones: 5 to 9
Size: 12 to 15 feet tall and 8 to 12 feet wide
Conditions: Full sun to partial shade; tolerates a range of soil conditions
A stunning specimen for even the smallest yards, The Rising Sun™ redbud shines year-round. Like all redbuds, The Rising Sun™ puts on a vivid display of lavender spring blooms, but when foliage emerges, the real show begins. Leaves start a deep apricot color and shift through shades of orange, gold, and yellow as they mature to a lime green. With new leaves emerging throughout summer, trees display an ever-shifting mixture of colors. Autumn brings an encore of yellow and orange foliage. This tough tree is water wise, fire wise, and heat tolerant.
4. Berry Bright™ Saxifrage
Name:
Saxifraga fortunei
'Magenta'
Zones: 6 to 9
Size: 6 to 10 inches tall and 8 to 12 inches wide
Conditions: Full to partial shade; moist, well-drained soil
With vibrant pink blooms lasting from fall to late winter, Berry Bright™ saxifrage provides irresistible winter color. Plant this cool-season beauty in containers by the front door to welcome visitors throughout the long winter. Saxifrage is a thirsty plant, especially once the weather turns warm. Containers are ideal, as moisture can be easily managed and winter color can be swapped for summer blooms. In the ground, plant Berry Bright™ in a regularly watered section of the garden, or tuck plants alongside a water feature where they will benefit from a light misting.
---
Kimberly Toscano is a horticulturist from Stillwater, Oklahoma.