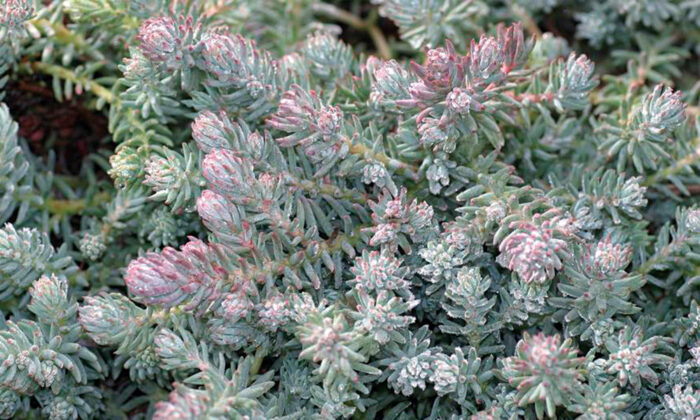 ---
USDA Hardiness Zones: 4 to 9
Size: 3 to 4 feet tall and 18 to 24 inches wide
Conditions: Full sun to partial shade; moist, well-drained soil
I can't imagine gardening without this sprawling hummingbird magnet. A vibrant red midsummer bloomer, bee balm spreads with vigor—but not as regrettably as its mint cousins (Mentha spp. and cvs., Zones 3–9). It makes the perfect filler among sturdy, clumping perennials, like daylily (Hemerocallis spp. and cvs., Zones 3–10) and garden phlox (Phlox paniculata cvs., Zones 4–8). As summer wanes, don't lop off its faded flowers; the seed heads are lovely in winter. You'll occasionally need to replant bee balm to keep it inbounds, but I've used the heirloom cultivar 'Cambridge Scarlet' as a filler for decades in my garden without complaint, and I also readily recommend the mildew-resistant cultivar 'Jacob Cline' (pictured).
2. Villosa Hybrid Heuchera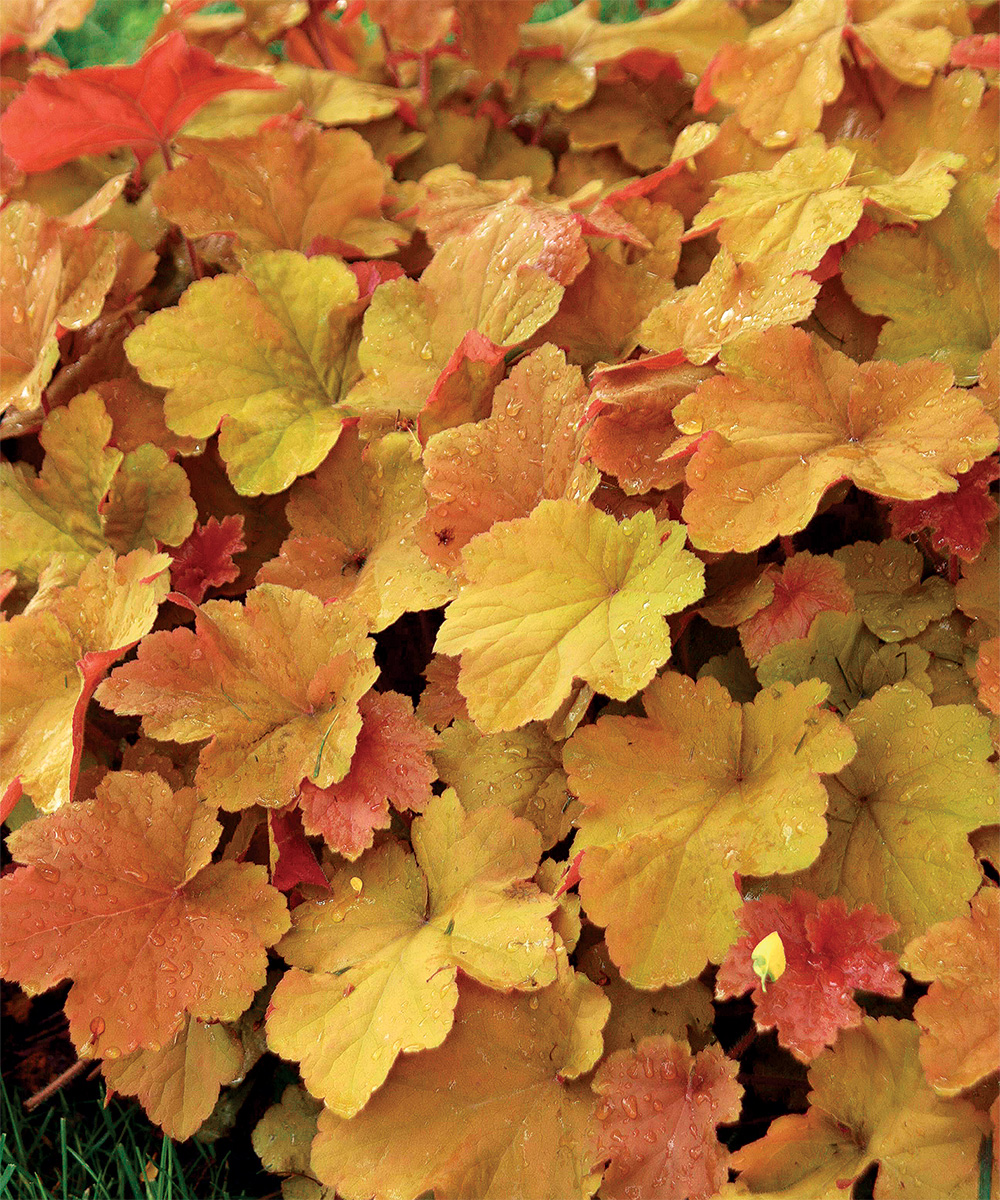 Name:
Heuchera
cvs.
Zones: 3 to 8
Size: 12 to 14 inches tall and wide
Conditions: Partial shade; moist, well-drained soil
Heucheras with H. villosa parentage are woodland dwellers with stunning evergreen foliage, perfect for filling in bare spots in shady beds. While most heuchera species fail in the Midwest, these can take the heat, humidity, and drought. They look good all four seasons and form tidy, long-lived clumps that spread slowly. Best of all, there's a cultivar to suit any color scheme, from the yellow 'Pistache' and the peachy 'Caramel' (pictured) to the purplish black ones, like 'Mocha'. Use the colorful leaves of villosa hybrid heucheras to lighten or darken borders as needed.
3. 'Firecracker' Fringed Loosestrife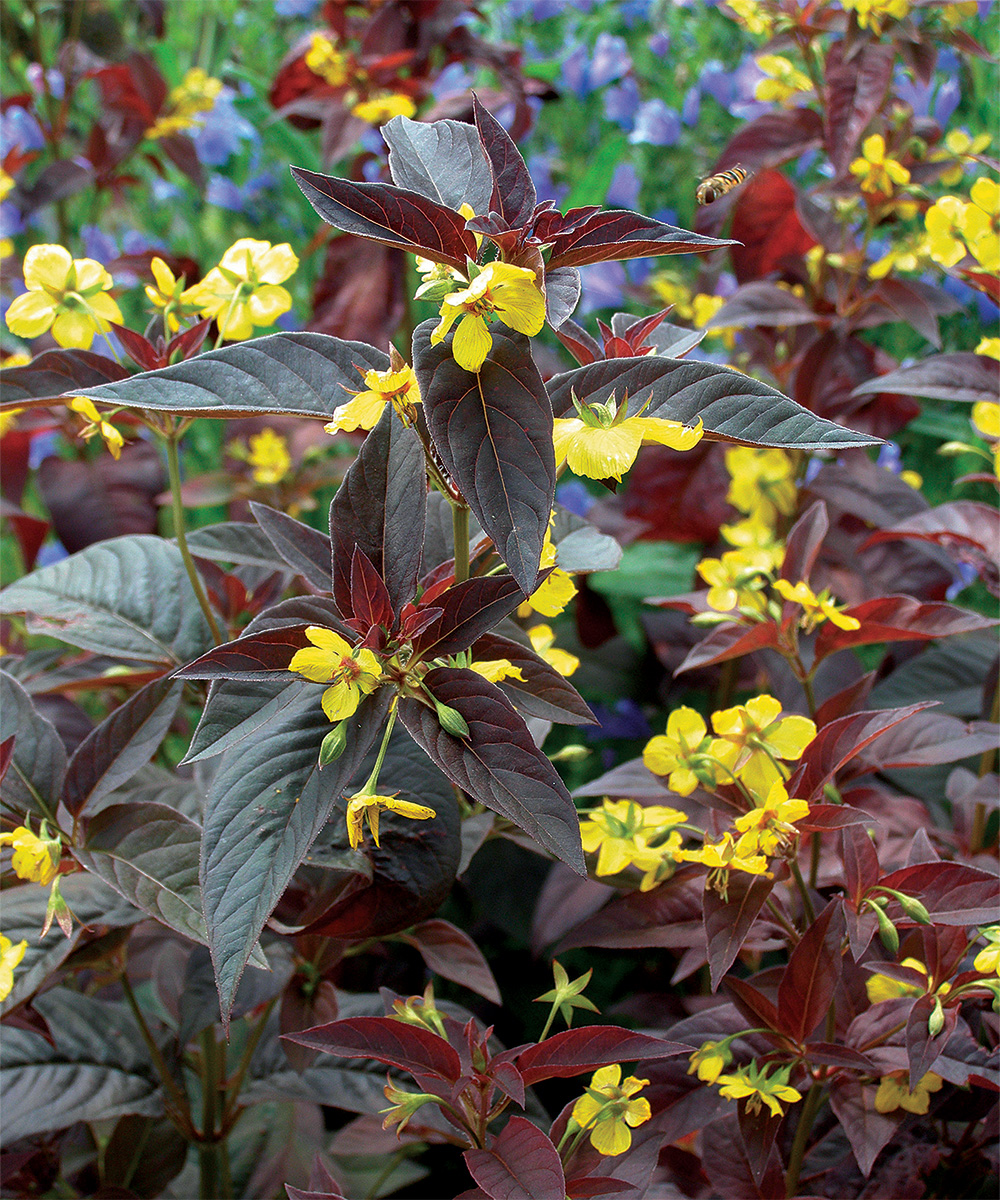 Name: Lysimachia ciliata
'Firecracker'
Zones: 3 to 8
Size: 24 to 30 inches tall and wide
Conditions: Full sun to partial shade; average to moist, well-drained soil
It wasn't until the dark-foliaged cultivars hit the nursery scene that I began appreciating this wildflower. 'Firecracker' fringed loosestrife looks radiant filling in the gaps between other perennials. Its burgundy foliage makes every plant it stands beside look better. Loosestrife runs by underground stolons but is easily controlled and doesn't swallow its neighbors. New black-purple leaves emerge in fall and hug the ground through winter. In spring, the plant quickly gains height, creating a purplish red forest by late spring. The foliage color holds until late summer, as it blooms, then starts fading to dark green.
4. 'Blue Spruce' Sedum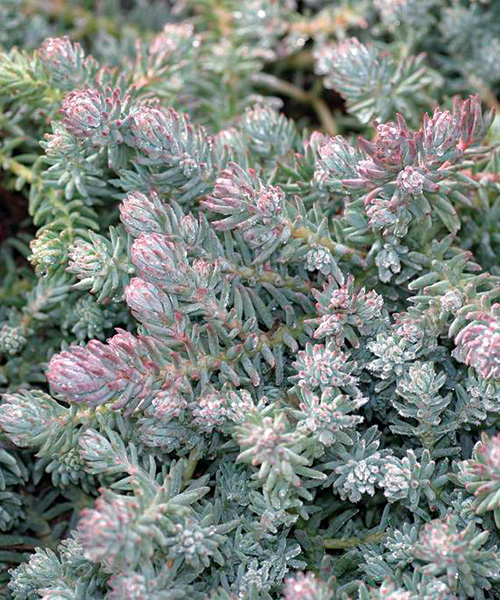 Name:
Sedum rupestre
'Blue Spruce', syn.
S. reflexum
'Blue Spruce'
Zones: 4 to 9
Size: 6 to 10 inches tall and 2 feet wide
Conditions: Full sun to partial shade; average to dry, well-drained soil
'Blue Spruce' sedum's mat of ever-blue foliage offers cover and contrast year-round. Feature it in rock gardens, or use it to unify a varied planting. Although this drought-tolerant filler roots as it spreads, it's not rambunctious. Its relatively shallow root system makes the plant easy to edit and prevents it from smothering great companion plants, like Missouri evening primrose (Oenothera macrocarpa, Zones 5–8) and red-hot poker (Kniphofia spp. and cvs., Zones 5–9).
---
Alan Branhagen is director of horticulture at Powell Gardens in Kingsville, Missouri.