Northwest
Willow gentian
(
Gentiana asclepiadea
)
USDA Hardiness Zones: 6 to 9
Size: 2 feet tall and 3 feet wide
Conditions: Bright shade; moist, humus-rich, well-drained soil
The gentian family has a bad reputation for seducing gardeners with spectacular blue flowers and then dying off within the year. Don't miss the exception: willow gentian. It's as dependable as it is beautiful and easy to grow. The light green leaves on 15-inch-long stems arc downward, like a long feather. From August until frost, it will delight you with its fabulous blue flowers. It's perfect cascading over a rock wall with Himalayan maidenhair fern (Adiantum venustum, Zones 5–8) as its foil.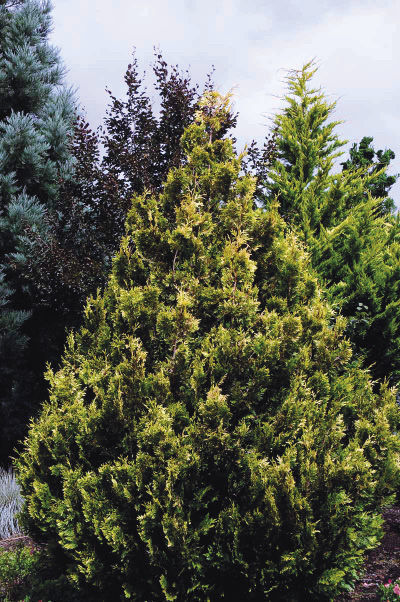 'Stoneham Gold' cedar
(
Thuja plicata
'Stoneham Gold')
Zones: 6 to 8
Size: 16 feet tall and 8 feet wide
Conditions: Full sun to partial shade; moist, well-drained soil
Perhaps you thought you had to possess 40 acres to grow our native giant red cedar. Plant 'Stoneham Gold' cedar, a city garden–size version of the giant, for that graceful habit and sweet cedar scent. This handsome specimen, with its conical form and twisting sprays of dark green interior foliage changing to bright yellow tips, creates a cheerful view in winter.
'Dr. Hurd' manzanita
(
Arcto­staphylos manzanita
'Dr. Hurd')
Zones: 8 to 11
Size: 15 feet tall and wide
Conditions: Full sun; well-drained soil
Many manzanitas are not adapted to life in a garden, but 'Dr. Hurd' is an exception. It has branches that are so smooth and sinewy that you will have to stop and pet it, so plant it within reach. It has a graceful, mahogany red trunk and branches, with glossy, apple green leaves. In late winter, big clusters of white flowers feed the humming­birds and early bumblebees. 'Dr. Hurd' manzanita is disease resistant, and it needs no watering once established.
Flame nasturtium
(
Tropaeolum speciosum
)
Zones: 8 to 11
Size: Climbing to 12 feet tall and 6 feet wide
Conditions: Full sun to partial shade; moist, humus-rich, well-drained soil
Flame nasturtium climbs by wrapping its wire-thin leaf stalks around twigs, which causes its leaves and brilliant flowers to appear to float in the air. The vine doesn't grow and show fast enough to be popular in nurseries; perhaps that's why it has been overlooked. With time, however, this delicate perennial vine blooms through summer if given sun and moist soil. I send it up 'Stoneham Gold' cedar (left) and watch the humming­birds suck the nectar from its brilliant red flowers. For a close-up delight, take a look at its delicate twining leaf stems wrapping around a branchlet.
---
Photos, except where noted: www.millettephotomedia.com; courtesy of Kathleen Skeels; Jerry Pavia; Susan A. Roth
Get our latest tips, how-to articles, and instructional videos sent to your inbox.