1. 'Southern Comfort' Heuchera
Name:

Heuchera
'Southern Comfort'
USDA hardiness zones: 4 to 9
Size: 14 inches tall and 2 feet wide
Conditions: Full sun to partial shade; moist to dry, well-drained soil (moisture will help it to grow larger and faster)
Heuchera's colorful foliage brightens the landscape even in the middle of winter, as long as the plant is not covered with snow. The color of 'Southern Comfort' varies from peach and amber to an almost bleached yellow, if grown in full sun. The creamy white flowers appear on 22-inch-long stems in late summer. This H. villosa hybrid has inherited the species' late bloom time and incredible toughness. The large scalloped leaves seem to be impervious to pests. 'Southern Comfort' is a great edger, and looks fantastic when paired with plants that have purple foliage.
2. Oso Easy
®
Cherry Pie Rose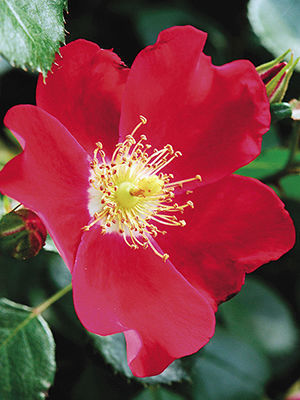 Name:

Rosa
'Meiboulka'
Zones: 4 to 9
Size: 2 to 4 feet tall and wide
Conditions: Full sun; moist, well-drained soil
For red-hot color from June until frost, it's hard to beat Oso Easy® Cherry Pie. This vigorous rose has glossy, disease-resistant foliage. I would even call it a "sustainable" rose because no spraying is needed. It can be planted amid perennials and grasses or at the bottom of a hill surrounded by ground covers or shorter perennials. For a color echo, try 'Georgia Peach' heuchera (Heuchera 'Georgia Peach', Zones 4–9). In fall, the bush usually has both flowers and hips. Prune it back hard in spring to maintain its bushy habit.
3. Indian Pink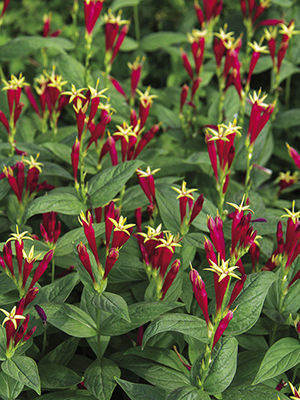 Name:

Spigelia marilandica
Zones: 5 to 9
Size: 18 to 24 inches tall and wide
Conditions: Partial to full shade; moist, well-drained soil
Plants that provide a splash of color in the shade are hard to come by, but Indian pink does just that. Its tubular red-and-yellow flowers hover above the foliage, providing nectar for butterflies and hummingbirds. Indian pink forms a clump that will enlarge over time; it might self-sow but prefers not to be transplanted. This diminutive plant forms a lovely skirt for taller shade perennials, such as yellow wax-bells (Kirengeshoma palmata, Zones 5–8) and autumn fern (Dryopteris erythrosora, Zones 5–9). In my Cleveland garden, the main flush of bloom occurs in late June and continues intermittently through early September.
4. 'Arctic Summer' Mullein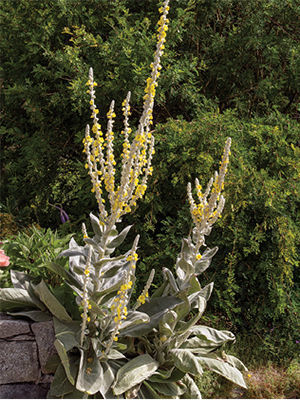 Name:

Verbascum bombyciferum
'Arctic Summer' (syn. 'Polarsommer')
Zones: 5 to 9
Size: Basal rosette, 18 inches tall and 3 to 4 feet wide; flower stalk, 5 feet tall
Conditions: Full sun; well-drained soil
If you plant this stunning architectural biennial in your front yard, then people will be ringing your doorbell to find out what it is. During the plant's first year of growth, its velvety silver leaves form a large rosette, which will engulf any low perennials nearby. In June of its second year, a 5-foot-tall branched stalk will spring up, adorned with masses of small yellow flowers. If you prune back the terminal stalk when it has finished blooming, then the branchlets that emerge will continue to flower well into August and September. 'Arctic Summer' mullein is a prolific seeder; I usually leave no more than three seedlings per year and dig the rest to give away or to compost.
Bobbie Schwartz, FAPLD, is a landscape designer and owner of Bobbie's Green Thumb in Shaker Heights, Ohio.
Photos: #1 and #2, millettephotomedia.com; #3 and #4, Doreen Wynja