1. 'Cheyenne Spirit' Coneflower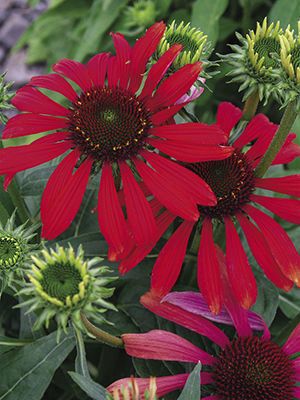 Name:

Echinacea
'Cheyenne Spirit'
USDA hardiness zones: 4 to 10
Size: 24 to 30 inches tall and 2 feet wide
Conditions: Full sun; well-drained soil (moderate to dry water needs)
This magnificent coneflower received national recognition in 2013 from the All-America Selections program, deservedly earned with a beautiful display of hot flower colors from summer into fall. Ranging from shades of red and pink to yellow, orange, purple, and cream, its flowers are slightly fragrant and loved by not only us but also bees and butterflies alike. Unique for its propagation from seed, which encourages the broad range of colors, 'Cheyenne Spirit' coneflower is also a first-year bloomer. With flower power like this and its ease of maintenance, drought tolerance, and proven reliability in intermountain gardens, this coneflower is a great choice.
2. 'Nearly Red' Pineleaf Penstemon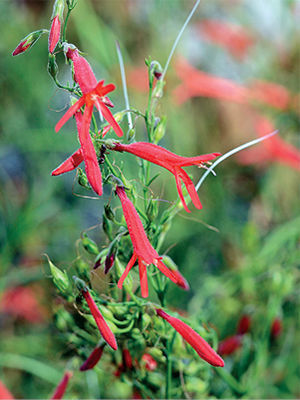 Name:

Penstemon pinifolius
'Nearly Red'
Zones: 4 to 9
Size: 18 to 24 inches tall and 12 to 18 inches wide
Conditions: Full sun; well-drained soil (moderate to dry water needs)
This pineleaf penstemon has bright, almost red flowers from spring through summer atop attractive, needlelike evergreen foliage. It tolerates slightly more water than other penstemons but prefers to be dry, making it a perfect choice for the Mountain West. Amending native soil with organic compost and adding ¼-inch-diameter fracture pea gravel enhances drainage, encouraging drought-tolerant plants to thrive in heavy clay soils. 'Nearly Red' pineleaf penstemon has successfully grown in a broad range of exposures and soil conditions, proving that it's a reliable favorite. Hummingbirds also find it attractive, making it useful in designing pollinator gardens.
3. Sunset Hyssop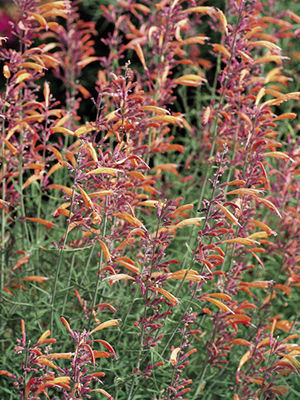 Name:

Agastache rupestris
Zones: 4 to 9
Size: 2 to 3 feet tall and 30 to 36 inches wide
Conditions: Full sun; well-drained soil (moderate to dry water needs)
While there are excellent selections and new hybrids of hyssops available, some are less reliable and more annual in nature in our region. Sunset hyssop, native to the mountains of the Southwest, is a reliable favorite in our gardens. Its aromatic foliage, a soothing combination of anise and mint, and bright pink to orange flowers contrasted with fine, gray-green foliage make sunset hyssop a great backdrop for larger-leaved plants. In winter, it dies completely to the ground, requiring long, hot summer days to revive its show, when it blooms from August until frost. Sunset hyssop benefits from rock mulches, especially in winter.
4. Silver Blade
®
Evening Primrose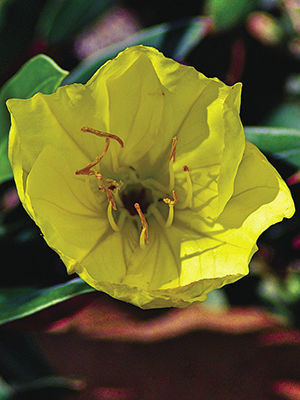 Name:

Oenothera macrocarpa

ssp.

incana
Zones: 4 to 9
Size: 8 to 12 inches tall and 2 feet wide
Conditions: Full sun; well-drained soil (moderate to dry water needs)
Evening primroses vary in form, color, habit, and fragrance. This subspecies was selected for the Plant Select® program in 1999 for its beauty, durability, ease of cultivation, and usefulness in a wide variety of applications in the landscape. Silver Blade® evening primrose has deeper blue foliage than the straight species, with contrasting red stems and beautiful large, bright yellow flowers. It is a spectacular beacon of hot color from May until frost, catching the attention of any passerby.
Toby Mancini is the horticulture director at the Idaho Botanical Garden in Boise, Idaho.
Photos: #1, Doreen Wynja; #2, #3 and #4, millettephotomedia.com