1. Butterfly Weed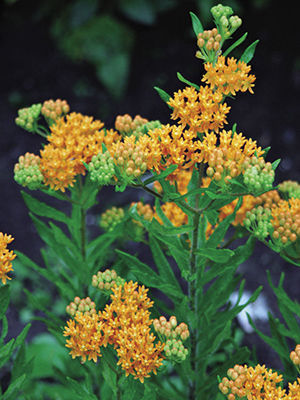 Name:

Asclepias tuberosa
USDA hardiness zones: 4 to 9
Size: 18 to 24 inches tall and 12 to 18 inches wide
Conditions: Full sun to partial shade; well-drained soil
Butterfly weed has become a symbolic plant for me, its increasing scarcity in the wild neatly mirroring the ever-diminishing population of monarch butterflies. Growing butterfly weed in your garden would, thus, contribute directly to the continuation of both species because it is a host plant for the larval phase of the monarch. If that isn't reason enough to add this plant to your garden, you might also like the fact that it offers lovely orange flowers in high summer and curious inflated seedpods filled with silky fluff in fall. It shrugs off drought and heat, tolerates poor soils, and requires little maintenance beyond cutting back in late winter. Allow the plant to self-sow, or gather seed to share with friends.
2. 'Arizona Sun' Blanket Flower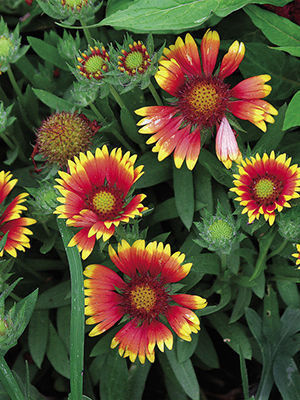 Name:

Gaillardia
'Arizona Sun'
Zones: 3 to 9
Size: 8 to 10 inches tall and wide
Conditions: Full sun; well-drained soil
Few perennials in the South have the blooming power that 'Arizona Sun' blanket flower has. Given full sun and poor, well-drained soil, its rich, red-and-yellow bicolored flowers shine during the long, hot days of summer. With a bit of deadheading, the blooms will continue well into late fall, adding a much-needed punch of red to the muted tones of autumn. Being short in stature, 'Arizona Sun' is an excellent plant for borders or for weaving through taller, dry-loving plants. Allow the late flush of blooms to set seed to provide winter food for goldfinches and new plants for the following season.
3. Tulip Prickly Pear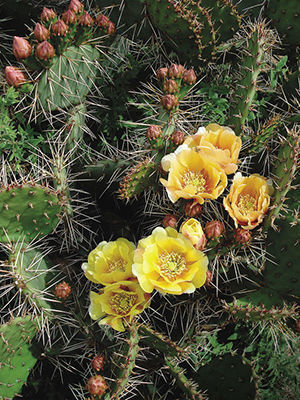 Name:

Opuntia phaeacantha
Zones: 7 to 11
Size: 3 to 4 feet tall and 6 to 8 feet wide
Conditions: Full sun to partial shade; well-drained soil
This is a surprising and welcome addition to my too-short list of wet-winter-tolerant cacti. With its beautiful multihued spines, sea green pads, lemon yellow summer flowers, and mauve-purple edible fruit, tulip prickly pear is an all-season winner. It's easy to grow, and a small plant will quickly reach specimen proportions in short order, given a hot, sunny, well-drained site and moderately fertile soil. The pads are tinged with rose-purple shades in winter and are lovely when paired with ornamental grasses. To showcase its spines, site this cactus where it will be backlit by morning or afternoon sun.
4. Mediterranean Spurge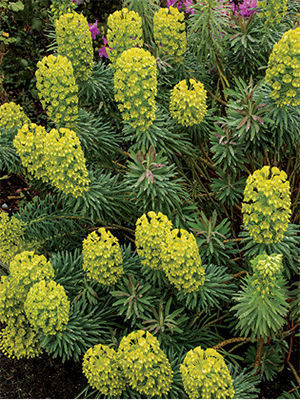 Name:

Euphorbia characias

ssp.

wulfenii
Zones: 7 to 10
Size: 3 to 4 feet tall and wide
Conditions: Full sun to partial shade; well-drained soil
Mediterranean spurge is one of my all-time favorite subshrubs. The striking blue foliage and bright yellowish lime green bloom stalks bring a bit of West Coast flair to the southern garden. Flowering usually begins in early spring, with the nodding stalks gradually unfurling and complementing the surrounding spring bulbs and perennials. I find the faded blooms intriguing and leave them in place until their seed is shed and the flowers turn rusty brown. If you prefer a tidier look and don't want stray seedlings popping up, cut the flower stalks down to the base to allow the new shoots to emerge. Use gravel mulches to encourage seeding and to keep the crowns dry during rainy periods.
Chris Cosby is senior manager of gardens at the Memphis Botanic Garden in Memphis, Tennessee.
Photos: #1, Michelle Gervais; #2, Jennifer Benner; #3, millettephotomedia.com; #4, Jerry Pavia