1. 'Little Joe' Joe Pye Weed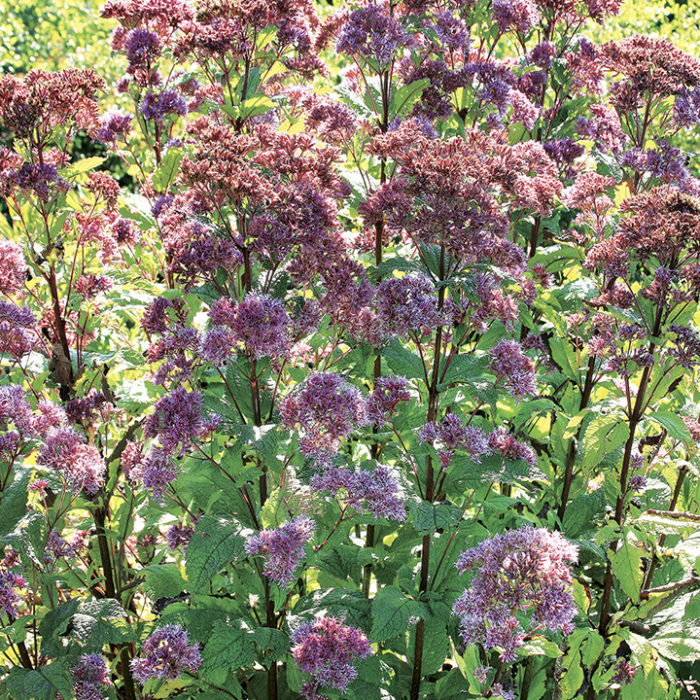 Name:
Eutrochium dubium
'Little Joe'
USDA Hardiness Zones: 3 to 9
Size: 4 feet tall and 3 feet wide
Conditions: Full sun; moist soil
Joe Pye weed (Eutrochium spp. and cvs., Zones 3–9) is a bonanza for lovers of big, bold, yet mannerly plants. This compact cultivar reached a mature size in my garden its first growing season from fall-planted gallon-size pots. The thick texture and dark green color of the foliage make it attractive, even prebloom. Late summer yields showy, flat-domed mauve-pink flowers that intoxicate pollinators for a full month. Happy with lots of moisture, 'Little Joe', an American native, is an excellent rain garden candidate. It's sterile, too, so no need to worry over it seeding about.
2. 'Aspen Gold Hosta
Name:
Hosta
'Aspen Gold'
Zones: 3 to 9
Size: 2 feet tall and up to 3 to 5 feet wide
Conditions: Full sun; well-drained soil
This is truly a standout in a world of hostas. The cupped, heart-shaped leaves of 'Aspen Gold' are a bright yellow-chartreuse. They're also thick and corrugated, which helps thwart slugs. The summer flowers are pale lilac to almost white. Space plants 24 to 30 inches apart if you're going for no-bare-soil coverage. I find it multiplies and matures unusually quickly for a hosta. When garden visitors start ogling, it's easy to get the spade and dig out a wedge of "hosta-to-go."
3. 'Karmina' Geranium
Name:
Geranium
cantabrigiense
'Karmina'
Zones: 4 to 8
Size: 8 to 10 inches tall and up to 18 inches wide
Conditions: Full sun; moist, well-drained soil
This is a terrific low-lying, front-of-the-border ground cover. Individual plants expand to tidy mounds in a short time, especially if the soil is on the moister side. Midspring brings a cloud of showy carmine-rose flowers floating over the fine-textured, lobed green leaves. The leaves take on bright orange-red fall color that lasts into winter, too. If 'Karmina' steps out of bounds, the shallow rhizomes are easily pulled out, often without the need for a trowel. Deer and rabbit resistant, this butterfly-friendly plant is a must-have.
4. 'Mother Lode' Juniper
Name:
Juniperus horizontalis
'Mother Lode'
Zones: 3 to 9
Size: 4 to 6 inches tall and 6 feet wide
Conditions: Full sun to partial shade; well-drained soil
Many gold plants are flashy and obvious for a few weeks in spring, but then the color show quickly fades for another year. Not so with 'Mother Lode' juniper. With the proper amount of light (more sun is better), this juniper keeps its strong gold presence the entire growing season, finally donning a plum-burgundy color for winter. While it's credited with a moderate growth rate, my plants produce 6 to 8 inches of new growth annually, which means bare soil disappears fast. The foliage is feather soft and looks awesome when grown as a ground cover or when cascading over a wall. 'Mother Lode' juniper happily tolerates dry, hot sites.
Tony Fulmer is chief horticulture officer at Chalet, a specialty nursery in Wilmette, Illinois.
Photos: (1), Bill Johnson; (2), Michelle Gervais; (3 and 4), millettephotomedia.com