1. 'Ezo Murasaki' Asian Aster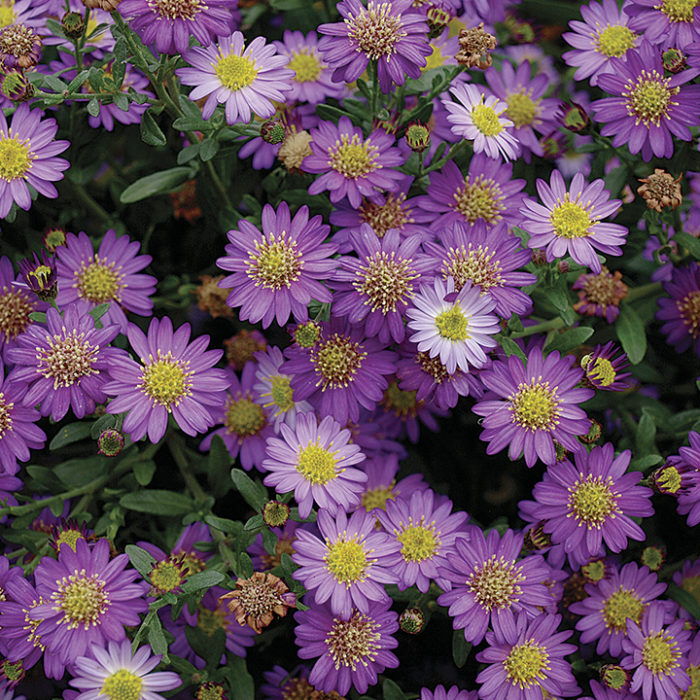 Name: Aster ageratoides 'Ezo Murasaki'
USDA Hardiness Zones: 4 to 9
Size: 2 feet tall and 5 to 10 feet wide
Conditions: Full sun to light shade; average to well-drained soil
Few plants fill a spot as quickly as 'Ezo Murasaki' aster, which spreads by underground rhizomes to form a dense patch in short order. The medium green foliage looks lovely all season before exploding into color in October and November with masses of small, frost-resistant, lavender flowers. Plants should be cut back to the ground after they turn brown. This aster is ideal for filling an empty spot or providing erosion control on a slope, but do not plant it where it can swamp other herbaceous perennials, dwarf shrubs, or small children.
2. 'Avalon Gold' Red Twig Dogwood
Name:
Cornus stolonifera
'Avalon Gold'
Zones: 3 to 8
Size: 4 to 8 feet tall and 6 to 10 feet wide
Conditions: Full sun to partial shade; average to wet soil
Plants that provide true four-season interest are valuable in the garden, especially when they can spread quickly to provide maximum impact. In winter, 'Avalon Gold' sports deep wine-red, upright stems followed in spring with creamy white, flat-topped flower clusters held above golden-yellow leaves. The gold foliage looks especially nice growing with a background of evergreens. 'Avalon Gold' takes on burgundy tones in fall. While it will tolerate most garden soils, it spreads quickest when grown in damp soils and will sucker to form nice colonies. Cut older stems to the ground every few years to maintain the brightest stem colors.
3. 'All Gold' Shore Juniper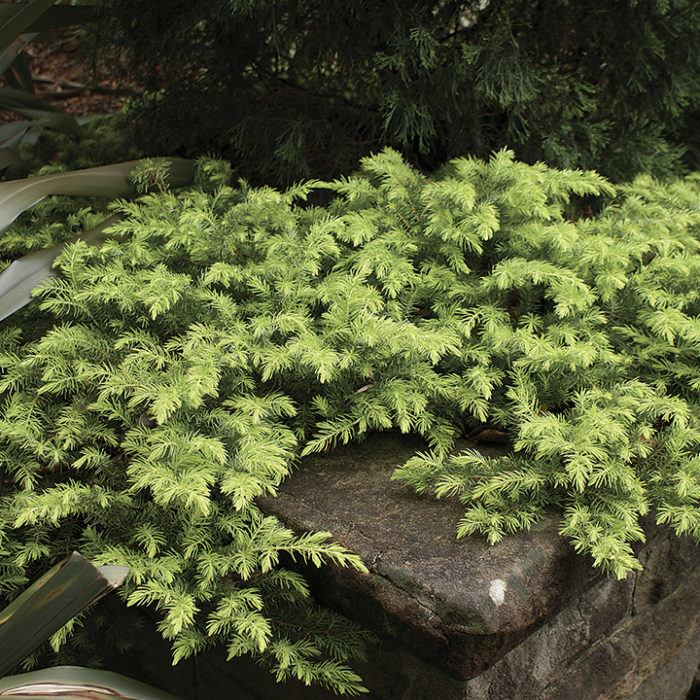 Name:
Juniperus conferta
'All Gold'
Zones: 6 to 9
Size: 12 to 18 inches tall and 6 to 8 feet wide
Conditions: Full sun; average to well-drained soil, tolerates some salt spray
Shore junipers are among the most adaptable of ground cover junipers, tolerating some shade and seaside conditions better than most. This striking selection makes a spreading mat of prickly gold needles which, if used in mass, could be a suitable substitute for runway lights. The color is brightest in spring and won't burn, even in the Deep South. It is best used on a slope or in well-drained soils.
4. 'Sonya's Parasol' Creeping Raspberry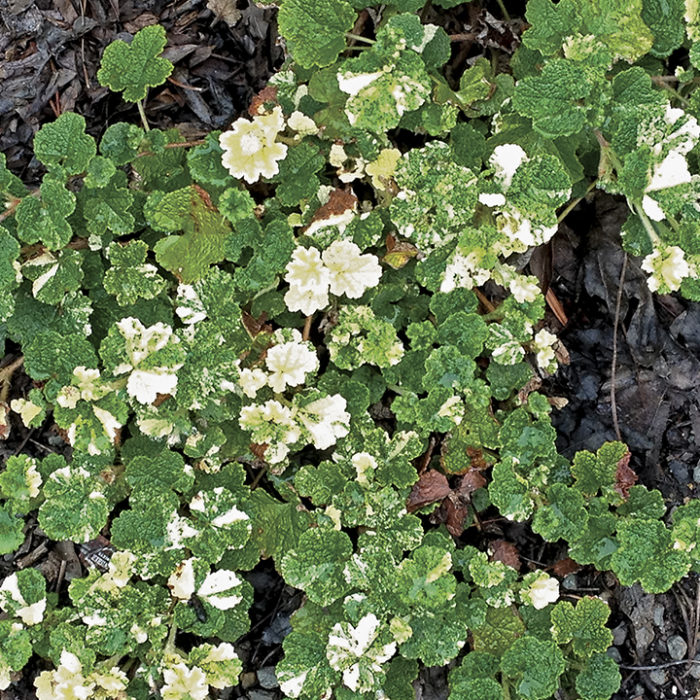 Name:
Rubus rolfei
'Sonya's Parasol'
Zones: 6 to 10
Size: 6 inches tall and 4 to 6 feet wide
Conditions: Full sun to shade; average soil
Rubus rolfei, usually sold incorrectly as R. pentalobus, makes a low evergreen ground cover with rounded, corrugated leaves. 'Sonya's Parasol' is a French selection with leaves irregularly splashed and speckled with creamy yellow. In winter, the foliage takes on deep plum and paler pink tones. The long, spreading stems will root as they spread and have some small prickles. In the Deep South, 'Sonya's Parasol' may need some protection from the brightest afternoon sun. Creeping raspberry will develop delicious, bright orange fruits from greenish-white flowers if multiple selections are grown close to each other.
Mark Weathington is the director of the JC Raulston Arboretum at NC State University in Raleigh, North Carolina.
Photos: (1, 2 and 4), courtesy of JC Raulston Arboretum at NC State University; (3), millettephotomedia.com