Troublesome

Plant – 

Ornamental cherries
(Prunus spp. and cvs.)
1. Coralburst
®
Crabapple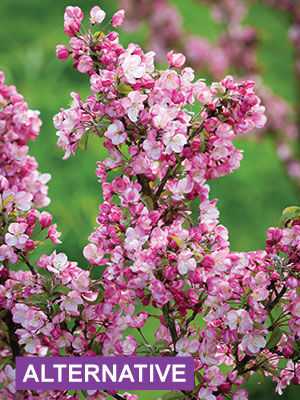 Name:
Malus
'Coralcole'
USDA hardiness zones: 3 to 9
Size: 12 feet tall and 10 feet wide
Conditions: Full sun to partial shade; fertile, moist, well-drained soil
When I moved from the mid-Atlantic to the Northern Plains, I had to leave ornamental cherries behind; they just can't stand the extended subzero temperatures and bracing Arctic winds that buffet the plains. Flowering crabapples, however, are better in this cold, drier climate than they are in the humid Southeast. I especially like Coralburst® for its double, tufted, candy pink flowers, which make it a dead ringer for the coveted ornamental cherry named 'Kanzan'. Coralburst®, like many crabapples, is hardy to Zone 3, so it can handle just about any winter Canada can send our way.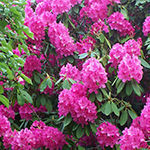 Troublesome

Plant – Rhododendrons and azaleas
(Rhododendron spp. and cvs.)
2. Northern Lights Series Azaleas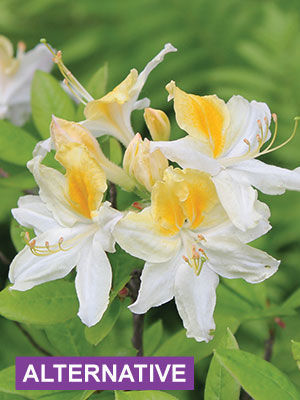 Name: 
Rhododendron
cvs., such as 'Northern Hi-Lights' (pictured), 'Mandarin Lights', and 'Lemon Lights'
Zones: 3 to 9
Size: 6 to 8 feet tall and wide
Conditions: Full sun to dappled shade; moist, well-drained, acidic soil
I thought I was leaving behind forever the most iconic shrub of the southern states: the rhododendron. But to my delight, I've found a wonderful series of deciduous azaleas that perform beautifully for us, bred from native rhododendron species. The Northern Lights series is an attractive family of deciduous shrubs, which bloom to beat the band in late spring with big fragrant flower clusters. They prefer a bright understory situation and can be finicky about adequate soil drainage, but when they're happy, they're an amazing sight.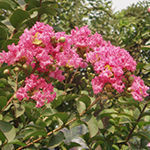 Troublesome

Plant – 

Crape myrtles
(Lagerstroemia indica cvs.)
3. Red Buckeye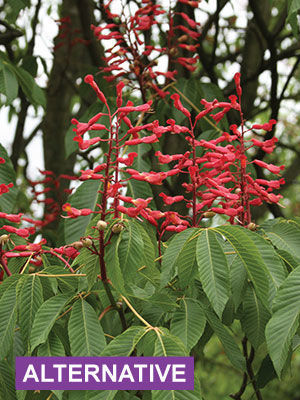 Name: 
Aesculus pavia
and cvs.
Zones: 5 to 9
Size: Up to 15 feet tall and 10 feet wide
Conditions: Full sun to partial shade; fertile, moist, well-drained soil
I've always respected crape myrtles for their ostentatiously vibrant flower spikes and beautiful silky trunks, but they just won't grow in this climate. I'm learning to use, instead, the red buckeye. This native tree, if maintained as a single- or multitrunk tree rather than as a shrub, shares a lot of landscape qualities with crape myrtle. Red buckeye's upright spikes of bright red flowers in spring are reminiscent of crape myrtle's summer flowers—but without the perpetual mess. The plant's smooth bark is lovely in winter, and the tree will reach about the same height as crape myrtle. And for all of crape myrtle's floweriness, it can't compete with red buckeye's major magnetic appeal for hummingbirds and butterflies.
Melissa Burdick is the director of horticulture at Lauritzen Gardens in Omaha, Nebraska.
Photos: #1 (troublesome), © Marie-Lan Nguyen/courtesy of commons.wikimedia.org; #1 (alternative), Jonathan Buckley/gapphotos.com; #2 (troubelsome), TriviaKing/courtesy of commons.wikimedia.org; #2 (alternative), Elsa Blaine/courtesy of commons.wikimedia.org; #3 (troublesome), Fanghong/courtesy of commons.wikimedia.org; #3 (alternative), Michelle Gervais