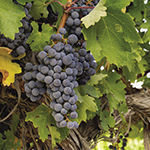 Troublesome

Plant – 

Grapes
(Vitis vinifera cvs.)
1. 'Regent' Serviceberry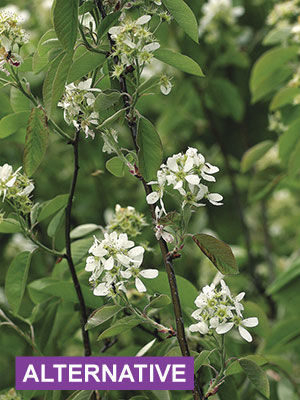 Name:
Amelanchier alnifolia
'Regent'
USDA hardiness zones: 4 to 9
Size: 4 to 6 feet tall and wide
Conditions: Full sun to partial shade; moist, acidic, well-drained soil
Anyone who has struggled with growing grapes knows that they are more than challenging due to their numerous pest problems and pruning needs. They can be the ultimate high-maintenance plant. As an alternative, try 'Regent' serviceberry, a fuss-free, rounded shrub, which produces sweet, deep purple berries that taste like grapes with a hint of blueberry. The berries are excellent for baking and make wonderful jams and jellies but can also be eaten fresh. Best of all, the plant is a beauty, with abundant, fragrant flowers in spring and excellent fall color.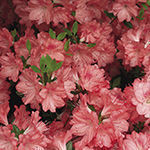 Troublesome Plant – Azaleas
(Rhododendron spp. and cvs.)
2. Double Take
™
Pink Storm Quince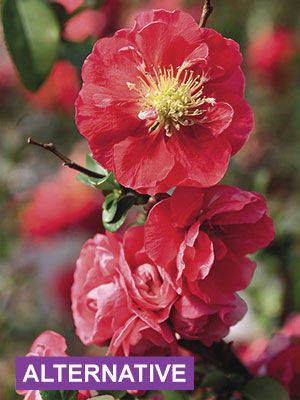 Name:
Chaenomeles speciosa
'Pink Storm'
Zones: 5 to 9
Size: 3 to 4 feet tall and wide
Conditions: Full sun to partial shade; well-drained soil
As much as I want to grow them, azaleas simply do not thrive in our alkaline soil and hot, dry climate. For years, I couldn't resist trying new and improved cultivars—only to be disappointed. Luckily, I found Pink Storm quince, whose large camellia-like blossoms make me forget all about those failed azaleas. Part of the Double Take™ series, which also includes scarlet and orange varieties, this is not your grand­parent's quince. To begin with, it is thornless and fruitless. The double blossoms last longer than traditional varie­ties and make excellent cut flowers. And best of all, this tough plant shines through hot, dry summers.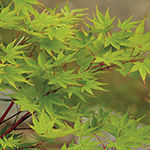 Troublesome Plant – Japanese maples
(Acer palmatum cvs.)
3. Fringe Tree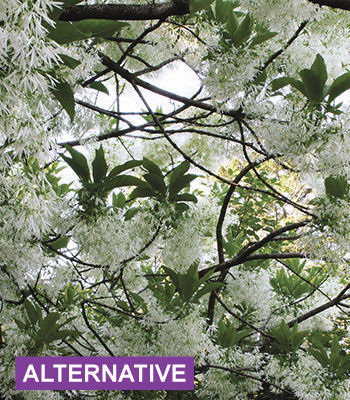 Name:
Chionanthus virginicus
Zones: 4 to 9
Size: 12 to 20 feet tall and wide
Conditions: Full sun to partial shade; fertile, well-drained soil
Hot, dry summer winds are a mainstay in our region, and they desiccate the delicate foliage of Japanese maples, leaving them ragged. More tolerant of these conditions is the native fringe tree. With showy white flowers, yellow autumn color, and dark blue fruit (on female plants), fringe tree offers multiple seasons of interest. Its multistemmed trunk and open canopy provide a strong focal point in the garden, too. The fall fruit attract birds but do not create a maintenance issue. Fringe tree is tolerant of air pollution, making it an excellent selection for urban landscapes.
Kimberly Toscano is the host of the television program Oklahoma Gardening and a consumer horticulturist at Oklahoma State University in Stillwater.
Photos: #1 (troublesome), Doreen Wynja; #1 (alternative), Bill Johnson; #2 (alternative), courtesy of Proven Winners; #3 (troublesome), Danielle Sherry; #2 (troublesome) and #3 (alternative), Kerry Ann Moore