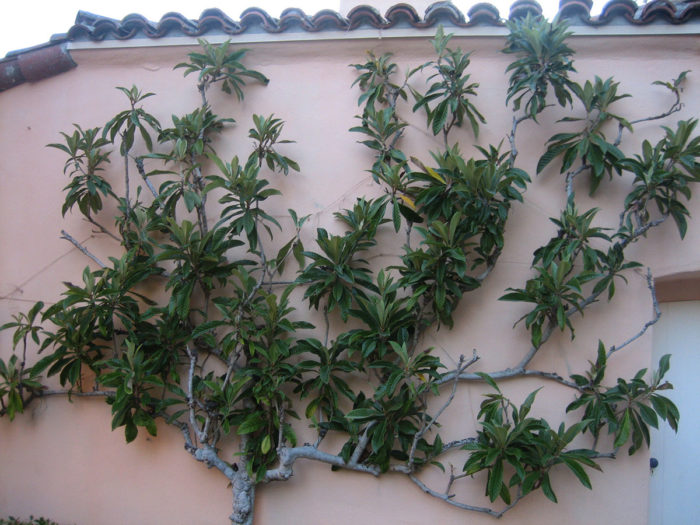 Although the word is French, the practice of espalier dates back to ancient Roman or Egyptian times. It originated with the need to grow more fruit trees in more confined spaces. Over time, the types of plants used for this technique have expanded to a wide variety of trees and large shrubs.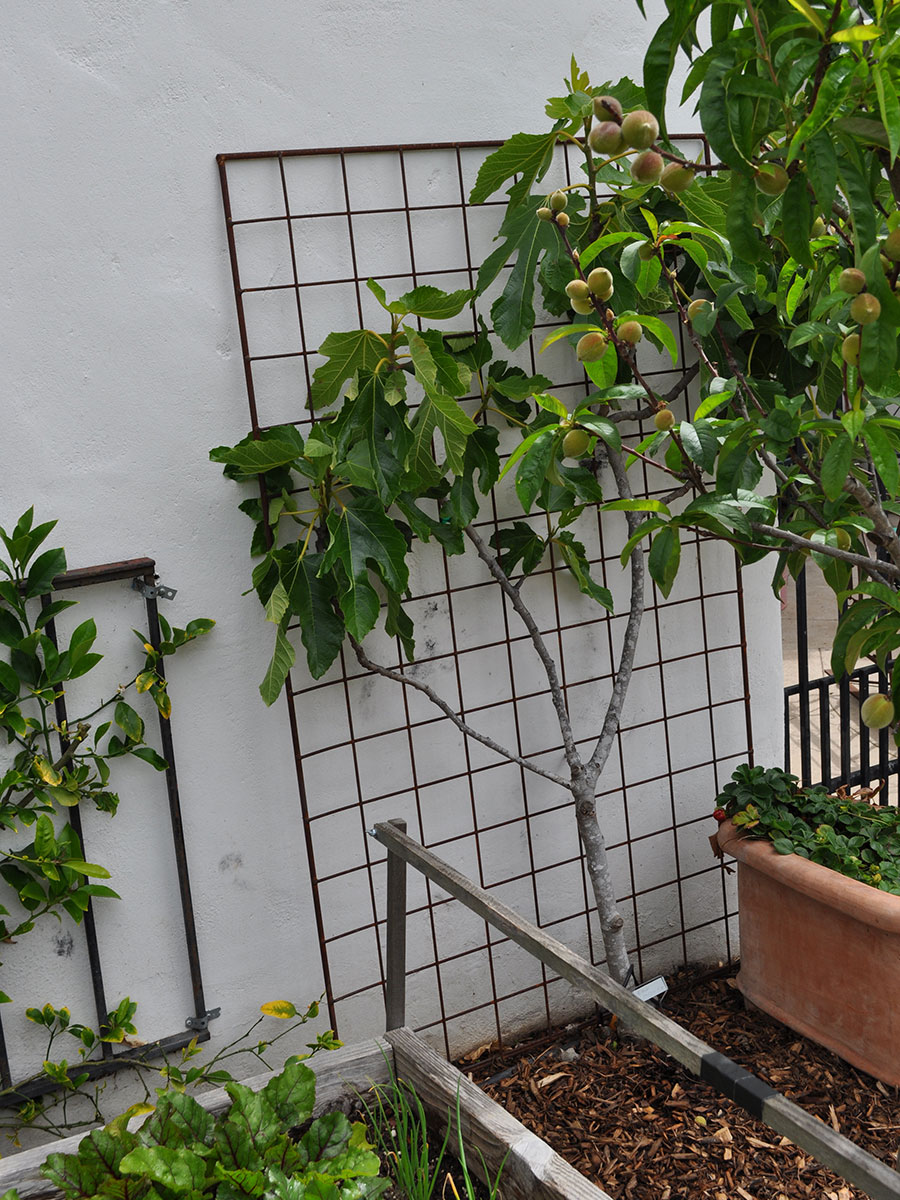 The technique
The basic premise of espalier is to prune and train a tree so that it becomes flat, as historically these trees were trained up against a wall. You can fit a fruit tree where a conventional one would not fit, and reap a bountiful harvest where you would have otherwise had none.
While it remains most common to train trees against walls and fences, I have also seen trees that are free-standing trained in espalier so that they form a border. The methods of training vary. You can use wooden or metal structures or wire to create lines or patterns. The result can be a very formal, structured look, or a more abstract, free-form look.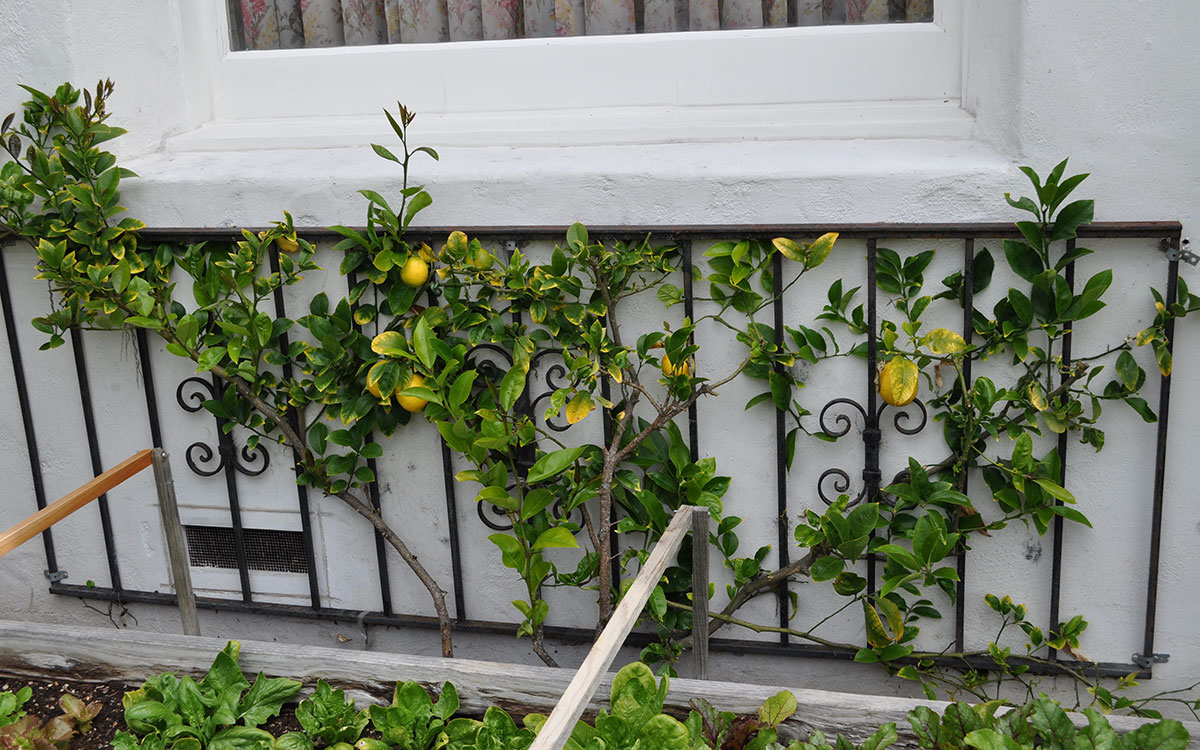 Where to start
The idea of growing your own edibles has become more popular than ever recently. Many fruit trees lend themselves quite well to being espaliered. Even if you live in a townhouse or condominium, it could be possible to grow your own fruit tree. If you only have room for one, make sure it is a self-pollinating variety, such as a 'Kieffer' pear (Pyrus communis 'Kieffer', Zones 4–9), unless you know of another planted nearby.
Trees that have already been trained can be purchased in the nursery. Readily available are many varieties of pears (Pyrus spp. and cvs., Zones 4–9) and apples (Malus spp. and cvs., Zones 4–8), which lend themselves to more formal patterns. You can put your garden artistry to work and create your own living sculpture. Young trees are easiest to train, but bare-root trees and unbranched whips are ideal to start with.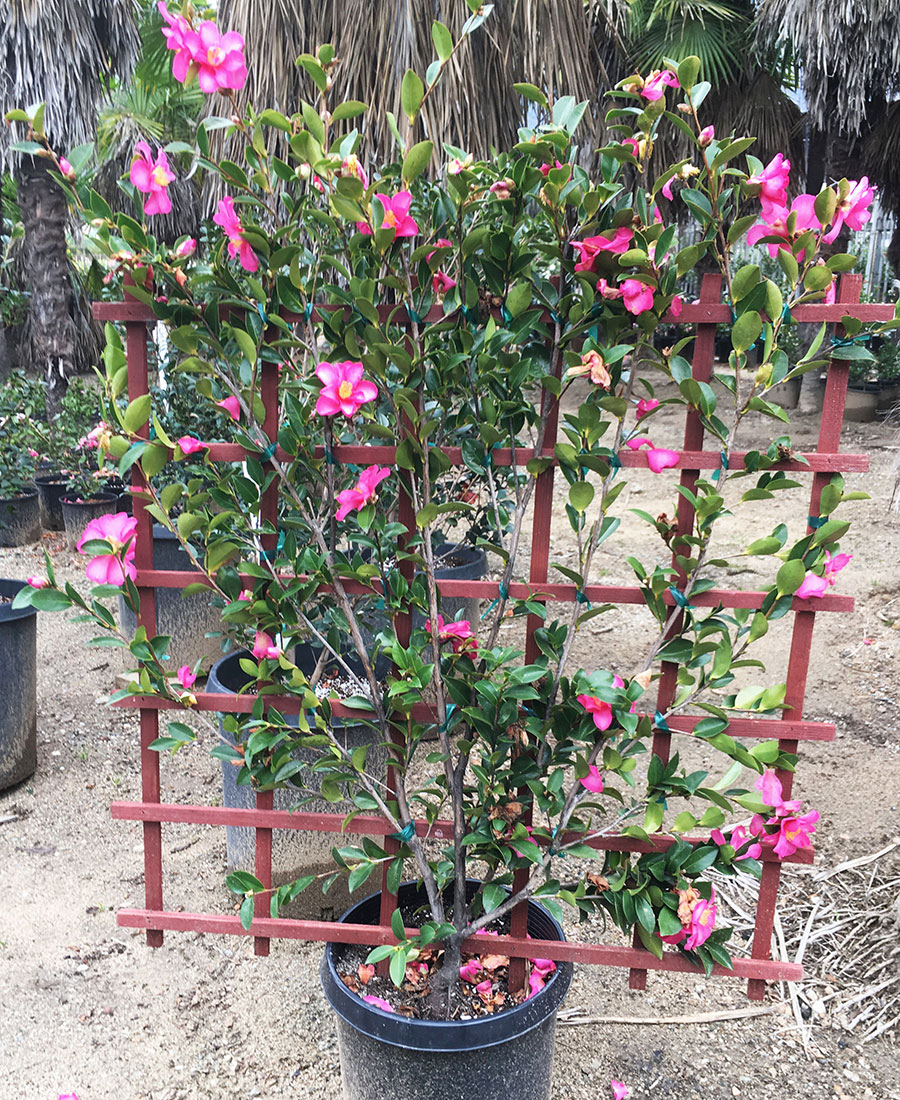 Good candidates
In addition to the loquat pictured at the top of the page, most any type of citrus tree lends itself to being espaliered. If you go for the informal look, you can begin by pruning away any branches that grow outward and leaving the ones that grow sideways. There are quite a few geometric patterns in the world of espalier that have already been established, with detailed instructions for execution.
Another plant that I love using as espalier is camellia (Camellia spp. and cvs., Zones 6–10). It is a good choice as an alternative to a flowering vine, as it gives the same wall-softening feel while growing less aggressively and, therefore, is easier to manage than most vines.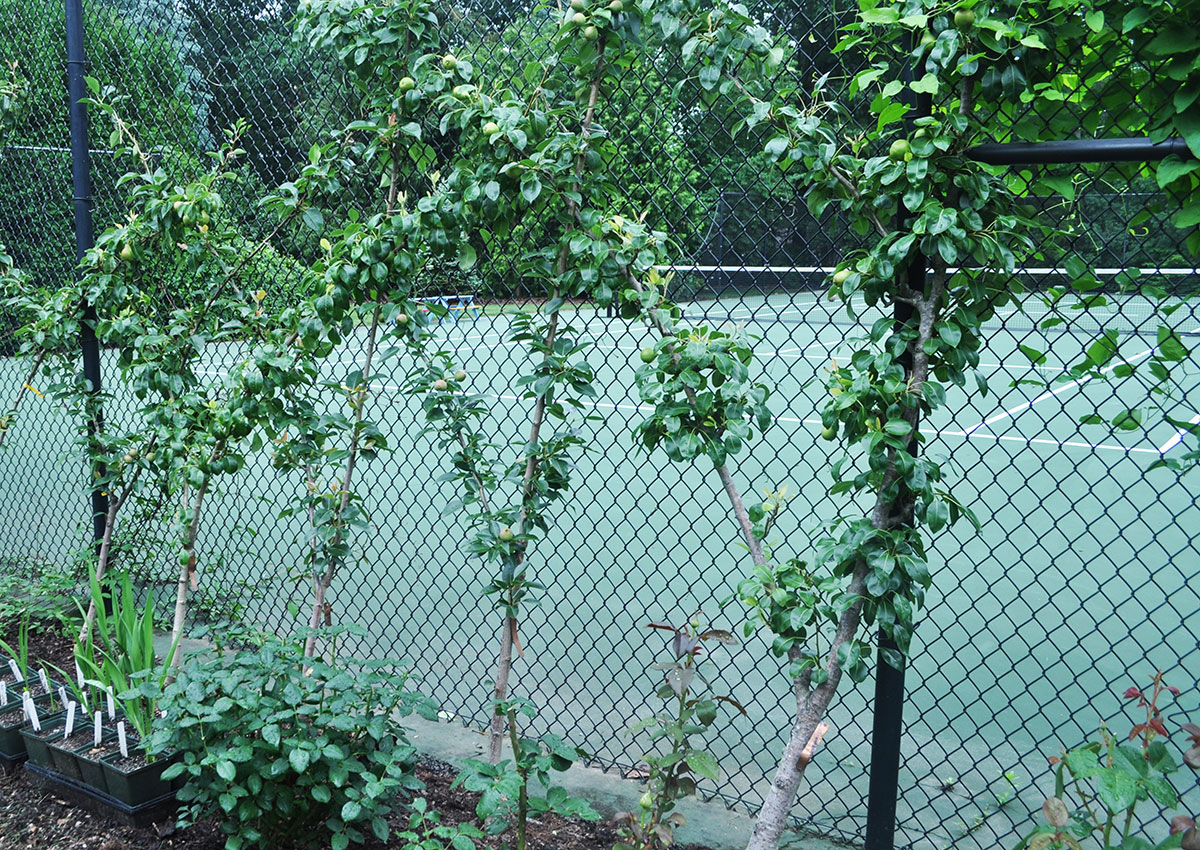 Espaliers used to screen
Less-than-attractive fencing can be camouflaged using vines, hedges, or espalier. A geometric pattern can look absolutely gorgeous as you cross the branches from one tree over the next. The result allows you to see slightly through the living plant sculpture to the view beyond. In some cases, as with a tennis court (photo above), you might want to obscure the view beyond. It would also make it more enjoyable from inside the court looking out.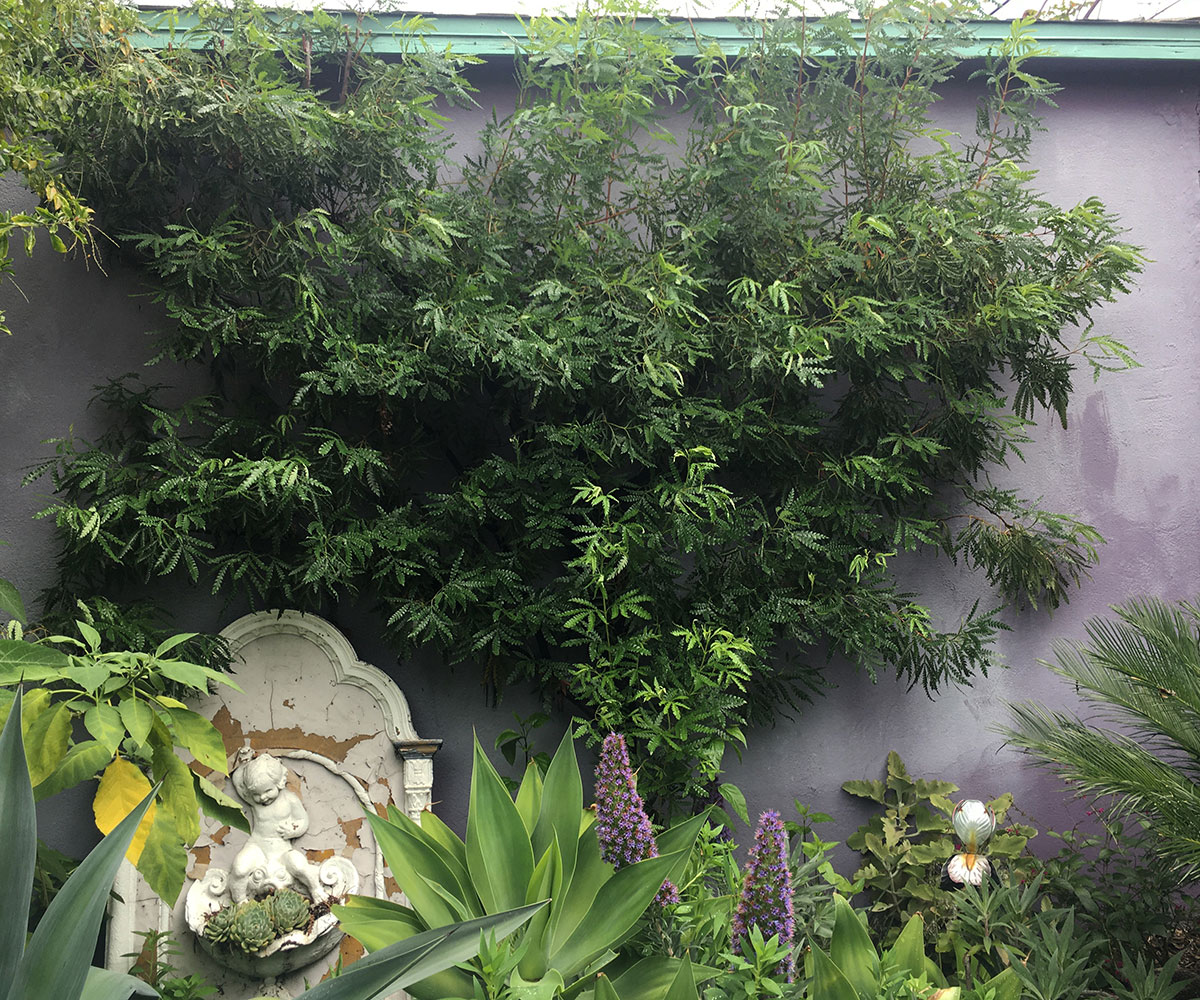 My espaliers
For my first two attempts at espalier, I have started out creating an informal look. This is much more forgiving and requires much less patience. I have a Catalina ironwood (Lyonothamnus floribundus ssp. asplenifolius, Zones 8–10) trained up against a garage wall. While I like the look when it gets a little fuller (photo above), I also like the look after it gets trimmed back more so that you can appreciate the structure of the tree. The bark is a shredding gray with a deep red underneath, and the branches are the same deep red. Heightwise, I always keep it to the top of the wall. I was inspired to espalier this tree after reading it could be done in California Native Plants for the Garden by Carol Bornstein, David Fross, and Bart O'Brien.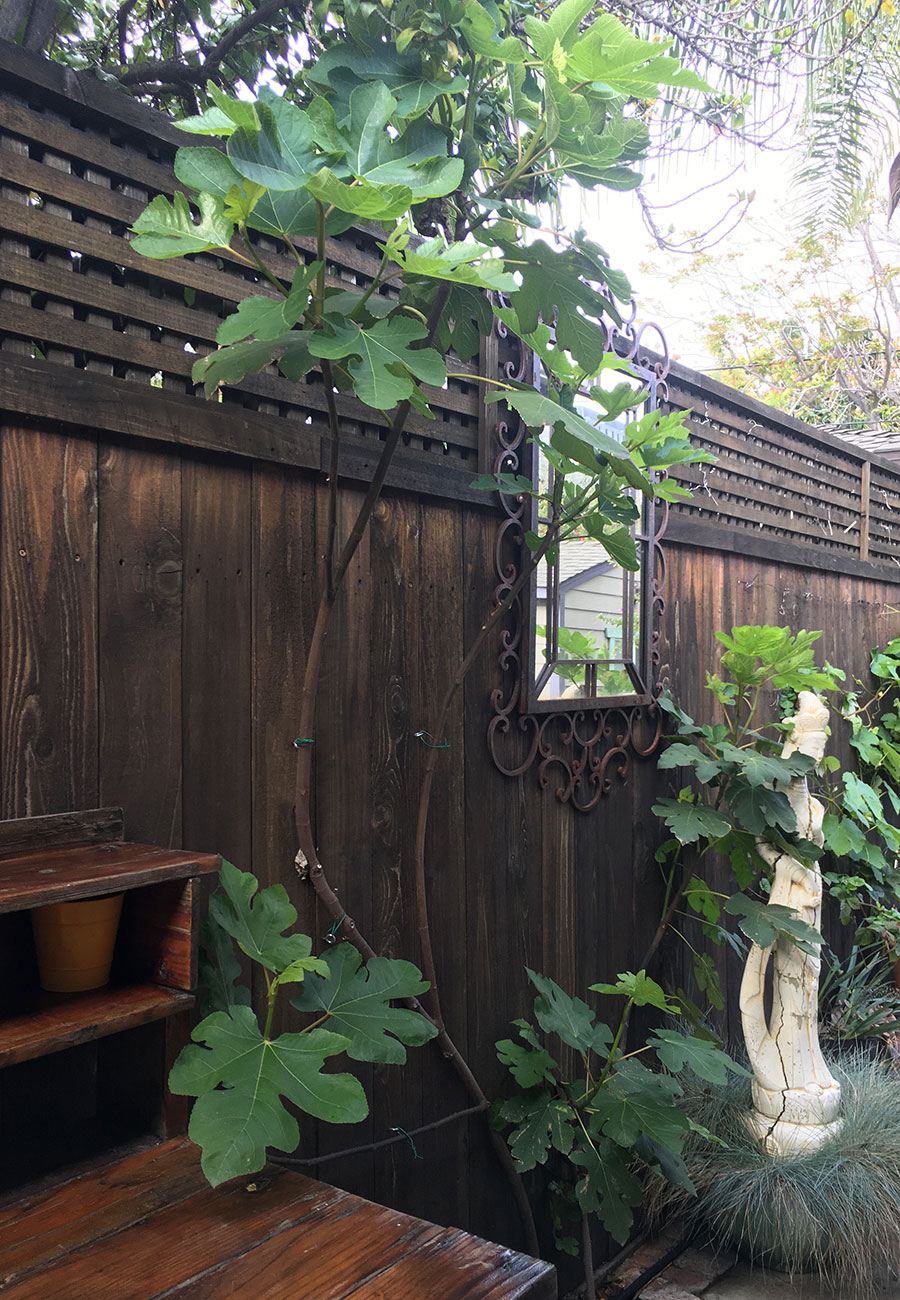 I also have a fig tree (Ficus carica, Zones 6–9) that I am working on. It is planted in a side yard that is only 5 feet wide. It is completely free form, as I am training it to go around a mirror and over the top of my potting table. This is a great tree to start with, as it grows very fast in the springtime, and you pretty much cannot make a bad decision with regard to pruning. The wood is soft enough that it bends quite easily. It should also be easier to net this tree when it starts bearing fruit, although I have not attempted this yet.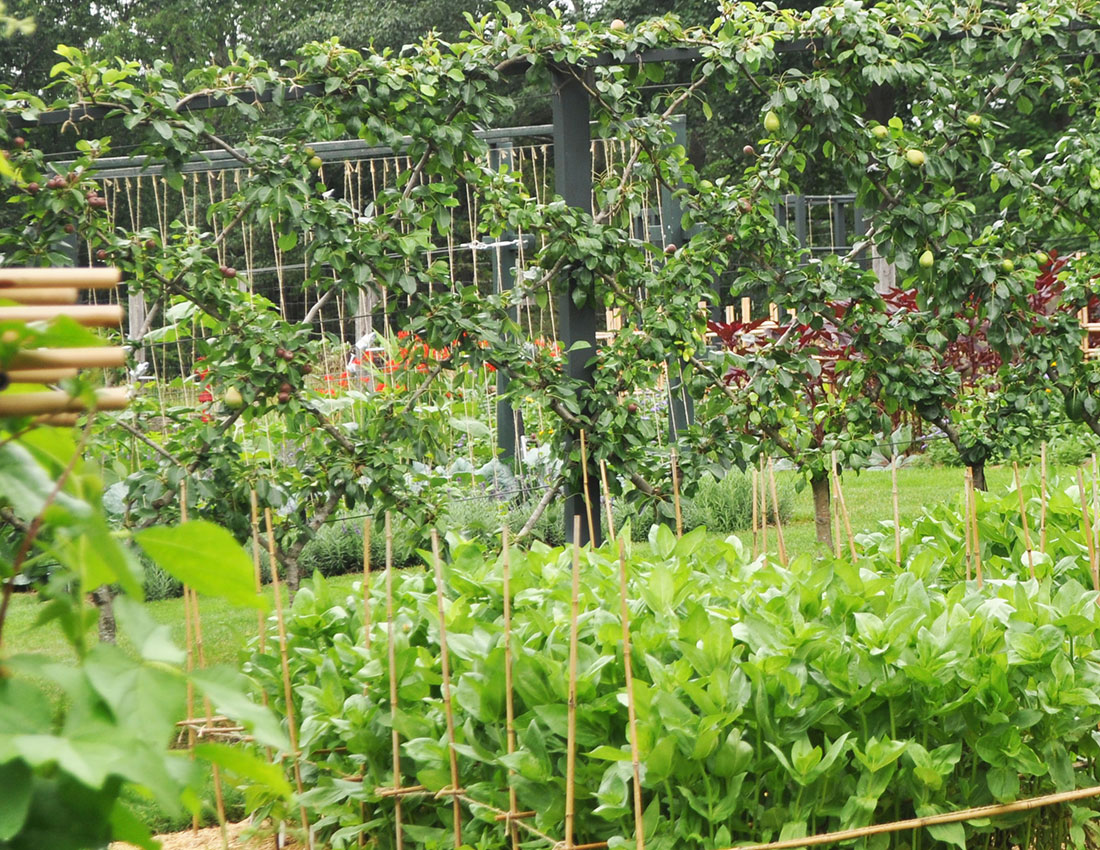 There are many more trees and large shrubs you can experiment with. Magnolias (Magnolia spp. and cvs., 3–9), junipers (Juniperus spp. and cvs., Zones 3–9), olives (Olea europaea, Zones 8–10), and ceanothus (Ceanothus spp. and cvs., 4–10) are all options. If you have a favorite tree or large woody plant that you have always thought you do not have room for, espalier could be your chance to include it in your garden.
For more on the technique of pruning an espalier, read on here.
—Francesca Corra, APLD, is a nationally certified landscape designer and owner of Dirt Diva Designs in Studio City, California.