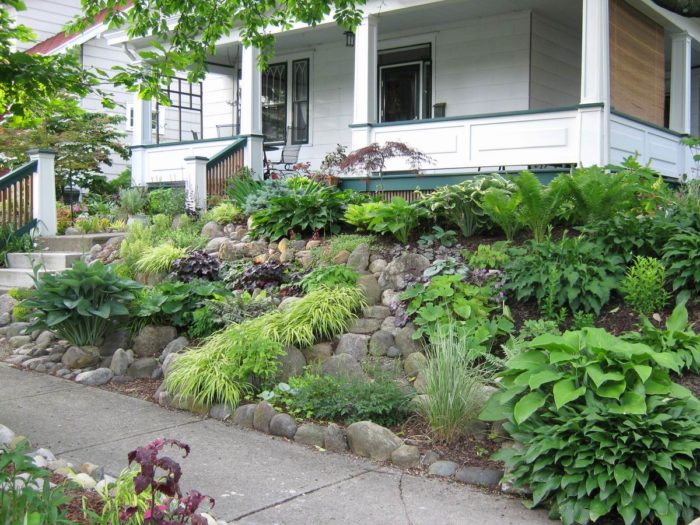 Check out the next awesome transformation in Tim Vojt's garden in Columbus, Ohio!
Tim says, "Our 100 year-old, suburban home sits up on a berm.  Besides being unappealing, it was somewhat dangerous to mow the grass hill.  I had a wonderful landscaping company devise a nice plan that was going to cost $10,000 for hardscaping. Unwilling to spend that amount of money, I decided to devise my own design for the hillside and began collecting stones to use for landscaping.
"I spent an entire summer creating the hillside gardens and the next summer working on the easement.  Spending so much time in the front yard was a great way to meet more neighbors and it created a lot of curb appeal.
"I did battle with my biggest enemies, neighborhood squirrels who dig up everything I plant, by pinning down chicken wire to the soil, cutting the wire for planting, and then covering with mulch.  The holes are in the wire are big enough for most any plant to grow through, so now my only nemesis is the occasional rock thief!"
People actually steal the rocks? Weird! Thanks, Tim. Those beds are beautiful now!
* * * CALL FOR TIPS!! * * *
Hey all, I'm pestering you again today! We're desperate for your gardening tips for the TIPS department in the magazine. Got any helpful shortcuts, quick and easy design ideas, or nifty gardening tricks? Email me at [email protected]! We pay $25 for each tip that we publish, and you could even win a free one-year subscription to the mag! Come on, do a girl a favor…please?  –Michelle