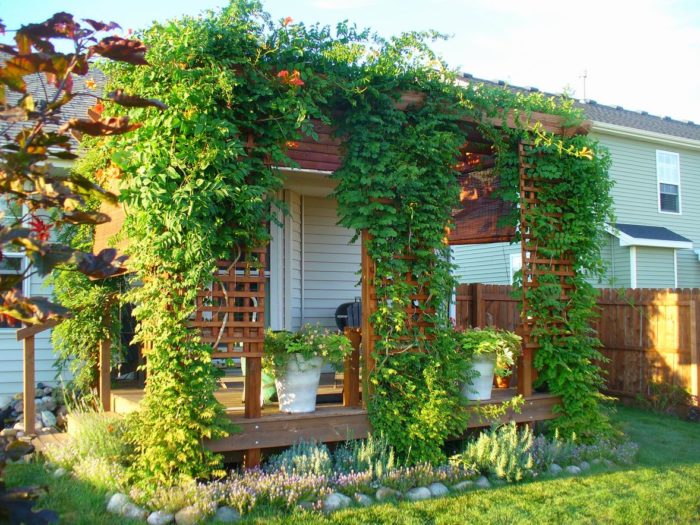 We saw Sarah Hall's front garden at her home in Champaign, Illinois, on Friday. Now it's time for the back! Completely different, but just as awesome.
Sarah says, "These pictures feature various experimental areas of the back yard. One big challenge with the back yard was creating a space where we could sit that felt like we had a bit of privacy.
"We are fairly new homeowners and moved into an area with absolutely no trees, which was a difficult adjustment for me. I decided that I wanted to use the back deck to create what could be a naturally closed in seating area. I designed the pergola to have lattice with corner benches to close things in a little, and create something for the trumpet vine to grow around.
"I planted two salmon-colored trumpets and one yellow one in the middle.  Smell was also important so I decided to surround the deck with lavender and added cobblestones to create a a border.  Once the trumpet vines took off we decided to add bamboo blinds on the east and west side so that we could have some coverage during sunrise and sunset if necessary. I paired the lavender with alyssum which filled in well, and eventually spilled over the cobbles creating a nice border.
"I liked the idea of creating some type of serene pathway leading off of the deck and also really liked the idea of a dry creek.  I had quite a bit of trouble deciding so I did a combo.  I used beach pebbles and Irish moss to create a lush looking yet dry path.  I added fragrant white lilies along the path to keep a nice smell in the area and further down the path added sweet autumn clematis for its fragrance and fall flowering. These areas still have quite a bit of growing to do but I am looking forward to their progress in the coming season."
Yet again, beautiful. Thanks, Sarah, for sending in these photos!
Want us to feature YOUR garden in the Garden Photo of the Day? CLICK HERE!
Want to see every post ever published? CLICK HERE!