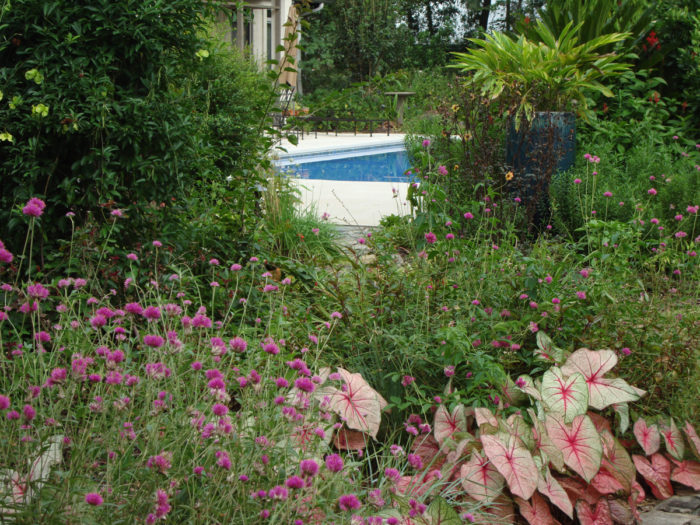 Today's photos are from Leslie Roseman in Gainesville, Florida (USDA Hardiness Zone 8b). Leslie says, "Our home is twenty years old, and we live on a one acre lot. We built the home with typical north florida suburban plants (azaleas, wax myrtles, junipers and lots of grass). We used a local landscaper who used lots of L's -liriope, lawn, etc. But then we evolved and in the last ten years have become much more serious.
"We like a wide variety of plants and travel to all different nurseries in the southeast to collect them. We have a bad case of "Zone Envy", so we often try to push the envelope and see if we can establish a plant that might not normally do well in our zone. Most of our plants are perennials, palms,and tropicals. I use annuals as fillers for contrast and color. More than flowering plants, I really enjoy mixing different leaf textures as the contrasting textures make the different plants pop.
"We have put in some hardscape. There are three different paths in the garden, and some are a bit more difficult to navigate than others. This was done intentionally to slow the visitor and cause them to take note of the plants. Besides the paths, my favorite things in the garden are the succulents, hydrangeas, Japanese maples, and tricolor stromanthe. My husband loves the Gloriosa rothschildiana and Mangave 'Macho Mocha' plants.
"Our biggest challenges are the cold spells. We are always running outside covering all the plants so they will hopefully survive. Our zone can occasionally get freezing snaps, so it can be a real challenge to keep our babies warm. Our house and garage often become a refuge for cold sensitive plants during these times.
We are very lucky. My husband and I are a good match. He likes to trim, I like to weed, and we usually do the plantings together. I am a Master Gardener and my husband is a Master Gardener's assistant.
It is interesting that our two daughters grew up here in this house with a great garden, and where do they live? They live together in an apartment in New York City." I have a feeling they will rediscover the joys of gardening as they get older, Leslie. One day…. Thanks for sharing your lush, beautiful garden with us!
Want us to feature YOUR garden in the Garden Photo of the Day? CLICK HERE!
Want to see every post ever published? CLICK HERE!
Want to search the GPOD by STATE? CLICK HERE!

**Check out the GPOD Pinterest page, where you can browse all the post in categories…fun! CLICK HERE!**