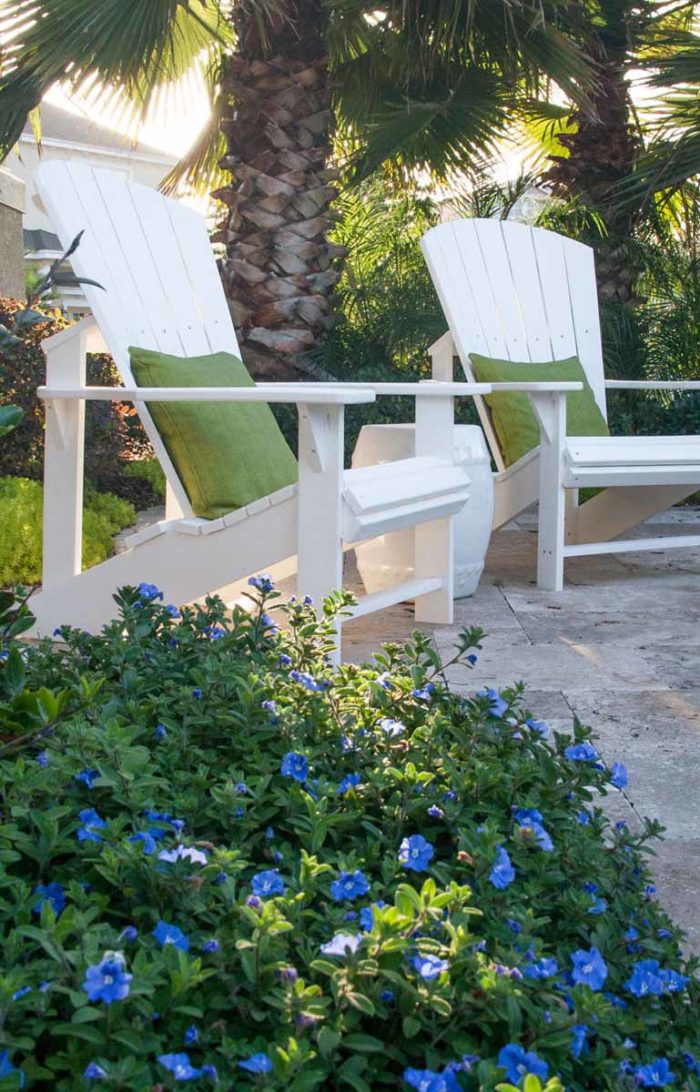 We've ooohed and aaaahed over Jan Meissner's garden in Ohio several times (refresh your memory HERE, HERE, here, here, & here), but today we're getting a glimpse of her second, very different garden in Florida.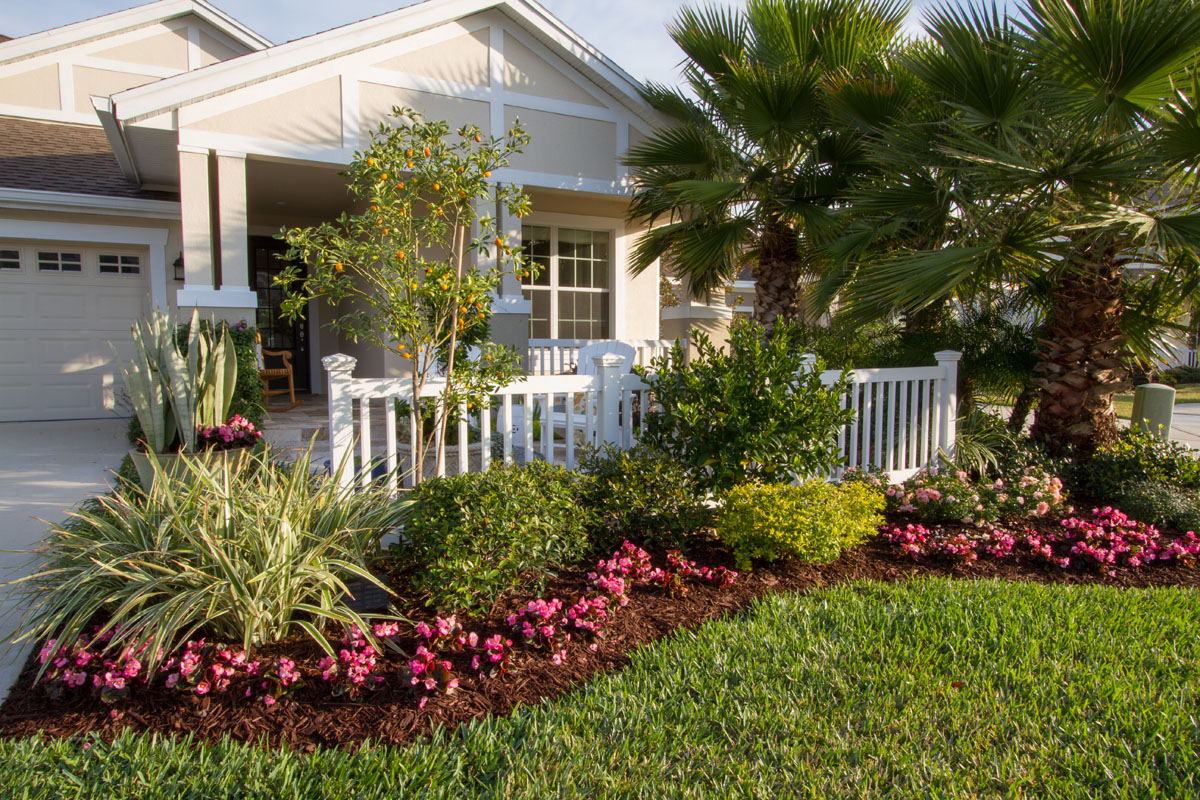 Jan says, "My Tampa, Florida, garden is 3 years young, and a work in progress. The home came with a basic landscape package: an 8×10 concrete slab patio, a yard full of nasty grass, and three queen palms in the backyard. Every third home in the neighborhood had the identical landscape design.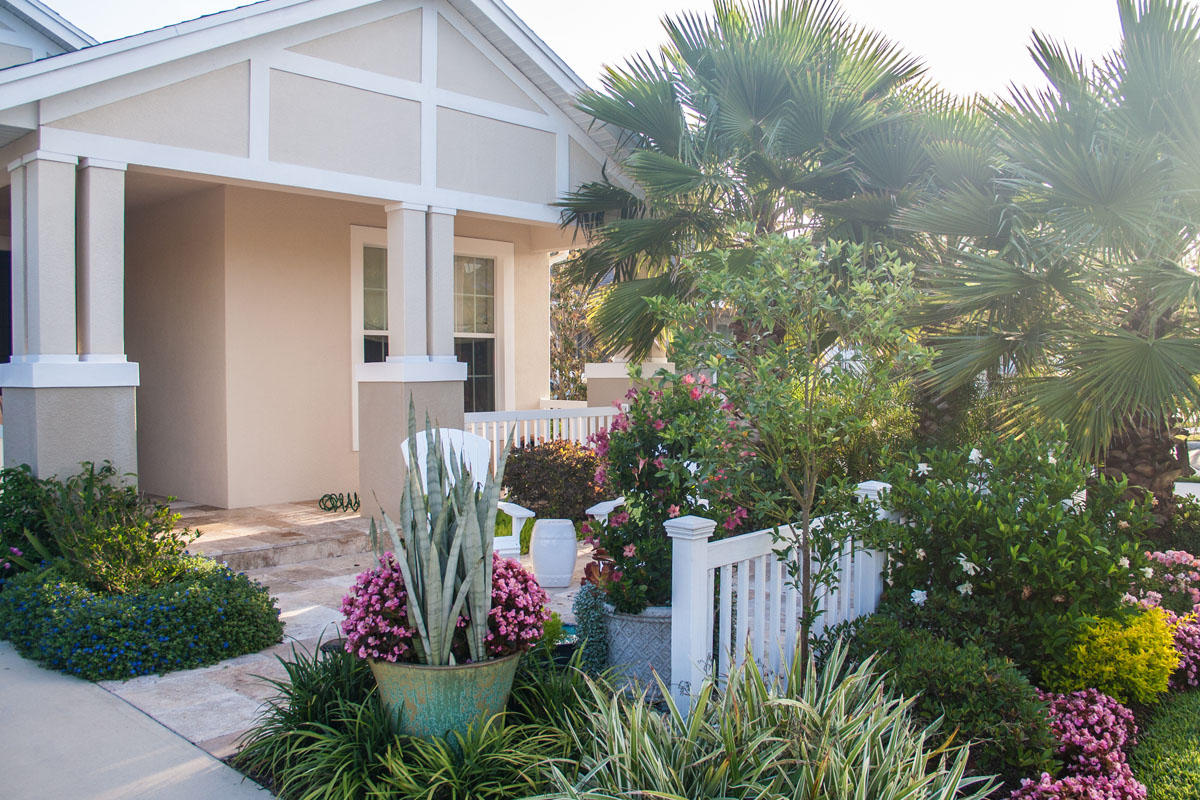 "In the front yard, we kept the Washingtonian robusta palms and I added a small seating area and flower bed, including a citrus tree. I opted for a small kumquat tree. The orange kumquats decorate the tree for Halloween like a hundred little pumpkins. In the winter months (when I tend to be there) the front yard stays warm enough in the sun so that even when temperatures are in the 50's I can relax outside in a t-shirt. There's also a gardenia in front of the fence. I cut the flowers and put them everywhere, inside and out.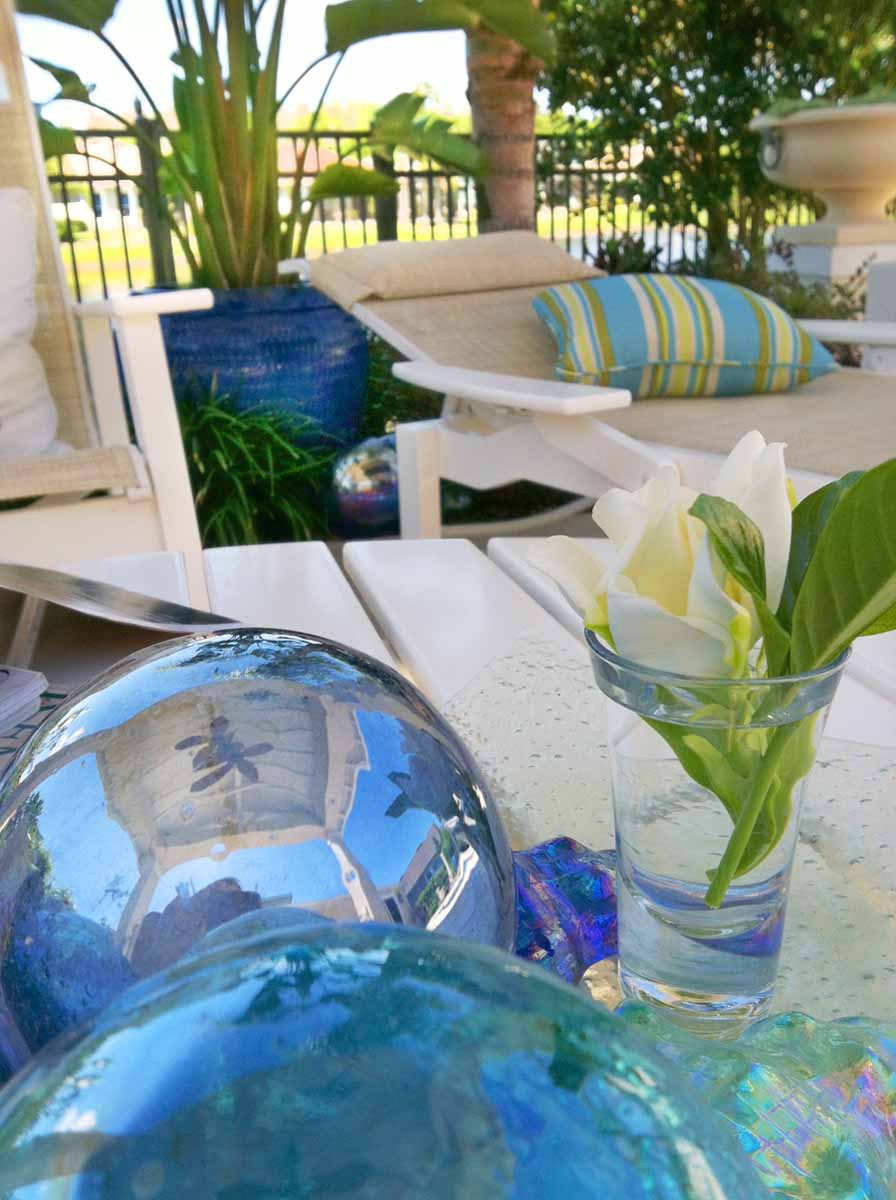 "I designed the back garden for privacy in suburbia. I wanted to be able to see the water beneath the ligustrum shrubs, but block the houses. Both sides of the patio have a trellis covered in Carolina Jasmine which blooms yellow in February. My favorite trees behind the jasmine are Japanese Blueberry. If I can beat the raccoons to it, I eat the fruit which looks like an olive but tastes like a sweet avocado. Behind the trellis on the opposite side of the patio are three clumping bamboos and a holly tree. I use foliage color for interest and loropetelum is a solid performer. It's prettier than my northern crimson pygmy barberry but without the thorns and a bonus of dark pink flowers.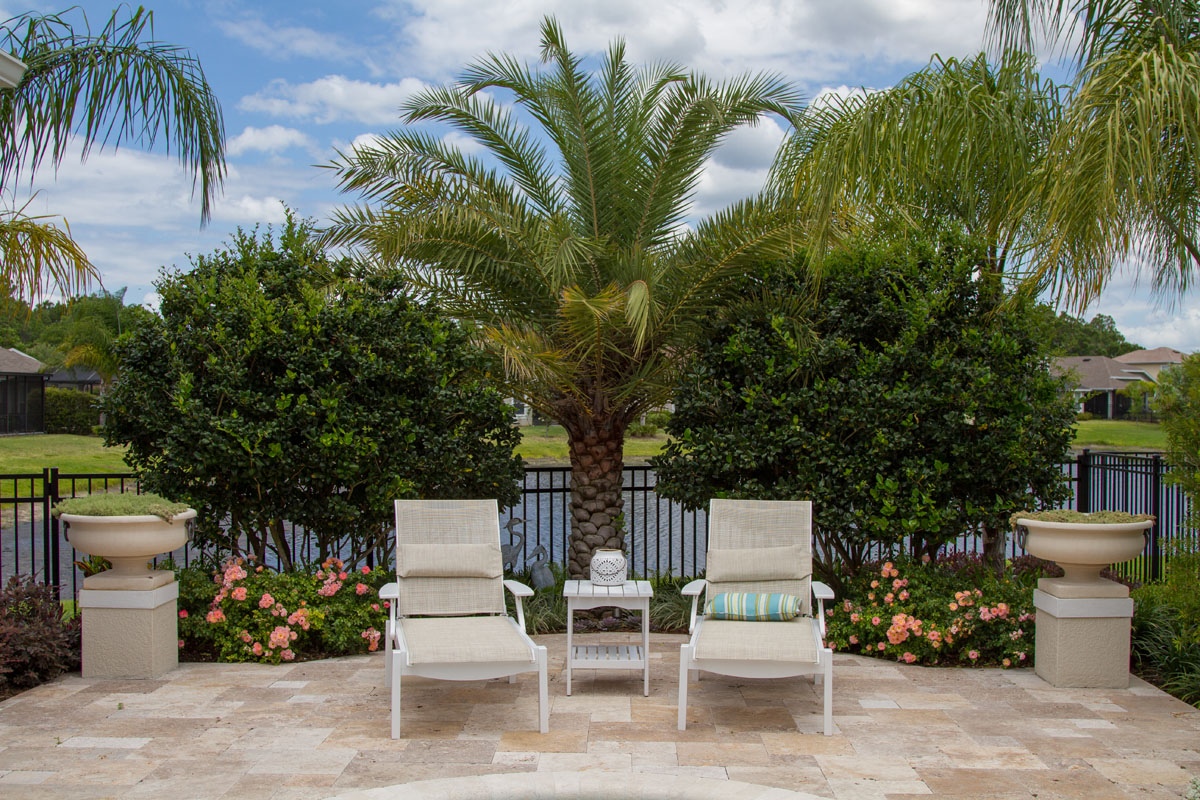 "Shrub roses fill the spaces that I would use for annuals, but being an absentee gardener I have trouble keeping up with fresh annuals. Variegated flax is perfect for a softer green to contrast against all the thick dark green glossy leaves. A date palm stands between the two large ligustrums. The palms with long flowing fronds are the queen palms which were moved from their original spots to fit into the new design.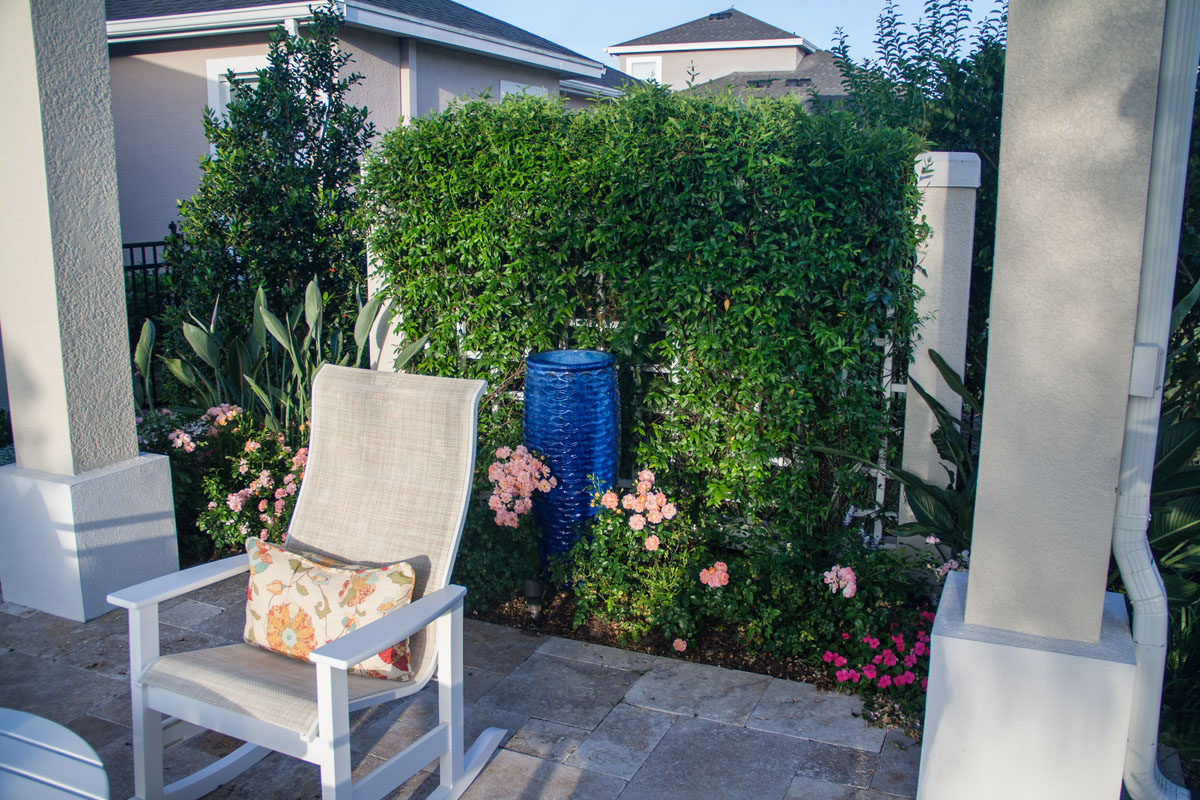 "Where I lack foliage for privacy, I try to distract your eye with garden ornaments. With the growth rate of plants here, soon enough you won't see the neighbors or my ornaments. The garden statue is from Haiti and is about 30 years old. It came with my father-in-law when we moved him to Florida from California. It is flanked by the red leaves of cordyline.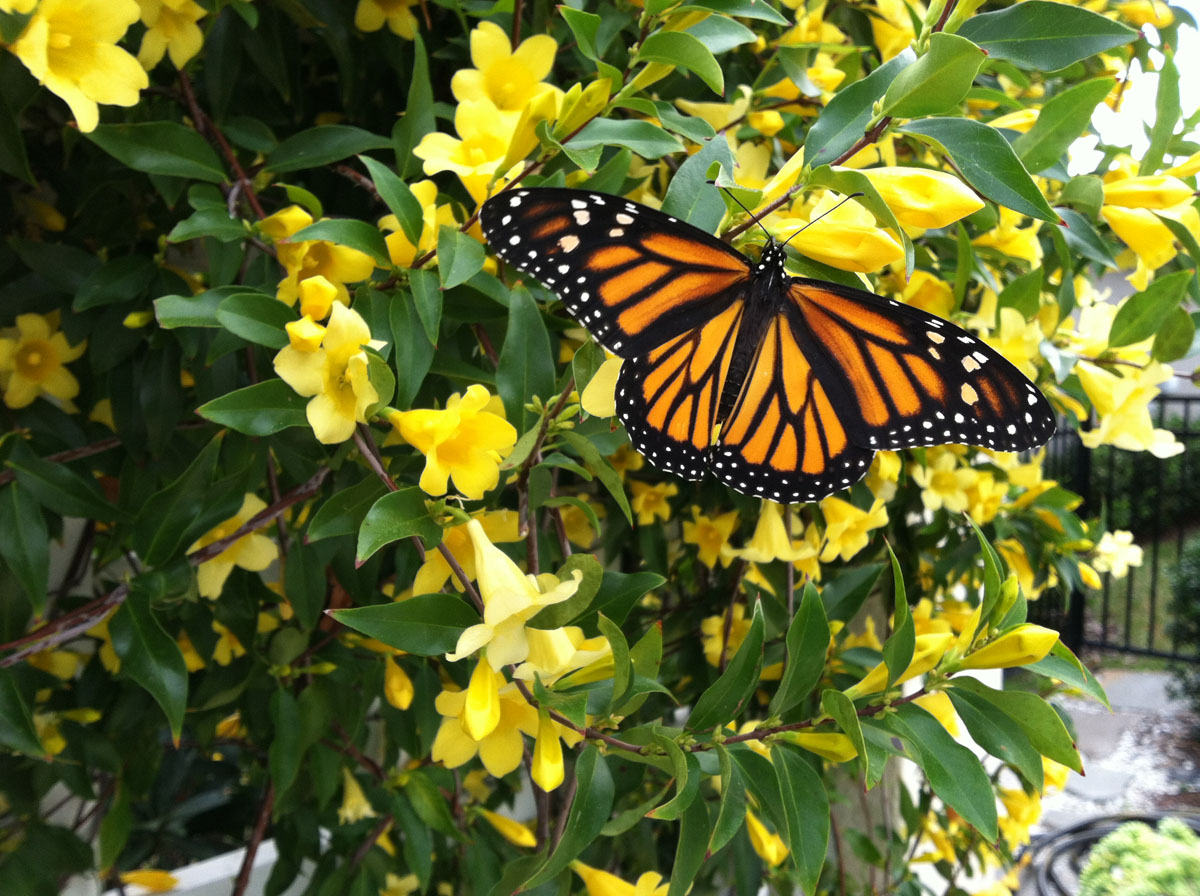 "If someone notices the little toad in the spa in the overhead shot, don't worry. He was rescued. And I also keep a little device called a frog-log in the spa now so any bunnies or frogs who fall in can climb out on their own.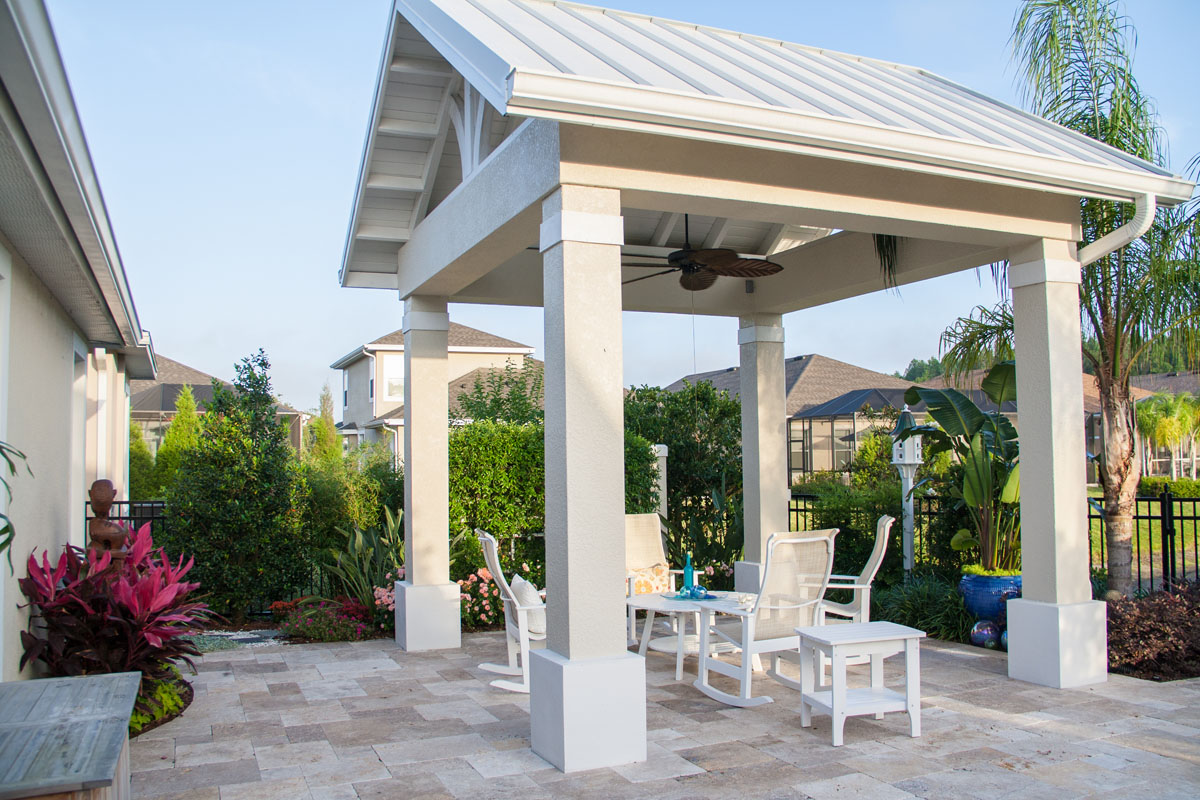 "Also notice no screened lanai. I wanted my plants pollinated and when we are there we don't have too much trouble with insects. The fan chases most of them away. It's been a joy to use bird-of-paradise as a perennial instead of an annual. The bird-of-paradise in the blue pot is a giant white one. It's in the pot to control it's size but I suspect it will be bursting out the pot soon enough.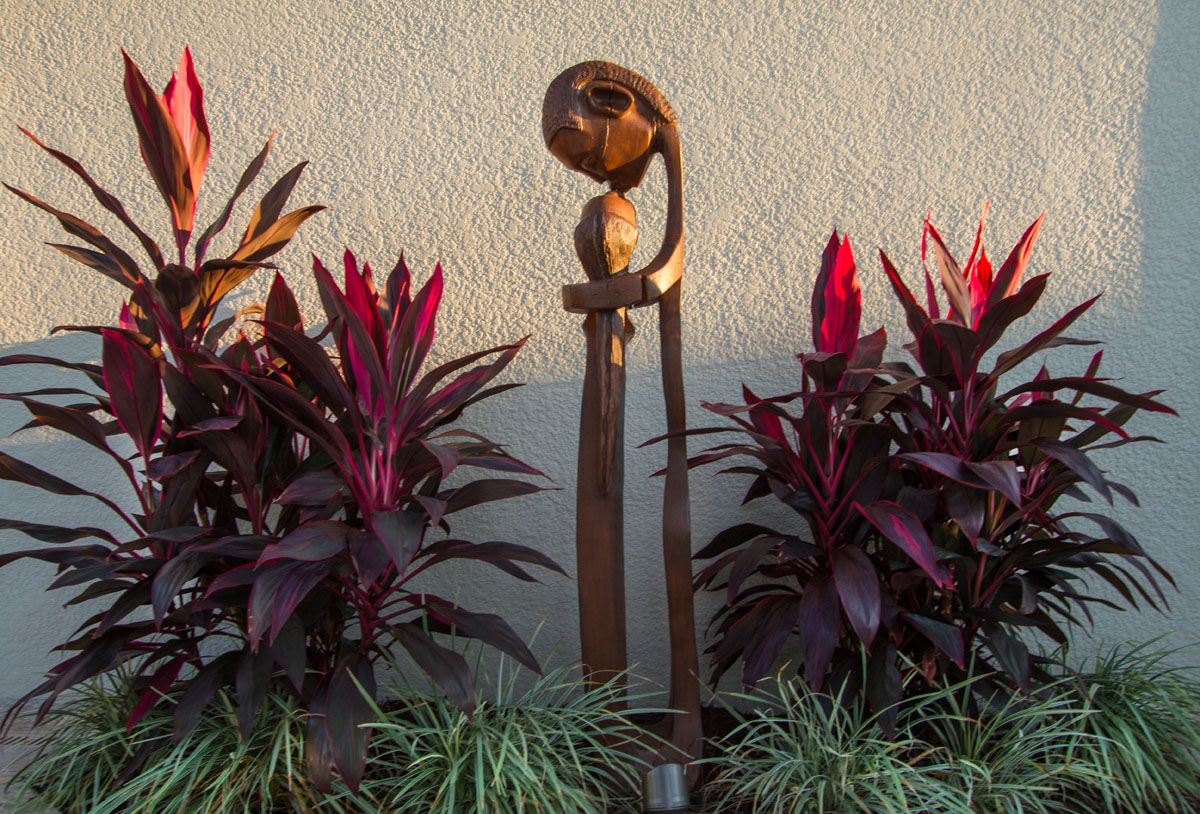 "It was refreshing to use fresh white and blue in this environment. So opposite from my northern garden. I'm looking forward to going back in a week because the weeds grow faster than everything."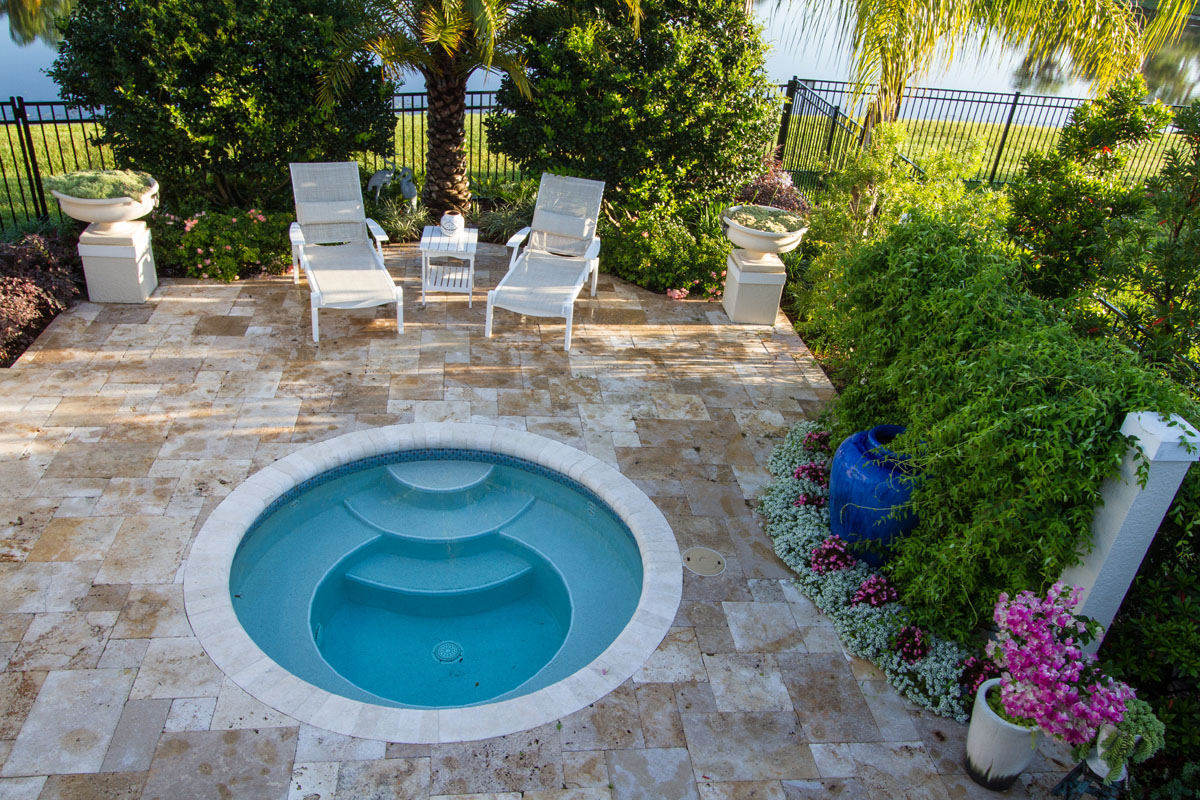 Jan, you just can't fail!! Another gorgeous garden. And it looks so toasty warm…jealous.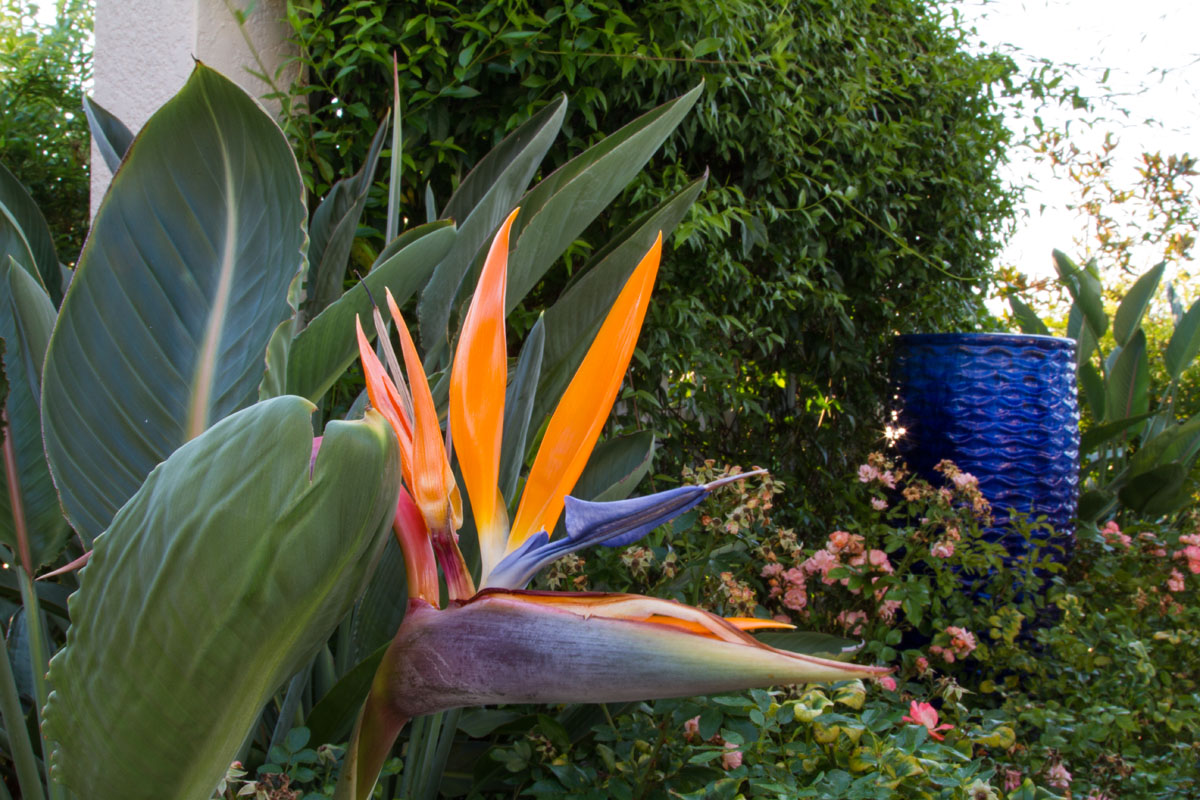 ***Hey everyone–we're heading into winter, when GPOD submission tend to be a bit scarce. If you still want to see a new and exciting garden every single weekday in your inbox, do your part and show us YOUR garden! You can email photos to either [email protected] or [email protected]. Be sure to tell me where you live and tell me a bit about yourself and your garden. And the more photos the better! Thanks!!***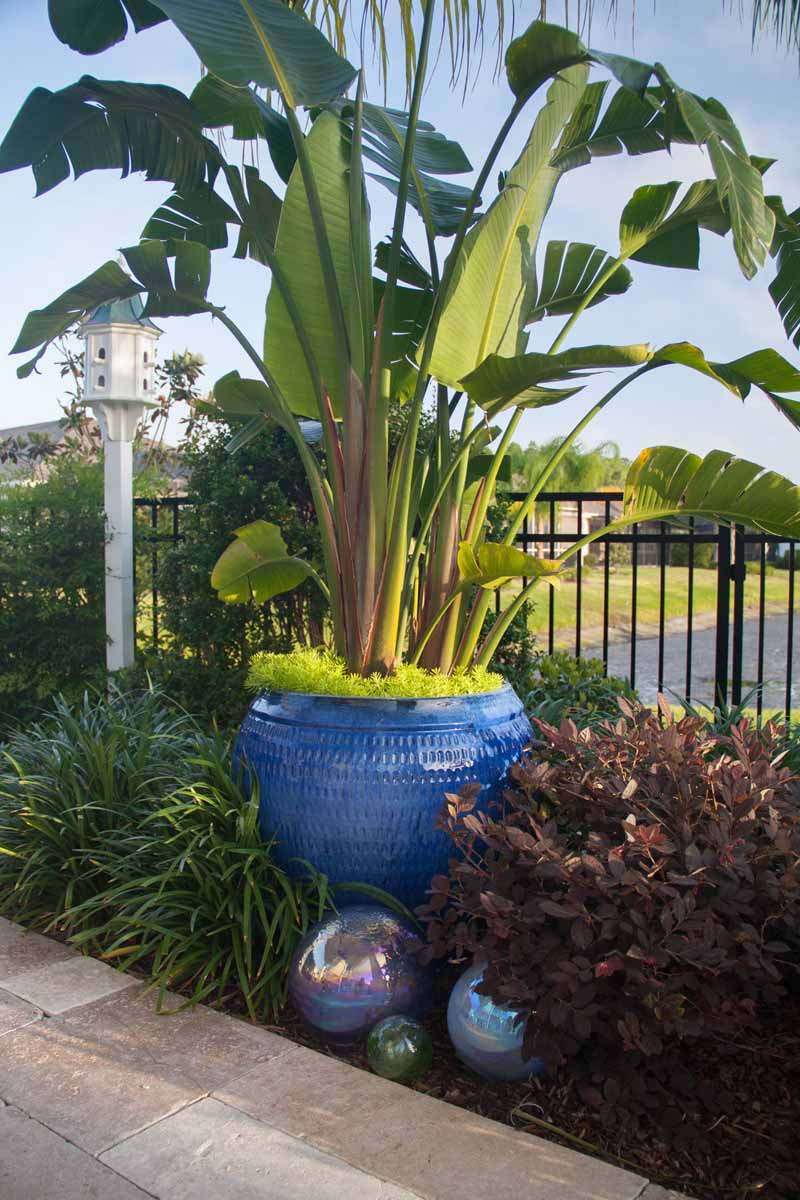 Want us to feature YOUR garden in the Garden Photo of the Day? CLICK HERE!
Want to see every post ever published? CLICK HERE!
Want to search the GPOD by STATE? CLICK HERE!
**Check out the GPOD Pinterest page, where you can browse all the post in categories…fun! CLICK HERE!**