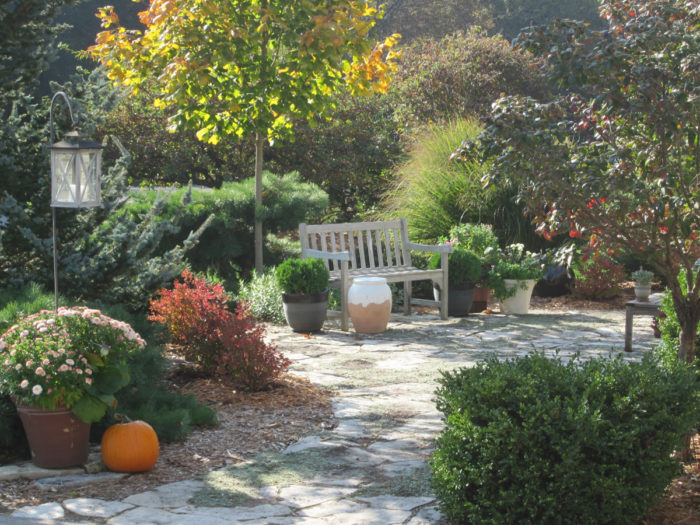 Another Wisconsin garden! Today's photos are from Jan Murin. She says, "I garden near Lake Michigan in southeastern Wisconsin. It is a corner lot with the neighbor's shrubs on the north border and a line of trees to the west.
The first picture is of the front patio. A few years ago we took out the standard 4-foot-wide concrete path to the front door and replaced it with a flagstone patio. We planted wooly thyme (Thymus pseudolanuginosus, Zones 5-9) between some of the stones and there are two benches (the second one is just off to the right). It's semi-secluded by evergreens, panicle hydrangeas (Hydrangea paniculata cvs., Zones 4-8), red-flowered 'Stewartstonian' azaleas (Rhododendron 'Stewartstonian', one of my favorite plants, Zones 5-9), and a clump of 'Northwind' switch grass (Panicum virgatum 'Northwind', Zones 5-9) and is a perfect spot for morning coffee or evening wine while chatting with the neighbors.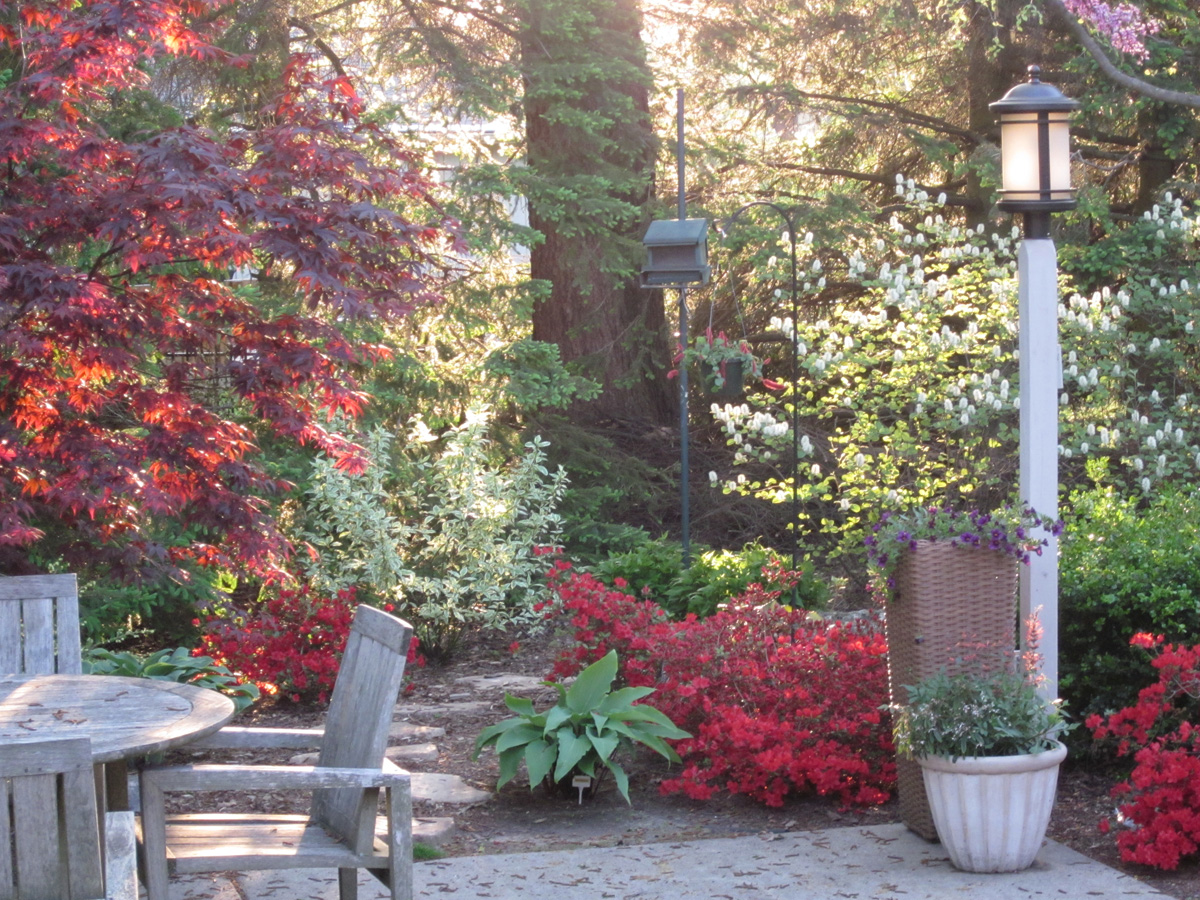 "The next two photos are from the back patio. The red-flowered shrubs are 'Stewartstonian' azaleas, and the white-flowered shrubs are fothergilla (Fothergilla sp., Zones 4-8). The south side of the patio is mostly a shade garden of hellebores and hostas.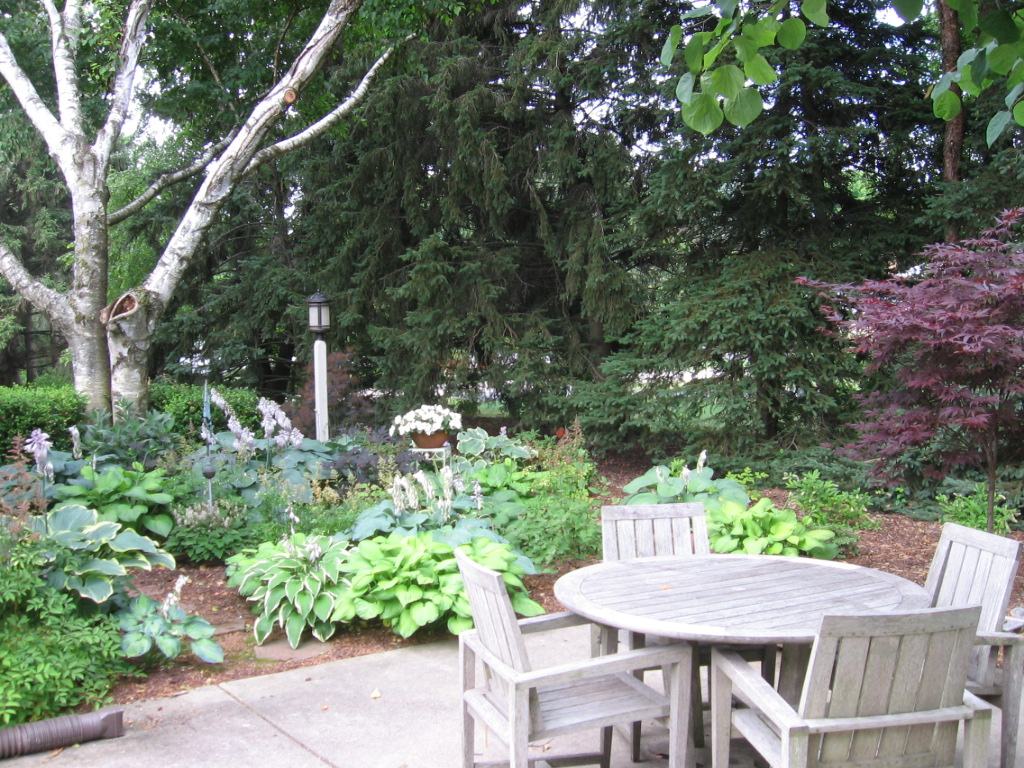 "To the north is a small pond. We didn't want a waterfall and the water flows from between stones at ground level. The pond is popular with the birds so we try to keep a small area open all winter.
Beyond the pond is a border garden of flowering shrubs, perennials and annuals. This area is always changing because I frequently trade plants with friends and neighbors."
Beautiful, Jan! I especially love your pond. Thanks for sending in your photos!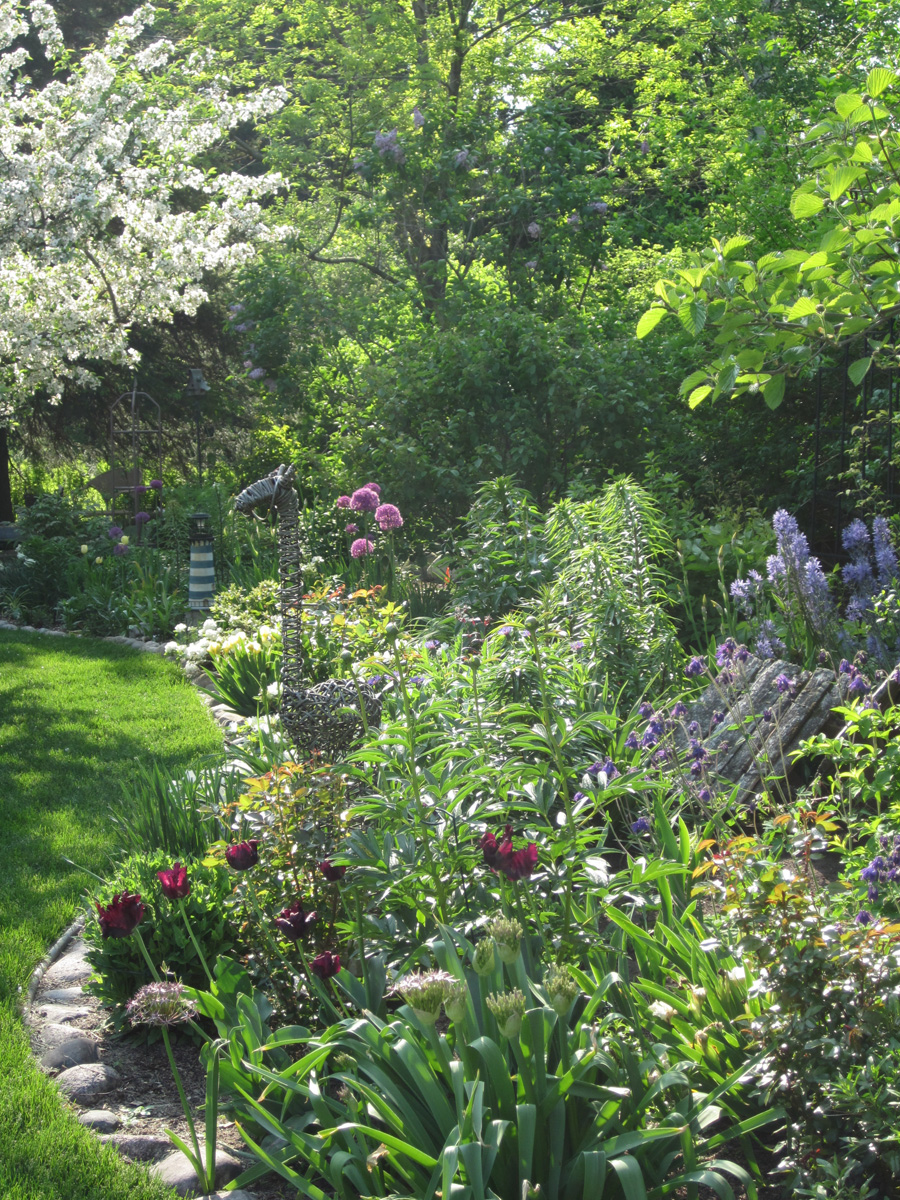 Want us to feature YOUR garden in the Garden Photo of the Day? CLICK HERE!
Want to see every post ever published? CLICK HERE!
Check out the GPOD Pinterest page, where you can browse all the post in categories…fun! CLICK HERE!