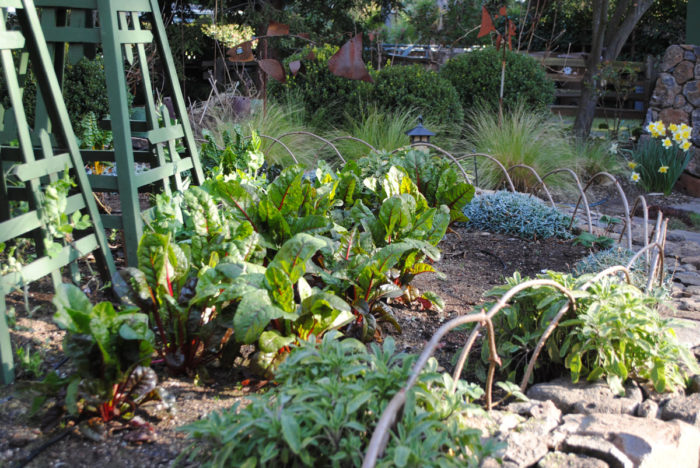 Today's photos and tip were sent in by Rebecca Sweet, one of my favorite people/garden designers. She visited garden designers Freeland and Sabrina Tanner at their garden and home in Napa, California, last week. It's a stunning garden (I've photographed it twice, and hyperventilated from the gorgeousness…), with so many details to take in that it can make your head spin. Rebecca zeroed in on this little tidbit.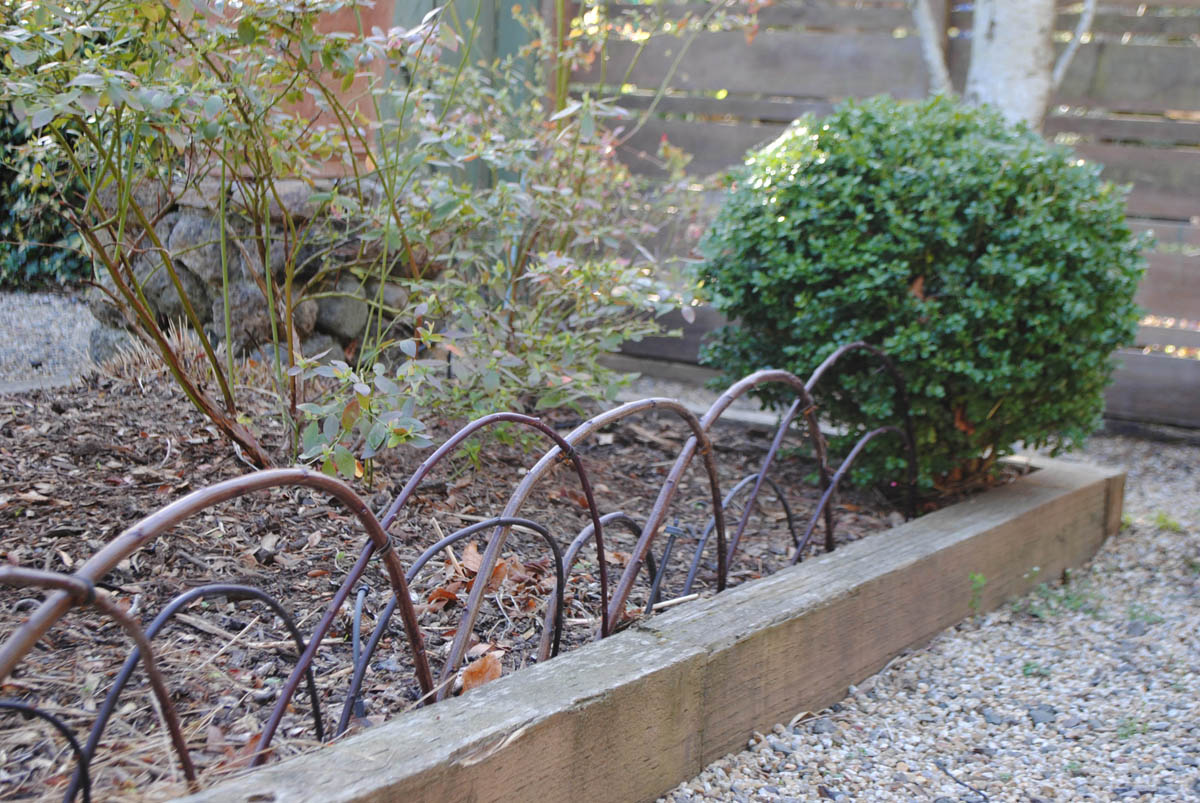 She says, "While visiting Freeland and Sabrina Tanner's beautiful Napa garden, I couldn't help noticing the simple yet elegant edging along their garden beds.  It turns out they made the edging themselves using leftover cuttings from their purple-leaf plum tree and Sambucus  'Black Lace' shrub.  Not only is this attractive right now, in its dormant stage, but it gets even better throughout the year when the branches begin flowering in the spring followed by tiny, burgundy foliage.  They have to be careful, though, to replace the edging each year before the branches begin rooting,  turning into a potential nightmare to remove.  And a word to the wise – think twice about which branches to use if you decide to make these for your own garden.  One gardener they know used cuttings from a fig tree, which rooted at the speed of light and were nearly impossible to remove!" Good advice, Rebecca…
Want to see more of Sabrina & Freeland's garden? I've featured them in the GPOD here, here, here, here, here, here, and here. There's also a slideshow of their garden here. You'll find a couple of their designs in other gardens here and here.  Crazy, I know! They are a couple of garden-designing POWERHOUSES. And incredibly nice, too, I must say.
Happy Leap Day, everyone!
Want us to feature YOUR garden in the Garden Photo of the Day? CLICK HERE!
Want to see every post ever published? CLICK HERE!

**Check out the GPOD Pinterest page, where you can browse all the post in categories…fun! CLICK HERE!**