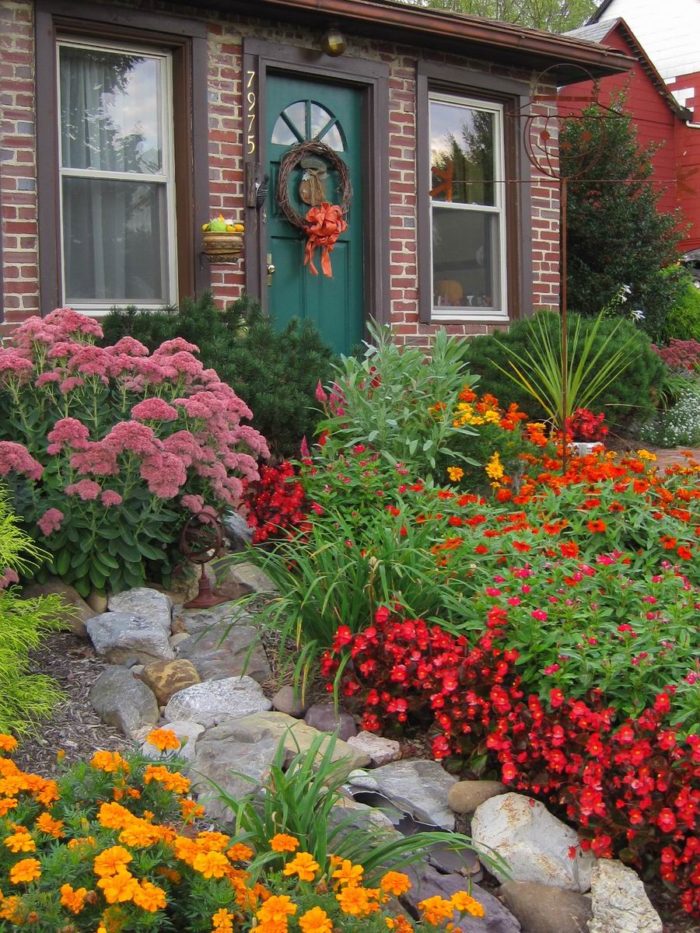 Today's photos are from Bonnie Pancoast. She says:
In September of 2004 I lost my home and gardens to then Tropical Storm Ivan. (By the time it reached the Lehigh Valley in eastern Pennsylvania it had been down-graded from hurricane status).  Less than 3 months after the disaster we moved into our present home. Not having the finances to begin new gardens,  I patiently dug up every perennial and shrub I could rescue from the mud of the old house and brought them to our new home. The following spring I tried to plant them in shale laden soil.  By the time the following fall arrived,  I hated everything about the property.  I couldn't dig holes and almost everywhere I turned I was dealing with an unruly slope.  During the spring of 2006 I discovered a rock wall from a previous owner covered over by dirt and weeds.  Thus began the gardens.  Discovering my love of hardscaping, I now scour nearby fields for stone and ask owners of dismantled barns if I may salvage the foundation rock.  Now, 5 years later,  the gardens are in a state of becoming and I still look for rocks in barren fields.
Entrance to our home:  Old farmhouses in Eastern Pennsylvania were often built very close to the road and ours is no exception. When we moved to this home in the fall of 2004, the front of the house was a narrow  grass corridor and one small flower bed.  I slowly began removing the sod and created gardenscapes.  The last of the sod was removed this spring. A buried downspout was hidden by creating a dry stream bed. I planted annuals to create depth and color.
The labyrinth: It has always been my dream to have a labyrinth in my garden.  In 2005 I read an article on  labyrinth construction.  Five years later the appropriate garden space appeared and the construction began.  I started with a 30 foot winter pool cover to place over the grass. Next landscaping blocks and Belgian blocks were purchased through Craigslist. Using the article I had printed five years earlier,  I began laying the blocks.  To create a positive energy the inner circuits are made of white quartz unearthed on the property.  Once the circuits were completed,  mulch was added.  The entire process took only two days.  The quartz standing stone was replaced by a soapstone statue, The Dreamer, purchased from 10,000 Villages, an inspiration to never stop believing and never top dreaming.
Here is a link to my photo blog with an explanation of the labyrinth.
http://theirisandthelily.wordpress.com/the-labryrinth/
Amazing job, Bonnie! Thanks so much for sharing these photos with us!