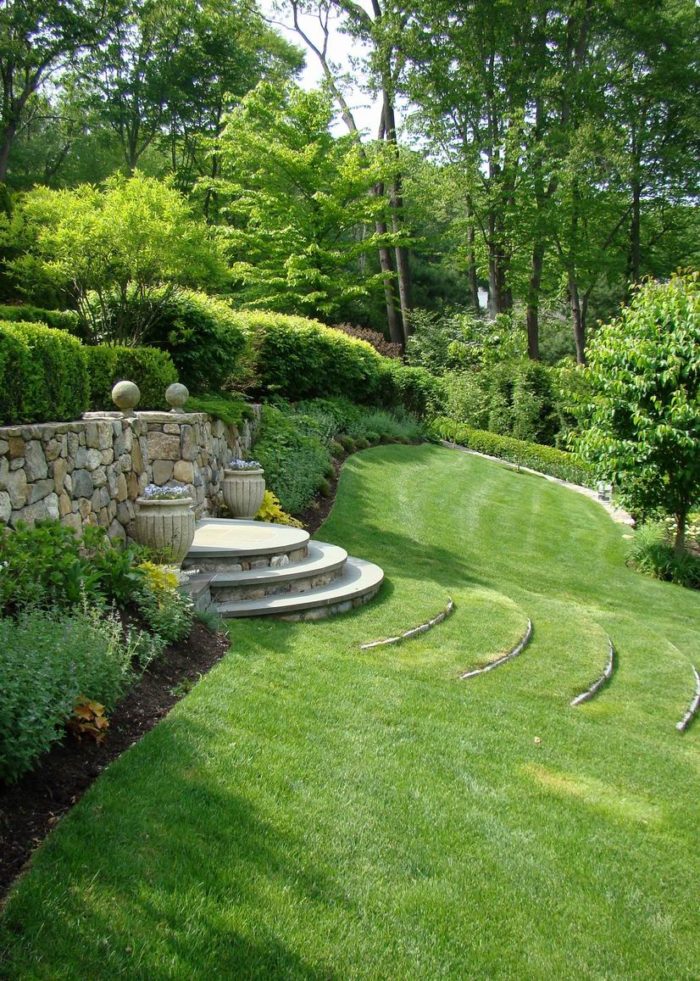 Today's photos come from Jan Johnsen, who also contributed yesterday's post. Jan is a garden designer from Mount Kisco, New York. Today she says, "I live in a part of the world where level land is hard to find. So, as a veteran professional designer, I have developed a whole arsenal of ways to tame steep slopes. Here is one solution I came up with: build a mortared stone wall to retain part of a hillside and install semicircular steps and sloped grass steps on the remaining slope.  The bluestone steps and landing lead the visitor out beyond the confines of the wall and the wide and curving grass treads provide a graceful descent. The tree on the right side of the photo is the 'Ivory Silk' Japanese tree lilac (Syringa reticulata 'Ivory Silk', USDA Hardiness Zones 3-8). It is a wonderful summer blooming tree. The flower border in front of the stone wall contains 'Walker's Low' catmint (Nepeta X faassenii 'Walker's Low', Zones 4-8) and 'Honorine Jobert' Japanese anemone (Anemone X hybrida 'Honorine Jobert', Zones 4-8), among other perennials. Boxwoods atop the wall by the steps act as a safety barrier." Beautiful, Jan, thanks for sharing! You can learn more from Jan at her blog.
Welcome to the Fine Gardening GARDEN PHOTO OF THE DAY blog! Every weekday we post a new photo of a great garden, a spectacular plant, a stunning plant combination, or any number of other subjects. Think of it as your morning jolt of green.
Sign up to get new posts delivered to your inbox each morning so you'll always remember to take a look, or subscribe to our RSS feed. We look forward to sharing our garden travels with you.
READER PHOTOS: We love featuring your photos, too. If you think you have a photo that we should share on the Garden Photo of the day, email us. Send hi-res images if possible. We'll only respond if we plan to use your photo.