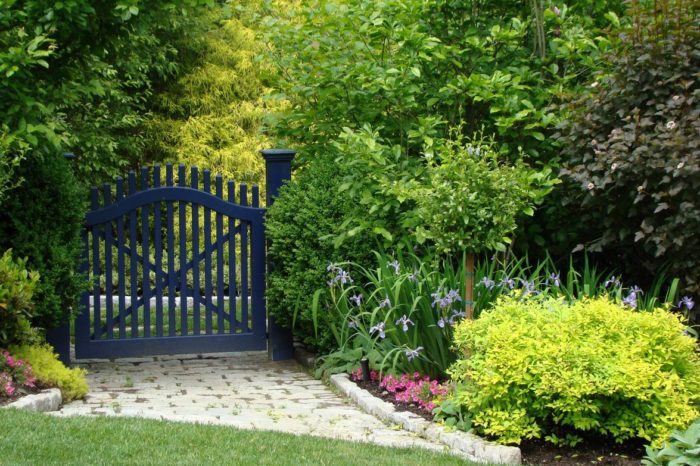 Today's photo is from Jan Johnsen, a garden designer in Mount Kisco, New York. She says, "Who doesn't love the mystery of a blue gate? This is the main entry to a spiral vegetable garden that I designed in a far off corner of a lovely property. The gate, flanked by two dark green boxwoods, is part of a protective wire mesh fence (to ward off rabbits, etc.) hidden amongst a dense shrub border. It is set back on a paved landing of aged cobblestones. I used this material as much for looks as for the necessity to have a hard surface under a gate threshold. Wheelbarrows and excessive traffic can wear down the earth here so a paved apron is a good idea. I also relocated a large gold threadleaf false cypress (Chamaecyparis pisifera 'Filifera Aurea', USDA Hardiness Zones 4-8) just beyond the gate to act as a bright yellow-green backdrop. When the afternoon sun hits it, the cypress seems to glow. The 'Goldmound' spirea (Spiraea japonica 'Goldmound', Zones 4-9) picks up the yellow in the front plant border.  This particular shade of blue on the gate was specifically chosen by my wonderful client for its richness and depth. With all these little touches, the blue gate is an irresistible draw to a visitor." Thanks, Jan, for sharing! Check out Jan's blog here.
Welcome to the Fine Gardening GARDEN PHOTO OF THE DAY blog! Every weekday we post a new photo of a great garden, a spectacular plant, a stunning plant combination, or any number of other subjects. Think of it as your morning jolt of green.
Sign up to get new posts delivered to your inbox each morning so you'll always remember to take a look, or subscribe to our RSS feed. We look forward to sharing our garden travels with you.
READER PHOTOS: We love featuring your photos, too. If you think you have a photo that we should share on the Garden Photo of the day, email us. Send hi-res images if possible. We'll only respond if we plan to use your photo.