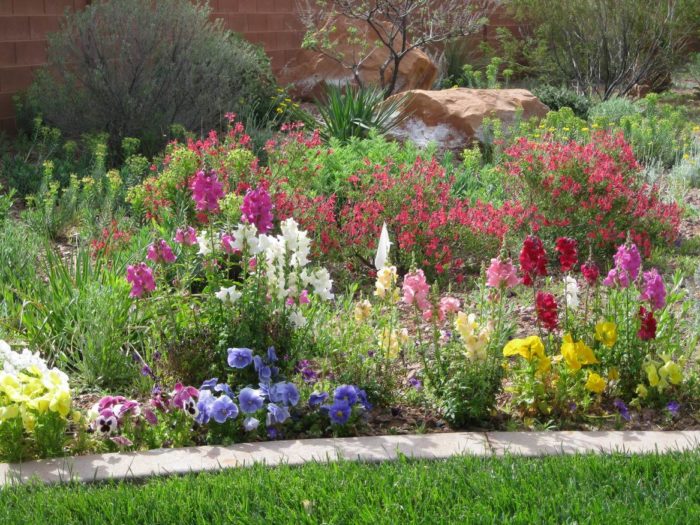 Today's photo is from Sara Post Lee in St. George, Utah. She says, "I live in the Utah desert not far from Las Vegas, with an annual rainfall of only 8 inches.  Learning to garden here after a lifetime of gardening in the rainy East (near Longwood Gardens in Pennsylvania) was a steep learning curve, but after 8 years here, I am getting the hang of it.  We have a large xeriscape garden, but each fall, near the house, I plant winter-hardy (in this Zone 8+ climate) annuals that are not waterwise. They bloom a bit all winter and then really burst forth in spring with no irrigation or water other than our winter rains.  This year, we had a more lovely show than usual, thanks to the La Nina weather coming in from the West Coast. By summer, the pansies will be gone, of course, but the snaps will live on if I water them, and the extremely waterwise perovskia and psilostrophe will take over, giving us a completely different landscape. But that's another story – and photo.  In the meantime, I enjoy the spring blooms, made even more beautiful by their ephemeral nature." Beautiful, Sara — thanks for sharing!
Welcome to the Fine Gardening GARDEN PHOTO OF THE DAY blog! Every weekday we post a new photo of a great garden, a spectacular plant, a stunning plant combination, or any number of other subjects. Think of it as your morning jolt of green.
Sign up to get new posts delivered to your inbox each morning so you'll always remember to take a look, or subscribe to our RSS feed. We look forward to sharing our garden travels with you.
READER PHOTOS: We love featuring your photos, too. If you think you have a photo that we should share on the Garden Photo of the day, email us. Send hi-res images if possible. We'll only respond if we plan to use your photo.