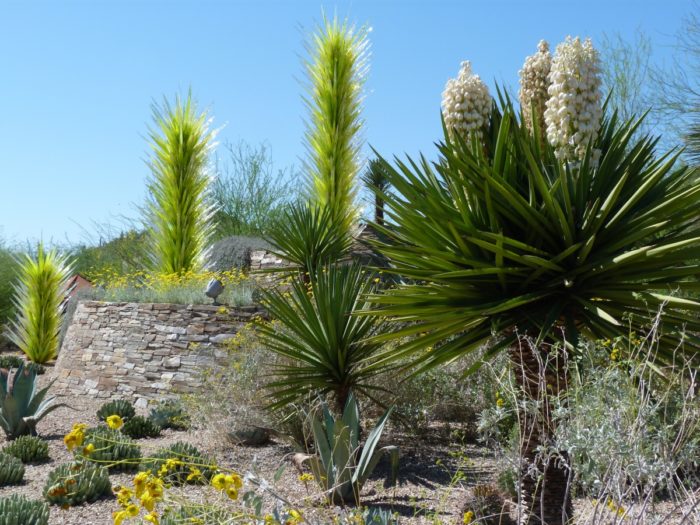 Today's photos are from Petra Williams. We've visited Petra's garden in Vermont (HERE), and she's taken us along on her visits to both Old Westbury Gardens on Long Island in New York (HERE) and the Central Park Conservatory Garden in New York City (HERE). Today she's sharing her visit to a completely different part of the country.
She says, "You've mentioned that you haven't featured any gardens yet from Arizona. Perhaps these pictures fit the bill. At the end of March/beginning of April, my husband and I spent a week in southern Arizona. I'd always wanted to see saguaro cacti in their native habitat. A must see for us was the Desert Botanical Garden in Phoenix. We timed it perfectly, and everything was just starting to bloom. Additionally there were sculptures sited with the plantings throughout the garden."
Petra, as far as I'm concerned, you've taken us to another planet today! I've never been to the Southwest, but so want to. The landscapes are fabulously alien to me, and I'd love to see them up close. Thanks so much for the tour–what a spectacular place! ***And…that makes 45 states we've featured! Five more to go….come on Alaska, Hawaii, South Dakota, Arkansas, and Mississippi! (Actually, Alaska and Hawaii are already in the works–stay tuned!)
——Winter is the perfect time to take a photographic stroll through the photos you took in your garden this year……and then send some in to me at [email protected]!
Want us to feature YOUR garden in the Garden Photo of the Day? CLICK HERE!
Want to see every post ever published? CLICK HERE!
Want to search the GPOD by STATE? CLICK HERE!
**Check out the GPOD Pinterest page, where you can browse all the post in categories…fun! CLICK HERE!**