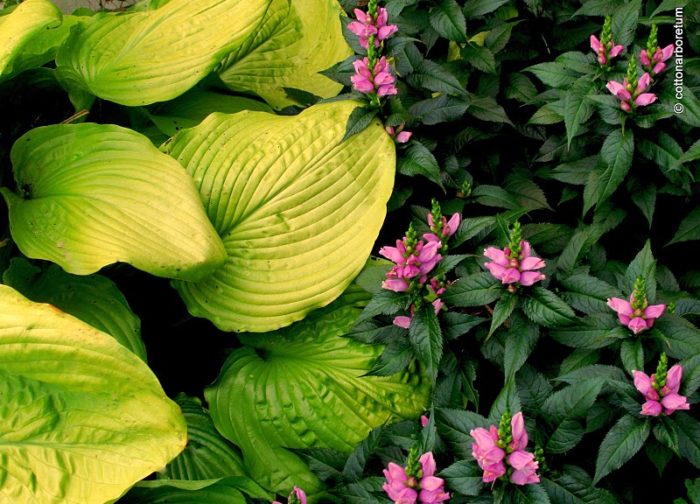 Today's GPOD is from Mindy Arbo of the Cotton-Arbo retum in Winchester, Massachusetts. Mindy says: "This striking combination of Hosta 'Sum and Substance' and Chelone 'Hot Lips' comes from the extraordinary Connecticut garden of Monique and Les Anthony. The planting works in many ways. The color palette of magenta, gold, and deep green is compatible, and the vignette is visually kinetic from the small finely articulated chelone flowers and foliage mixed with the large broad hosta leaves. This is also a particularly long-lasting combo in the garden; the hosta has presence from June through October and the chelone blooms in late August and September." Thanks, Mindy, for sharing this photo with us!
Welcome to the Fine Gardening Garden Photo of the Day blog! Every weekday we post a new photo of a great garden, a spectacular plant, a stunning plant combination, or any number of other subjects. Think of it as your morning jolt of green.
Sign up to get new posts delivered to your inbox each morning so you'll always remember to take a look, or add us to your RSS feed. We look forward to sharing our garden travels with you.
If you think you have a photo that we should share on the Garden Photo of the day, email us. Send hi-res images to [email protected] with GPOD in the subject line. We'll only respond if we plan to use your photo.