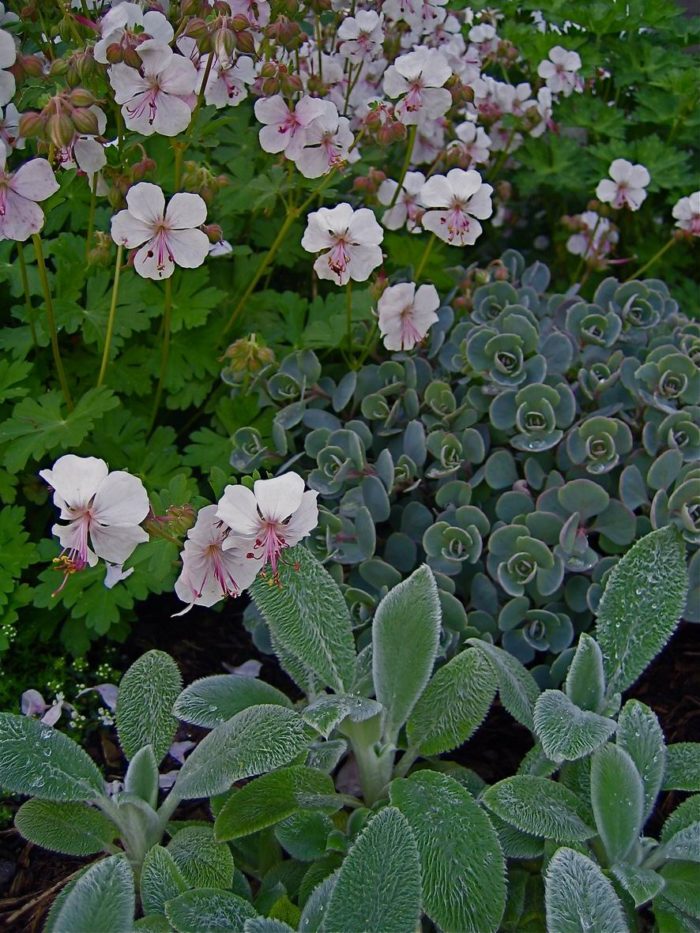 Today's photo is from Veronica Guyre. She says, "I garden in a cold Zone 4 microclimate at the base of a hill in Lyme, New Hampshire. All of my garden areas are quick draining due to an under layer of sand and gravel. I chose these three plants not only for their contrasting characteristics, but also for their cold hardiness and resistance to drought. They are part of a 16-foot by 5-foot, NW exposed area between my screen porch and stone patio. The  plants in the photo include 'Biokovo' hardy geranium (Geranium X cantabrigiense 'Biokovo', USDA Hardiness Zones 5-8) with soft, pastel blooms just in time for the summer solstice; cliff sedum (Sedum cauticola, Zones 5-9), with small, smooth rosettes of blue-green leaves that I use as a ground cover on a third of the bed; and 'Silver Carpet' lambs' ears (Stachys byzantina 'Silver Carpet', Zones 4-8), a foreground plant with oblong, upright, fuzzy gray leaves. Thanks, Veronica, for sharing this great plant combo with us!
Welcome to the Fine Gardening GARDEN PHOTO OF THE DAY blog! Every weekday we post a new photo of a great garden, a spectacular plant, a stunning plant combination, or any number of other subjects. Think of it as your morning jolt of green.
Sign up to get new posts delivered to your inbox each morning so you'll always remember to take a look, or subscribe to our RSS feed. We look forward to sharing our garden travels with you.
If you think you have a photo that we should share on the Garden Photo of the day, email us. Send hi-res images to [email protected] with GPOD in the subject line. We'll only respond if we plan to use your photo.