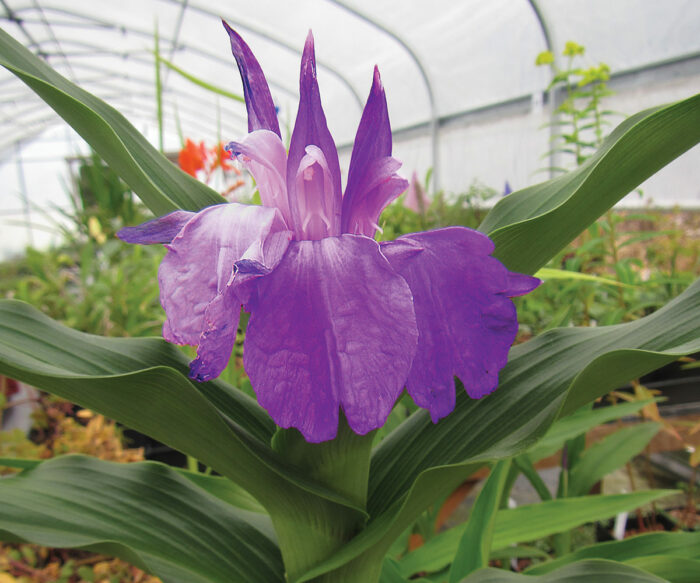 We love plants—nearly all of them, truth be told—but it is without the slightest bit of hyperbole when we say that Roscoea is one of our favorite genera. Part of Zingiberaceae, the ginger family (although roscoeas are not suited for the table), this group of plants is native to areas across the Himalayas and is generally found at high elevations.
The genus, which was named for Liverpool Botanic Garden founder William Roscoe, has undergone recent taxonomic revision, with additional species recognition and modification or elimination of previously accepted species, varieties, and forms expected.
At this point, we are comfortable in saying that we have amassed a respectable collection that is displayed in a 75-foot-long planting at Far Reaches Botanical Conservancy. What continues to excite us is that there are many more to acquire and to learn from. The hunt continues, and as we write this, we are looking ahead to an upcoming trip to the western Himalayas. With our roscoea bona fides dispensed with, however, we aren't fibbing when we say that of the 24 or so species in the genus, purple roscoea (Roscoea purpurea) is among the best.
The first Roscoea species to be described (in 1806), purple roscoea is a standout because of its sturdy, comparatively tall 15- to 24-inch stems and large, exotic purple flowers positioned nicely above the leaves during the second half of summer. There are also two forms of this species that provide additional flower colors. Roscoea purpurea f. purpurea produces variable floral hues ranging from white to typical bright purple, whereas the shorter R. purpurea f. rubra is the only naturally occurring red roscoea. The latter is better known as the covetous 'Red Gurkha', a now invalid name because of varied green and reddish foliage expressions.
One of purple roscoea's enduring values is its genetic contribution to breeding work, which largely comes out of the UK and Ireland and, to a lesser extent, Europe and North America. Notable hybrids include 'Royal Purple' and 'Harvington Imperial' from the UK, and on this side of the pond, 'Family Jewels'. We love it when it takes time, luck, and effort to find and acquire a cool plant. It makes us appreciate it all the more for the collectible panache often lacking in mass-produced plantes du jour.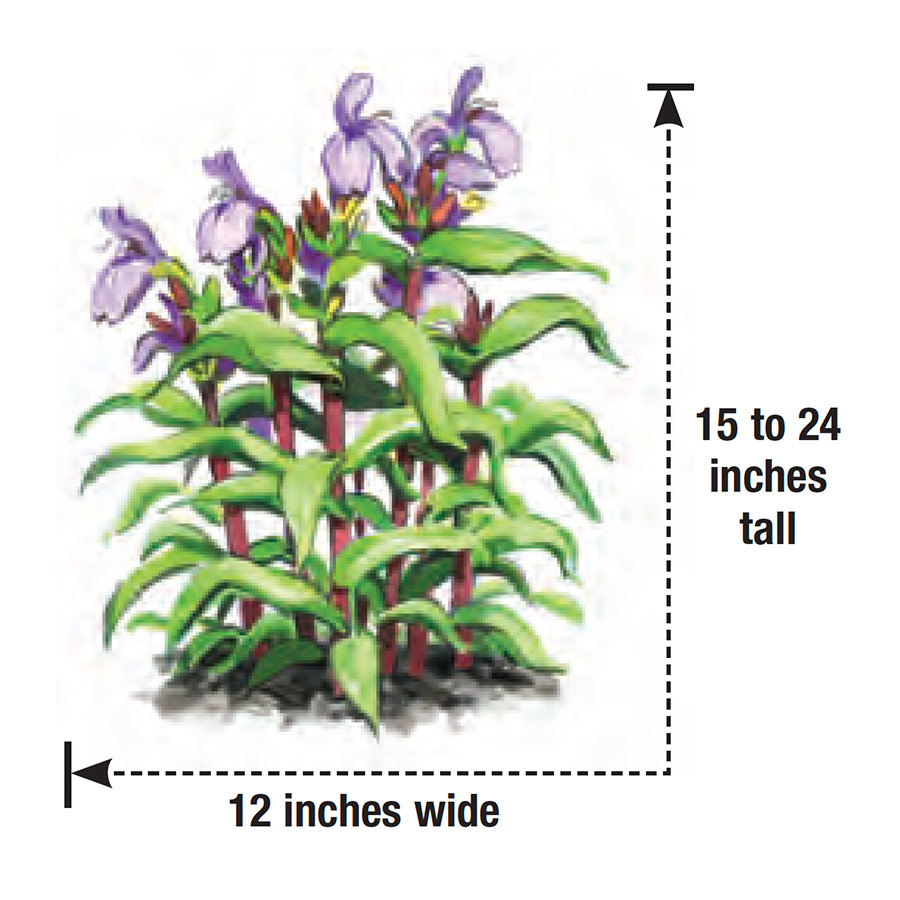 Roscoeas require cool night temperatures and cool to cold winters (possibly into Zone 4). Hot and humid weather? Not so much. We have reports of success in Maryland and possibly farther south in the mountains, as well as out West in the Rockies. Roscoeas perform well in appropriate northern-tier states and the Northwest. These tuberous perennials often double in stem number each year and can increase by seed. They are slow to rise in spring, with some species snoozing into June, but they crank once awake. Slugs and snails are a minor nuisance to our plants, but deer or rabbits don't trouble them. This observation is based on our deer and rabbits, though; yours might not be able to read this.
Purple roscoea
Roscoea purpurea
Zones: 5–8
Conditions: Nearly full sun to partial shade; rich, well-drained soil
Native range: Himalayas
---
Kelly Dodson and Sue Milliken grow some of the coolest plants on the planet at Far Reaches Farm Nursery and Far Reaches Botanical Conservancy in Port Townsend, Washington.
Illustration: Elara Tanguy
Sources